The Los Angeles County median home price is down 6 percent year over year.  This in itself fails to highlight the deeper changes occurring in the most populated county in California.  If we look back at 2011 we see that it was a year of corrections for the mid-tier and upper-tier segments of the market.  This trend is likely to continue with even the most prime locations in Corona del Mar and Beverly Hills showing that they have plenty of shadow inventory to work through in 2012.  Los Angeles County is full of cities so the 6 percent drop only tells you very little.  If we break out the top declining zip codes the picture is very different today from 2008 and 2009 when low hanging fruit was selling for massive price cuts.  Today those price cuts are hitting fully in areas like Culver City, Burbank, and Pasadena which we predicted for a few years based on area household incomes.  Let us look at the top 20 falling zip codes for 2011 in Los Angeles County.
The top 20 list of Los Angeles County
What you will notice from the list is that many of the zip codes are in mid-tier to upper-tier markets: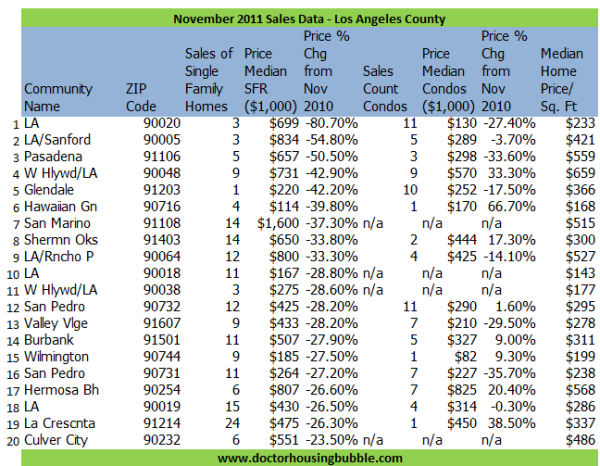 Many of the top zip codes have seen dramatic cuts.  Take a look at the 91106 zip code in Pasadena that is now down 54 percent from November of 2010 to November of 2011.  San Marino with 14 home sales is down a whopping 37 percent and this is certainly a prime zip code.  I remember a few people late in 2009 talking about large chunks of foreign money flowing into this community to keep prices inflated.  Does a 37 percent drop in one year seem like that occurred?
And this is a legitimate drop.  Just look at the details for the San Marino market: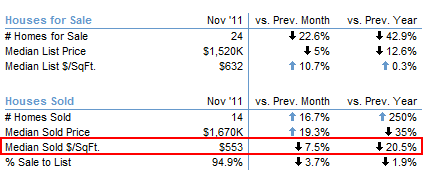 Source:  Redfin
San Marino has a dramatic variance in home styles and price ranges but if we look at the median square foot price, it was down by 20 percent over the year.  The number of homes for sale has also plummeted by 42 percent in the last year.  This is a continuation of the second phase of the housing correction that is hitting mid-tier and upper-tier markets.  Take a look at Sherman Oaks as a mid-tier market.  The 91403 zip code in Sherman Oaks saw a 33 percent cut to the median home price.  Let us look at this correction in action by using a current duplex on the market for sale: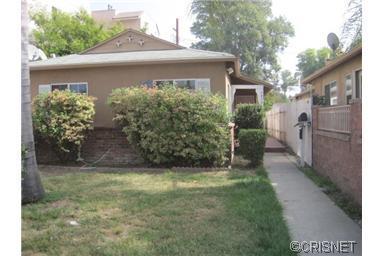 4970 SEPULVEDA BOULEVARD
Sherman Oaks, CA 91403
3,600 square feet, built in 1956
Take a look at the ad before evaluating this property:
"Location, location, location!!! Charming duplex located in prime area of sherman oaks situated just steps from the sherman oaks galleria and trendy ventura blvd. Unit one (4970 sepulveda) is a one bedroom/one bath and unit two (4972 sepulveda) is a two bedroom/1 bath. Laundry hookups are located inside unit two. Both units have rich hardwood floors that could be touched up and look brand new. New paint throughout. Attached two car garage has been restored back to it's original use. Terrific investment opportunity for the right buyer!"
This place seems smaller for a duplex.  It is interesting to look at the price history because we start to realize that the bottom is still far away in certain areas.  Obviously the price drops that we are showing above are significant and occurring in mid-tier to upper-tier locations.  The shadow inventory is immense and will take years to work through the system.  A large part of it is in inflated markets where people still haven't gotten the memo that the housing bubble has burst.
If we look at the price history we find that someone over paid in 2005 for this place: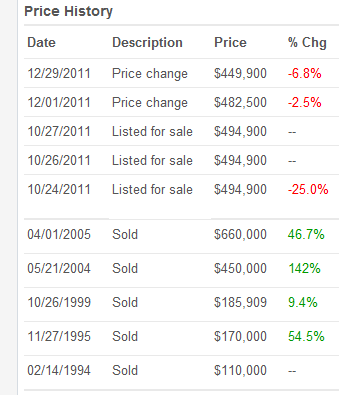 Remember 2005?  We are talking about 7 years here yet some people tend to think the correction is already done and each phase is completed.  The place sold for $660,000 in 2005 and was then put on the market for $494,900 in October of last year.  The price was finally reduced to the current $449,900.  This is a 31 percent price decrease from the 2005 sales price so you are getting a live picture of how the correction is hitting mid-tier cities now.  A few years ago it was "this will only hit the Inland Empire" and now it is "it will only hit mid-tier markets."  Denial is a very powerful thing.
Is this place a good investment?  The 1999 sale price of $185,909 looks like a good deal.  What dramatically changed in the last decade to justify such a jump?  Household incomes are flat in the state and the Federal Reserve has artificially put interest rates at a low level.  Even if we use the 1999 price as a baseline and use the 35 percent California inflation rate from that time the price would be closer to $250,000.
The shadow inventory is still lingering
For this zip code in Sherman Oaks 13 foreclosures are listed but if we pull up the shadow inventory data we find that we have plenty of deals to come online: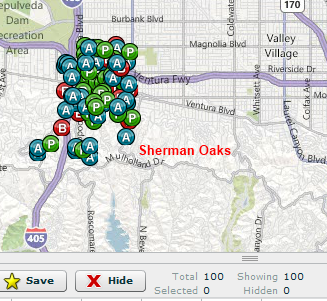 100 properties are part of the shadow inventory only in this one zip code of Sherman Oaks.
Other mid-tier areas like Culver City, Burbank, Pasadena, and Rancho Park continue to see prices coming down on the list.  Now why is the median price for the county only down by 6 percent then?  The answer is because most sales are driven by investor demand or low prices: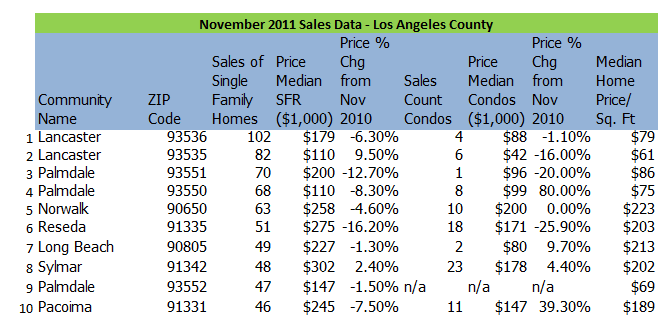 The zip codes with the most sales are happening in low price areas.  The top selling zip code is in Lancaster (93536) with 102 homes being sold with a median price of $179,000.  The second top selling zip code is also in Lancaster with 82 sales with a median price of $110,000.  Even some of these zip codes saw year over year price drops like Reseda with a 16 percent cut from November of 2010 to November of 2011.
So what is the trend?  Mid-tier and upper-tier markets are seeing significant declines in median prices while the lower range is seeing strong selling based on very low prices.  Price stabilization may be occurring in places like Lancaster or Palmdale but good luck with all the shadow inventory in places like Culver City and Burbank.  The numbers above speak rather loud and the trend is obvious.  Those that claim these areas will boom never bother to produce household income data for mid-tier zip codes to justify their argument.  The trend is rather clear and the data speaks for itself.

Did You Enjoy The Post? Subscribe to Dr. Housing Bubble's Blog to get updated housing commentary, analysis, and information.