In the last few years I've noticed that many of the cable finance and housing shows highlight families in Canada.  Shows that talk about debt or home buyers are usually focused on families in Canada which is rather odd given that we are here in Southern California.  Yet the funny thing about these shows is that they rarely identify that they are in Canada although I recognize locations like Vancouver.  If one simply tuned into the show it would appear that a bubble was still going on in the states.  This is probably the point.  After all, the cable shows focused on flipping houses or making quick bucks on real estate started going off the air yet another bubble was still going on up north.  Obviously these shows had an audience otherwise they would not be on the air.  Now the focus is on the Canadian bubble and American audiences can swim in the nostalgic dreams of the glory days of domestic housing.  Yet the shows rarely mention their location as if English-speaking families and cookie-cutter condos and homes are so easily interchangeable that they will fool an audience.  Yet one thing the shows fail to acknowledge is that the Canadian housing bubble is even more pronounced than that in the United States.
Canadian housing bubble set to burst
Let us first get one thing out of the way; the Canadian housing bubble will burst.  Just like real estate bubbles in Ireland, Spain, England, and the United States real estate bubbles do burst.  Timing is always hard to predict but undoubtedly these bubbles pop because they are fueled by easy and hot money.  Even at the apex here in California arguments were bandied around regarding foreign money, low interest rates, and other nonsense trying to support a ludicrous bubble.  Once the ego was put on the shelf and the credit markets imploded, the housing market came crashing down.  Canada seems to be where the United States was in 2007.  Let us examine a couple of charts: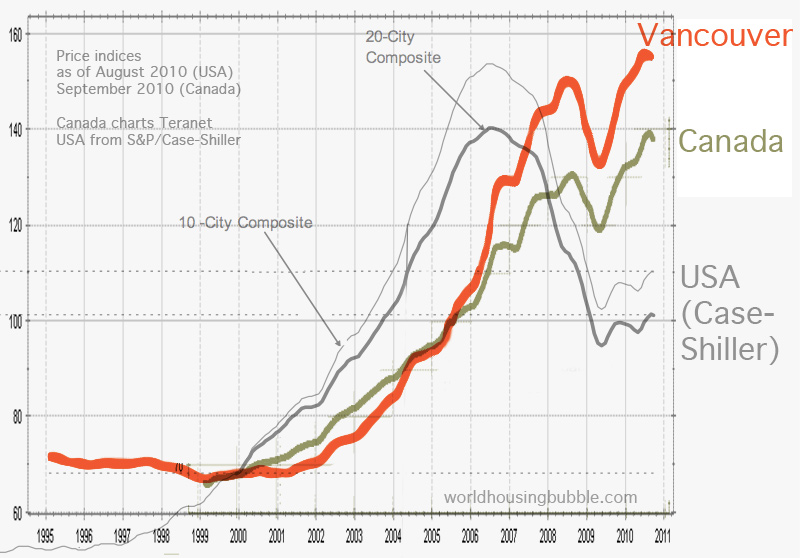 Source:  World Housing Bubble         
The U.S. housing market peaked in 2006 and it looks like Canada is five-years behind the curve.  The rise in Canadian real estate is simply unjustified.  Household incomes in Canada have not come close to keeping pace with real estate values in each respective market.  Take a look at the insane Vancouver market: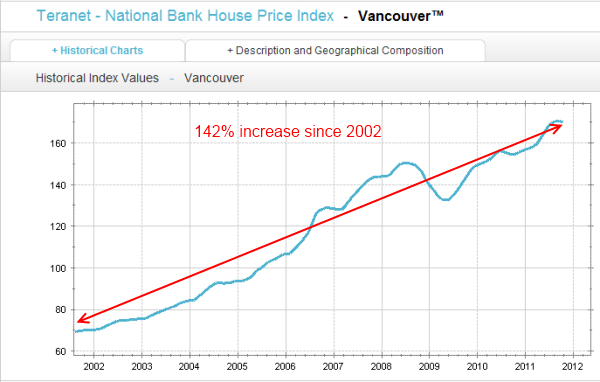 Real estate values in Vancouver have shot up by 142 percent since 2002.  There is absolutely no justifiable reason for this except for massive speculation.  Let us look at household incomes for this area:

The median household income in Vancouver is $67,550 yet the average detached home price is above $1 million.  That is simply madness and even makes the California housing bubble look modest in comparison.
Internal warnings of a bust are already running rampant:
"(CBC) The influx of multi-unit builds has led some economists to warn of overbuilding in the Canadian housing market, which could leave a glut of unsold homes on the market in the case of a downturn.

A downturn in demand would also likely lead to an easing of Canadian home prices, which The Economist magazine recently declared are about 25 per cent overvalued.

Interest rates are not expected to increase in the coming year, but analysts noted that Canadian households are already at record high debt levels, and the growth of both jobs and income has stalled."
Canadian households are in deep debt just like U.S. households.  Even some of the "financial rescue" shows highlight Canadian families that suffer from the same delusions as many American households.  You see the same patterns that led us into this crisis:
-"I can't give up our home!" – a person in massive debt who really can't afford their home

-"But we can't give up our condo!" – trying to buy a $600,000 condo with a $60,000 household income

-"We are doing fine." – a family in deep credit card debt and a negative net worth
It is little wonder why television programmers have merely swapped out American families for Canadian families.  The pattern is the same and aside from a few glances at Canadian cash, these families are replicating the same debt hunger of American families during the bubble heyday.
And while it's fairly obvious  the Canada real estate bubble is going to pop, still, if you're financially able, there are a few things one can do to increase the value of the home. For instance, remodeling, or perhaps purchasing security alarm cameras to protect the home and family. The web holds a vast amount of information on these matters if you're curious.
Canada bubble locations use same bubble logic as peak U.S. locations
The bubble talk is similar in locations with major bubbles like Vancouver.  By the way, I think Vancouver is a great place but it is in a major bubble.  A lot of hot money from outside has inflated values:
"(The Province) Cam Good, president of The Key, a Vancouver-based real estate marketing firm that caters to Asian buyers, said that about 60 per cent of the estimated 1,500 condos he sold this year, in Vancouver and Toronto, were to Chinese buyers.

While an October report by Royal LePage recorded a 16.9per-cent price increase of a standard two-storey house in Vancouver ($1.142 million) compared to the same time last year, local realtors and experts think restrictions are the last thing Vancouver's market needs.

The report, which defined Vancouver as composed of the city's east and west sides, West Vancouver and North Vancouver, pegged the average price of bungalows and condominiums at $1.02 million and $513,500, respectively."
Patterns like this are short-term just like Japanese buying in California during a previous bubble.  These bubbles will burst because any housing market is going to be supported over the long-term by local households and what they can afford.  These short-term speculative bubbles simply become landing grounds for hot money.  The home price-to-rent ratio is already absurd in Canada: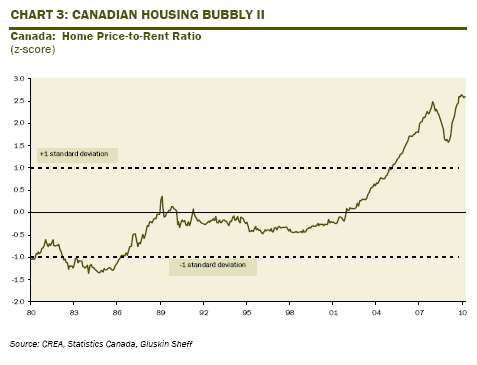 Source:  Gluskin Sheff
While many in Canada and places like Vancouver would like to deny a real estate bubble it is rather obvious to most outsiders.  The bubble will burst and is looking very close to reaching a peak already.  All the arguments and justifications were played out here in California as well.  This is something that is very familiar especially now that we enter year five of the housing market crashing here in California.  And just like the U.S. fringe markets pop first:
"(The Globe and Mail) What drives the housing cycle up, inevitably drives the market down as well. Builders in the multi-unit segment are currently responding to elevated home prices and robust pre-construction sales. Anecdotal evidence suggests the vast majority of pre-construction sales are to investors who intend to sell the units on completion or rent them out. As these condos in the construction pipeline are completed, this inventory of units will be dumped on to the rental and/or re-sale market just as sales momentum and housing demand ebbs. Our estimates indicate there will not be enough renters in Toronto to occupy these units as they are completed. As a result, some investors will be left holding vacant units. Since most investors are unlikely to hold onto negative-carry investments without a reasonable prospect of price appreciation; this will put downward pressure on home prices. We have already seen this dynamic play out in some smaller markets on Canada's west coast where prices have corrected 15 per cent."
Welcome to your housing peak Canada.  The good news is that things will continue even after your real estate bubble pops.  In fact from data I have seen and stories I have heard, many of those harmed by the current real estate bubble are your local families who are unable to purchase without going deep into debt.

Did You Enjoy The Post? Subscribe to Dr. Housing Bubble's Blog to get updated housing commentary, analysis, and information.