There is an interesting trend in prime California markets regarding distressed properties.  These markets have the slimmest amount of viewable distressed inventory yet when we examine the shadow inventory we realize that there are many people simply not making any payments on their properties or banks are simply moving at a snail's pace to list these homes.  We have seen this pattern play out in Beverly Hills over the last few years.  According to LPS Applied Analytics nearly 40% of homeowners in default have not made a payment in at least two years.  The typical foreclosure now takes 674 days.  It is one thing to talk about some middle class family in a $150,000 home struggling to get by because of a job loss or illness.  But what about squatters sitting in million dollar homes in prime locations?  Today we'll examine the prime area of Corona del Mar in Orange County.
Corona del Mar has distressed inventory as well
Contrary to what is visible on the surface some of the more expensive cities have some sizeable distressed inventory.  Let us take a look at the beachside community of Corona del Mar in Orange County: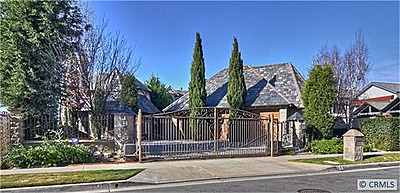 7 MUIR BEACH CIR Corona Del Mar, CA 92625
5 bedroom, 6 bathroom, 1 partial bath, 5,629 square feet, SFR
A very nice home in the exclusive 92625 zip code of Orange County.  This home has been on the MLS a few times and was listed in May of 2010 for $4,299,000.  No takers.  The price was adjusted to $3,999,000 later in that month but nothing bit.  The listing was finally removed in November of 2010.  This has been the action more recently:

Some interesting information here.  This is a very recent listing and the current price is $3,100,000 which is over $1 million lower than the May 2010 list price.  This is how out of whack prices are thrown around in these prime markets.  Of course it appears there was some lack of motivation in moving the price lower before the current movement.  Digging deep into the shadow data we find that it was taken over as REO on October of 2011: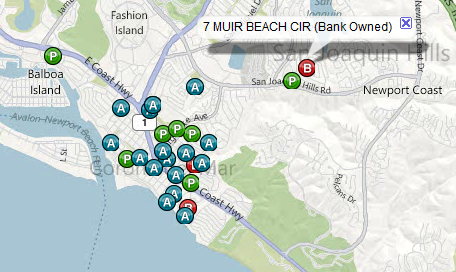 Hard to tell the final figures here but it looks like the winning bid came in at slightly higher than $2.4 million.  And as you might have noticed, there are many more properties in this prime zip code outside of the two listed on the MLS.  The other listing on the MLS is this one:

One of the most prime zip codes in Orange County has 28 distressed properties.  The average loan balance on the 28 distressed properties?  $1.39 million.  Some of the listed shadow inventory barely has a notice of default filed and there has been no payment for over a year!  So much for the notion that everyone is being kicked out equally or that the "rich" are making more payments on their underwater homes.  In fact, it appears that only the poor and middle class are being foreclosed on while some of these million dollar shadow properties linger for ages.
I was looking at all zip code in Orange County and as it turns out, the 92625 area is the most expensive coming in with a median price of $1,767,500.  It appears that there are more distressed properties than people would think in the exclusive Corona del Mar enclave.

Did You Enjoy The Post? Subscribe to Dr. Housing Bubble's Blog to get updated housing commentary, analysis, and information.