I think an ingrained misconception that still permeates the market like believing the world is flat is that foreclosures only happen to poor people.  Nothing can be further from the truth and in places like California foreclosures are hitting every single market.  Even the infamous Beverly Hills is filled with foreclosures except these are well buried in the shadow inventory.  I figured that I would spend some time today examining every single active foreclosure in Beverly Hills and try to shine a light on the ill-conceived notion that only poor areas are impacted by foreclosures.  Most Americans already understand this since it is likely their own home has been hit because of the housing bubble bursting.  But how much do we know about what is going on behind the scenes in a prime market like Beverly Hills?  The data might be shocking to you especially if your knowledge of the area is only what is promoted on the media and from folks shopping on Rodeo Drive.
Examining distressed inventory in Beverly Hills by loan balance
I dug deep into the data today and figured that it would be fascinating to see every shadow inventory property based on the outstanding loan balance.  After all, if one home is inflated by $2, $3, or even $4 million this is the equivalent of 50 to 100 foreclosures in the Inland Empire when it comes to dollar amount hit to the lender.  Hard to believe but take a look at the outstanding loan balance on homes that are in some stage of foreclosure: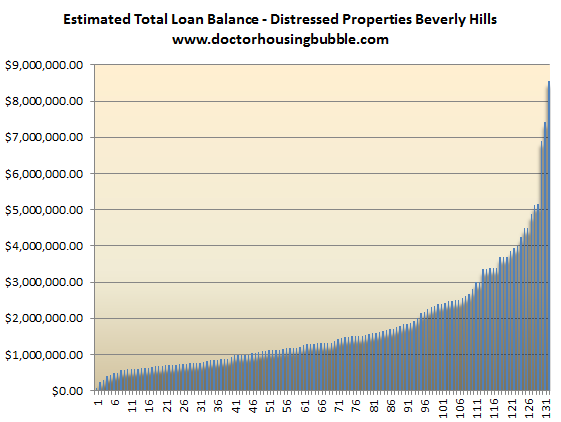 In total 142 homes in Beverly Hills have the following:
-A notice of default filed

-Scheduled for auction

-Bank owned
Interestingly enough only 6 homes show up on the MLS search when you look for active Beverly Hills foreclosures.  By looking at the primary lender we realize that some of these places have some common names that were front and center during the bubble peak in California:


A very common list no doubt for those tracking the California housing market. But to look at the first chart more closely, 91 of the 142 homes have a loan balance greater than $1 million.  39 have a loan balance greater than $2 million.  This is certainly a far cry from the misperception that foreclosures only happen in poor areas.  Beverly Hills is one of the prime areas of the nation and it is plastered with homes in distress.  I'm sure many Americans are happy that their bailouts are going to people living in these places and staying put without making a mortgage or house loan payment yet enjoying the amenities of a million dollar housing.  I'm sure this goes over well with people living in moderately priced states (aka 90 percent of the country).  This is why raising caps on FHA loans to $729,000+ made absolutely no sense.  How about we cap all government backed loans at the median price of a home nationwide?  Banks can then decide if they want to take on jumbo loans and vet borrowers carefully.  Then again, look at the financial system we currently have.
Beverly Hills under $1 million
Let us take a look at one of the listed homes for sale: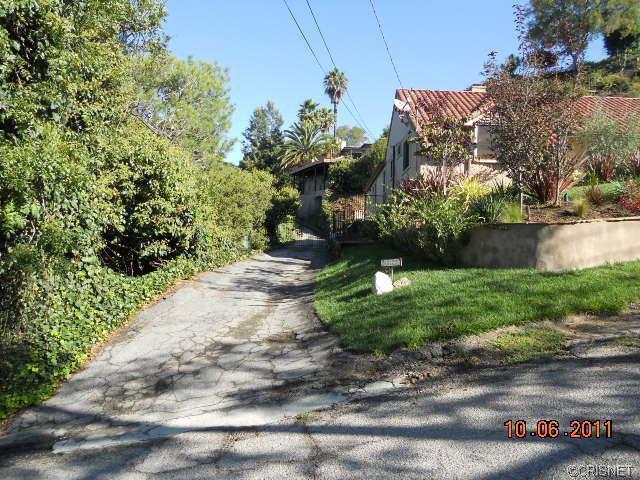 9549 DALEGROVE DRIVE Beverly Hills, CA 90210
2 bedroom, 2 bathroom, 0 partial bath, 1,655 square feet, SFR
Hard to tell how nice this place is from the photos: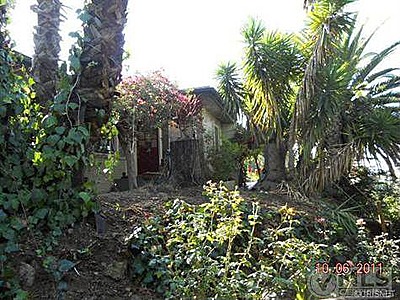 What we do know is that this home is bank owned.  From the ad:
"What a price for this beverly hills bank owned home! Only $848,000 for a secluded home that is located up a long private driveway, features: 2 bedrooms, 2 bath, single story w/over 1600+sqft and on very large lot. This property has so much potential and will go fast. (buyer to verify property boundaries and bh address)"
Someone thought this home had a lot of potential a few years ago as well: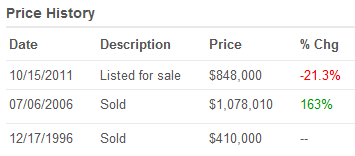 Someone paid $1,078,010 five years ago for this property.  The place is now listed at $848,000.  No low interest rate is going to erase a $230,000 hit to equity even in Beverly Hills.  Hard to believe that properties are chasing the market lower in prime cities?  Think again and all you need to look is at the above data and the 142 properties sitting in the shadows.

Did You Enjoy The Post? Subscribe to Dr. Housing Bubble's Blog to get updated housing commentary, analysis, and information.