The California housing market has enough diversity to seem like a world unto itself.  You have areas like the Central Valley and the Inland Empire that are being swarmed by investors looking for cheap places to flip or to buy as a prospective rental.  These investors are finding plenty of inventory since foreclosures are plastered all over these markets.  Then you have coastal cities including Santa Monica that carry a certain premium, even if prices have adjusted lower.  Then we have mid-tier cities like Pasadena and Culver City that are now correcting because people in those areas although with solid incomes, do not have enough to afford current sticker prices.  Today we are going to look at Beverly Hills with the prestigious 90201 zip code.  This market just like Hollywood puts on a certain front but behind the scenes things are not as pleasant as they appear.
Beverly Hills $4 million home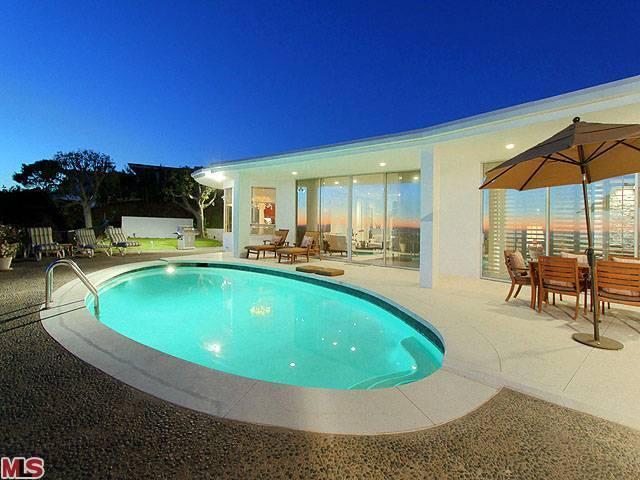 600 COLE PL, Beverly Hills, CA 90210

Listed    05/01/11

Beds      4

Full Baths            4

Partial Baths      1

Property Type   SFR

Sq. Ft.   5,300

$/Sq. Ft.               $923

Lot Size                20,480 Sq. Ft.

Year Built            1968
You do not get to see many homes in Beverly Hills because not many of the distressed properties make it to the public inventory list.  The above home was only listed on May 1st and is certainly what we would consider a prime property: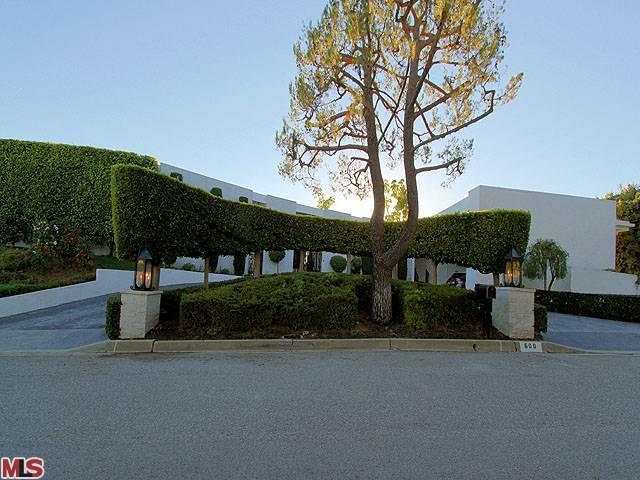 5,300 square feet is certainly not a small home.  I think the staged photos always add a certain Photoshop aroma.  Thankfully a StreetView perspective helps: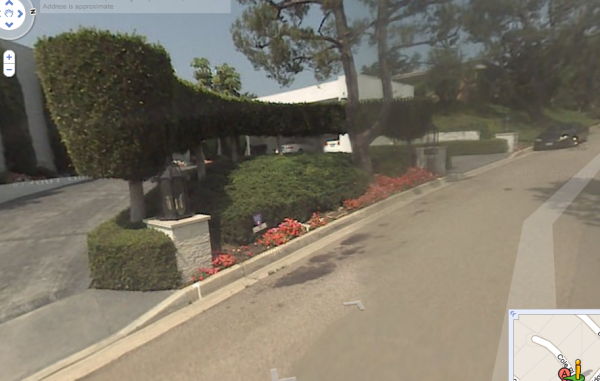 Not a bad place and certainly a nice home for many.  Let us look at the listing history here: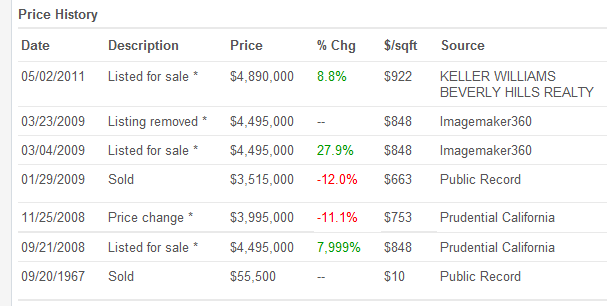 It looks like someone tried selling this place back in 2008 for $4,495,000.  It looks like the place did eventually sell for $3,515,000 in 2009.  Someone tried to flip the place only two months later for $4,495,000.  Of course that never panned out.  Now the place is listed for $4,890,000.  A very distressed property in Beverly Hills.  This place only has a day on the market so we shall see if this time there is better luck.
Beverly Hills Short Sale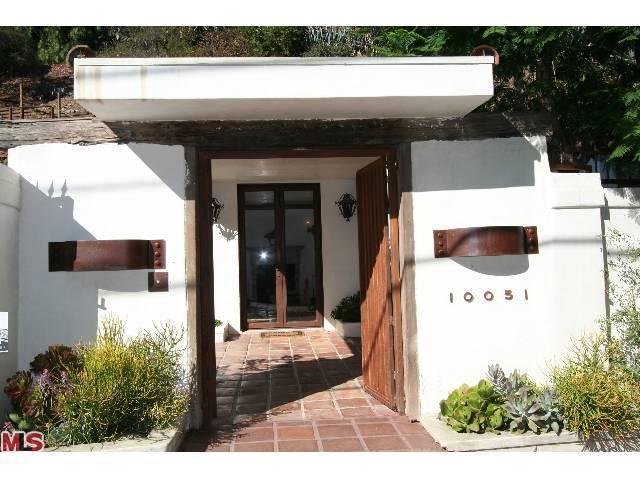 10051 CIELO DR, Beverly Hills, CA 90210

Listed    01/12/11

Beds      2

Full Baths            2

Partial Baths      0

Property Type   SFR

Sq. Ft.   2,363

$/Sq. Ft.               $1,014

Lot Size                1.2 Acres

Year Built            1926
The above is a 90210 zip code short sale.  I know people get all picky about the post office designation and actual Beverly Hills city so I've included two homes in this post.  This is another nice home and would be considered prime as well.  2 beds and 2 baths with a listed 2,634 feet.  Maybe looking at the history will help us out here:
The last official sale took place in 2003.  At one point they listed this place at $2,995,000!  Not going to happen.  Today it is currently listed at $2,395,000.  The 2010 tax assessment has this place listed at $1.2 million so I'm curious to find out what is going on here behind the scenes.  Either way, no one is biting even in the 90210 area code.
For Beverly Hills I see 3 official MLS SFR foreclosures.  There are another official 11 short sales.  However there are 101 properties in the shadow inventory.  This number may not seem high to you but keep in mind the area we are talking about.  There are homes with $1, $3, and even $5 million in loans attached.
Welcome to the 90210 correction.  At least you get to see nice photos of homes selling for millions of dollars but with loads of distress brought on by mega mortgages.  How many people are living in Beverly Hills without making their mortgage payment?  Well we know that 101 are having trouble keeping up with their mortgage.

Did You Enjoy The Post? Subscribe to Dr. Housing Bubble's Blog to get updated housing commentary, analysis, and information.