Santa Monica is a great city in Los Angeles County but is also one of the most overpriced.  People tend to believe that when bubbles burst they pop universally across all areas but that is not the case.  There is little doubt that the overall California housing market has taken it squarely on the chin.  An overall drop of 40 percent in the median price is significant and recent trends show prices resuming a move lower.  Yet some markets remain stubbornly inflated even though they have come down in price.  Santa Monica is one of those areas.  This is one of those markets where shadow inventory is plenty yet the public only views a tiny glimpse of what is really going on.  Let us examine the one listed foreclosure on the MLS and follow it up with the shadow inventory.
Santa Monica dreaming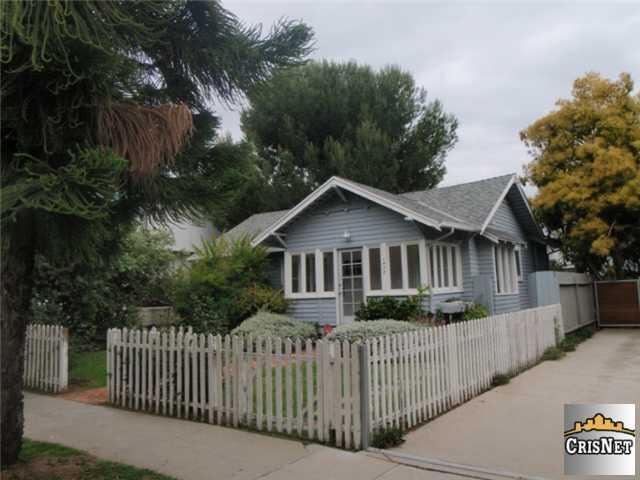 1437 10TH ST, Santa Monica, CA 90401

Beds:                     –

Baths:                   –

Square feet:       2,066
The listing doesn't have the beds or baths listed but this is the ad:
"Huge reduction, looking to sell fast. Back units were recently painted. Great location and price, couldn't ask for anything more."
Keep in mind this is the only foreclosure listing for a single family residential in Santa Monica.  What the listing calls a reduction isn't necessarily what one would have in mind: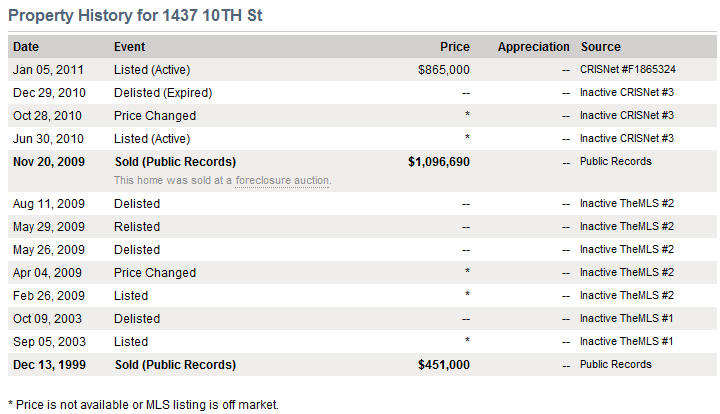 Source:  Redfin
Hard to believe that at one point this place had at least $1,096,690 in loans.  This is astounding especially for a place that looks relatively average.  These prime markets are starting to see non-prime homes take major price cuts.  This is no longer a minor trend but we are seeing a large enough number of these homes taking price cuts that many banks now realize that today might be the best time to get out and still salvage some minor losses.  A 50 percent price cut on a million dollar home is much deeper than say a similar cut for a $100,000 Inland Empire home.  You might be wondering why the notice of defaults have fallen in the last few months of data.  We might have some data on that.
BofA halts notice of defaults
You can always lower your stats when you simply stop issuing notice of defaults:
"NEW YORK -(Dow Jones)- Bank of America Corp. (BAC) confirmed Tuesday that during its nationwide moratorium on foreclosures last fall, it also stopped delivering notices to delinquent homeowners that typically inform borrowers the bank is starting foreclosure.

The bank resumed foreclosures it had halted, along with notices of disclosure, in December.

That the bank specifically stopped issuing notices of default to borrowers during its moratorium is a new line in a story the bank longs to close. It is also not terribly surprising, given it was unlikely the bank would have initiated foreclosures during its review of its processes."
This is why we saw the recent dip: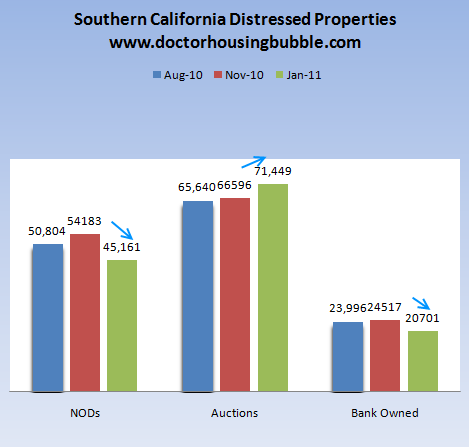 So those that were claiming the recent dip was because of improved housing health are merely wishfully thinking. Bank of America just came out with the above press release having to accept that they flat out stopped filing notice of defaults.  That is a nice way to boost the shadow inventory.
So what is the real reality in Santa Monica?  Just look at this map of active distressed real estate: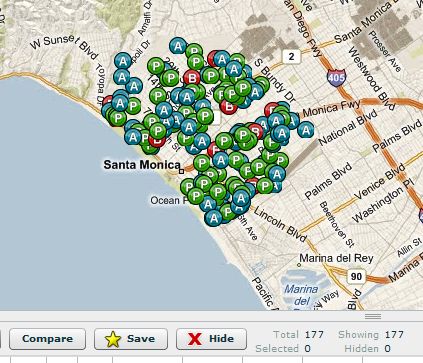 177 homes have a notice of default filed, are scheduled for auction, or are bank owned.  Yet only 1 home shows up on the MLS?  Get your hazmat suit on because this housing backlog is ready to blow.
Today we salute you Santa Monica with our Real Homes of Genius Award.

Did You Enjoy The Post? Subscribe to Dr. Housing Bubble's Blog to get updated housing commentary, analysis, and information.