Pasadena is now starting to show cracks in it's once thought of unbreakable real estate façade.  Many of the mid-tier cities are now seeing sizeable price declines in 2011.  What is interesting is that many major price cuts are going to come from home equity loan fiascos in California.  We'll show an example today of a home that refinanced to oblivion yet the actual housing ATM did not impact local area comps.  This is another form of hidden problems in the California housing market.  In many cases the HELOC was made by a different lender and there is really no incentive for the second note holder to agree on a sale that will effectively wipe them out.  So these homes languish until foreclosure and then the inevitable happens.  Since banks have lagged in California for 1 to 2 years (even 3 years in some cases), the pipeline is now ripe for the picking.  We are now seeing actual sizeable price declines hitting in these markets.  Before we examine a few homes in Pasadena, let us show the magnitude of the home equity problem in California.
Home equity machine has run dry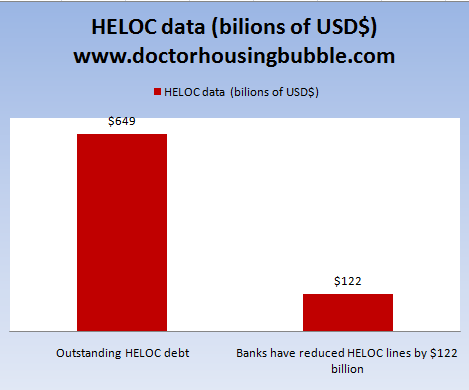 Source:  Equifax
California still has over $600 billion in HELOC debt outstanding.  This money was largely used for absurd projects like adding in the stainless steel refrigerator or adding those now recognizable granite countertops.  Banks have reduced access to HELOCs in the last year but a sizeable amount of this debt is lodged in the shadow inventory.  How much of this debt is underwater?  I would venture to say a giant part of it.  As these hit the market they will push the local market comps lower because these homes never made it onto the comps in the first place.  Take a home that sold for $119,000 in 1997 and suddenly had $452,000 in loans by 2008.  Seems too extreme?  Let us look at today's first Pasadena example that is also going on auction today: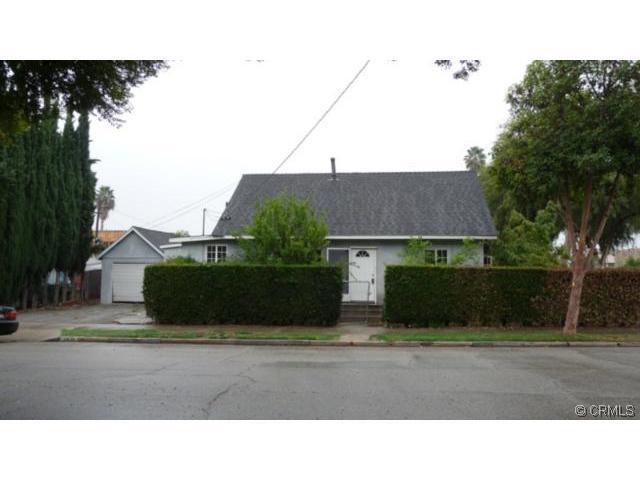 2424 WHITE STREET, Pasadena, CA 91107

Listed    07/13/10

Beds      3

Full Baths             2

Partial Baths       0

Property Type   SFR

Sq. Ft.   1,475

$/Sq. Ft.               $94

Lot Size 4,500 Sq. Ft.

Year Built             1922
As we mentioned previously this home last sold in 1997 for $119,000.  Suddenly in 2008 the place had at least $452,000 in loans attached.  We see this through the tax records:

Someone believed in the home equity ATM fantasy.  These folks didn't get out in time.  So now the home is bank owned and the current list price is $139,000.  Here is the listing data since this place is going on auction today:
"Reo/bank owned ! this asset has been placed in auction and all auction terms and conditions apply. All auction properties are subject to a five percent buyer's premium pursuant to the auction terms & conditions (minimums will apply). buyer responsible for pasadena city certificate of occupancy. . See agent remark for more details. when: sunday feb. 20, 2011 time: registration starts promptly at 8:00 am auction starts promptly at 9:30 am where: anaheim marriott – grand ballroom 700 west convention way, anaheim, ca 92802."
Don't miss out on this gem and score a Pasadena home for 1997 price levels.  I'm sure someone is going to overpay but nothing close to that $452,000 mark.  In the end, this will depress local area comps and bring home values lower in mid-tier Pasadena.  Round two of the California housing correction is now here.
These folks tried to chase the market down as well: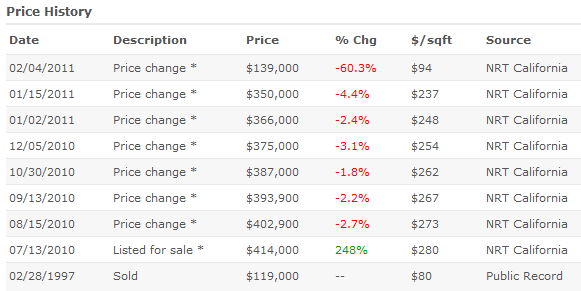 As late as January of this year they were trying to unload the place at $350,000.  Not going to happen. If anyone was at the auction we'd be curious for what occurred.
Obligatory HELOC kitchen: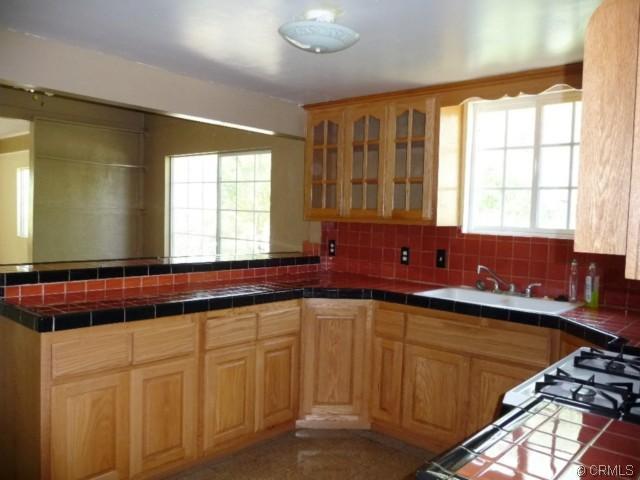 Home equity loans a blast from the past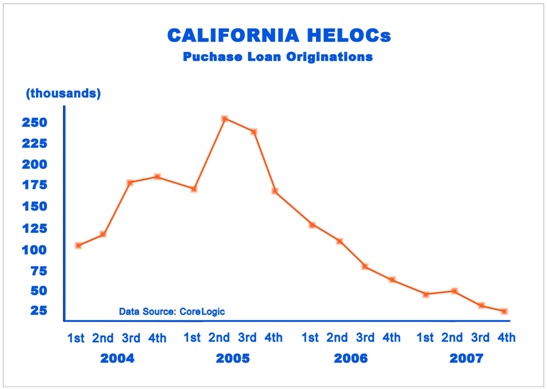 Source:  CoreLogic, Real Estate Channel
The HELOC game is largely game over in California.  Banks have stopped doing these in any sizeable amount.  Yet the amount of $600 billion is still outstanding.  Similar to the shadow inventory problems these will cause market disruptions for years to come.
2011 is going to see more short sale action as banks realize the market is not coming back anytime soon.  Let us look at a short sale in action: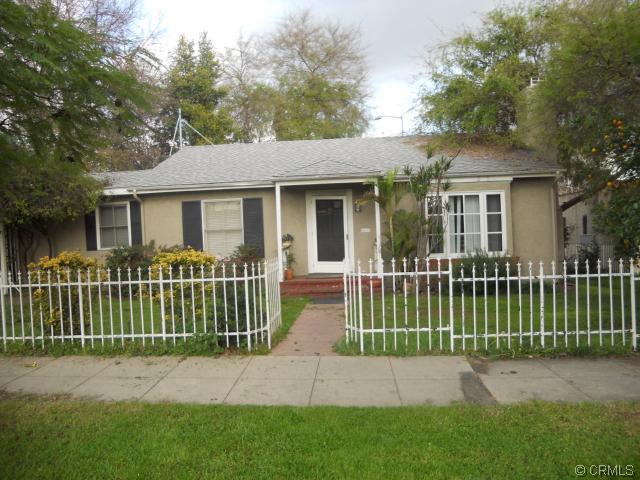 50 QUIGLEY, Pasadena, CA 91107

(short sale)

Listed    02/15/11

Beds      2

Full Baths             1

Partial Baths       0

Property Type   SFR

Sq. Ft.   1,188

$/Sq. Ft.               $243

Lot Size N/A

Year Built             1930
The above home is a perfect case of chasing the market lower.  Let us look at the listing history here:
This home sold for $122,000 in 1996.  It later sold for $529,000 in 2005 and this buyer lucked out when they found the apex buyer in 2007 for $570,000.  These folks had immediate problems since they tried to sell the home for a lower price in 2008.  They kept that price for two years naively thinking that California real estate was somehow different or immune to the global housing bubble popping.  Today it appears the bank has agreed to a short sale at $289,000.  This was listed only a few short days ago.  In other words, banks are starting to get it.
Welcome to the 2011 housing correction.  No need to rush out and buy a home with a 12.5 percent headline unemployment rate and a shadow inventory amount that would shatter the Hoover Dam.

Did You Enjoy The Post? Subscribe to Dr. Housing Bubble's Blog to get updated housing commentary, analysis, and information.