California is facing a long and painfully drawn out foreclosure and budget crisis.  From talking with average people it is apparent that psychologically, people have a hard time imaging a decade where things move horizontally.  In terms of housing prices California is inching closer to a lost decade.  We've already reached it if we include inflation adjustments but we are getting closer to seeing a nominal realignment.  Thinking about it on a longer term basis shows us that California is likely to experience a Japan like economy for the next decade.  There are few caveats but in terms of zombie banks, careful attempts trying to manage distressed inventory, and long-term underemployment it seems like the last few years have shown this is our future.  Some seem to think there is no shadow inventory but there is a large amount on the balance sheet of banks.  This isn't some economic fairytale.  We also have a large number of foreclosures out in the open for the taking.  When we connect all the dots it is hard to envision home price growth even looking deep into the future.  Some states did not have massive home price inflation so it is likely that their level to correction is much lower.  Let us look at a few charts and see where things are going.
Chart 1 – The California real estate numbers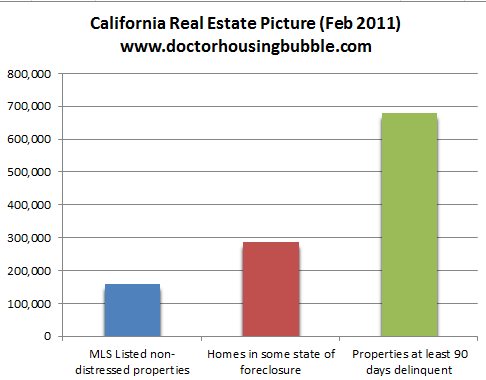 The MLS currently lists about 159,000 non-distressed properties.  California currently has 285,000 homes in some state of active foreclosure.  It is hard to see how many of these are listed but we find that at least 100,000 of these are listed: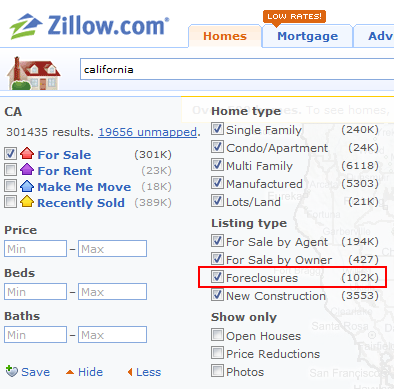 So we already know that at least 185,000 homes are in foreclosure but do not show up on the MLS.  This number by itself eclipses the non-distressed MLS inventory.  But what is even more troubling is that we know that close to 13 percent of all nationwide mortgages are delinquent (in foreclosure or at least 90 days behind on payments).  So the total pool of distressed homes is up to 678,000 and the public is only able to view 100,000 homes that are currently for sale in the state.  In other words the shadow inventory is immense.
How did we calculate the above number?  We took the total mortgage pool of California and used the below metrics:
"(Mortgage Orb) LPS reports that the total U.S. loan delinquency rate was 8.83% in December – a 2.1% decline month-over-month and a 17.9% decline year-over-year. Furthermore, the U.S. foreclosure presale inventory rate was 4.15% in December – a 1.7% increase in the month-over-month and a 9.3% increase in the year-over-year foreclosure presale inventory rate."
We are obviously being generous since we are using a nationwide rate to a state that is over filled to the brim with toxic mortgages including the option ARM.  It has come out from various sources that banks are trying to leak the properties out into the market in a controlled fashion.  We have also seen this year that many banks are willing to take an axe to prices to move inventory.  There is no guarantee that the Federal Reserve will be able to control global events (i.e., oil, the US dollar, etc) so the power of quantitative easing might run its course.  Japan took a similar approach to their banking sector and their end result was two decades of stagnant growth.  What also resulted were real estate prices that went sideways for two decades.  It is hard for someone in California imaging that their home purchase in 2002 will have the same market value as it will in 2022.  Yet home prices are now back to 2002 and here we are in 2011.
Chart 2 – Unemployment rate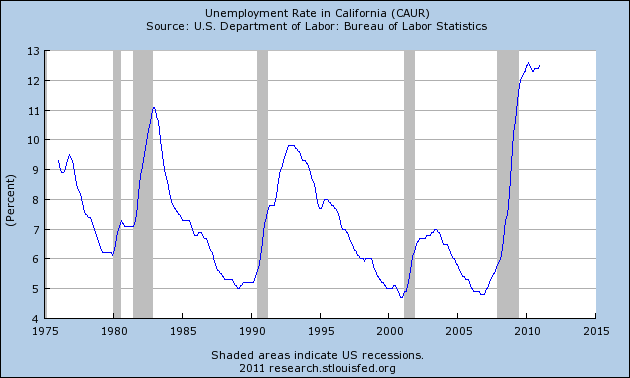 The California unemployment rate is still solidly above 12 percent and if we include the underemployment rate we are up over 23 percent.  Who will buy all those homes that need to be sold?  Income growth is anemic to nonexistent if you have no job.  Japan has a very low headline rate of unemployment.  The current unemployment rate is 5.1 percent.  Yet the reality is much grimmer.  Over one-third of their working population works in a contract environment.  They would be classified as our "working but looking for full-time employment" and many of these people have limited benefits and no security of work beyond their contract.  Playing with the numbers.  California has a large pool of these workers.  As healthcare costs soar and technological innovation makes some positions obsolete, many employers will simply opt for part-time employment.  I have a few colleagues that work in engineering and biomedical industries and for the past two years they have been working on a contract basis.
Think about California's heavy reliance on real estate.  Do you really need a broker or an agent when you can do all the research yourself online?  These were the high paying sectors of the economy during the boom.  There is already pressure here with people selling their own home or using discounted brokers.  Plus, if all loans are backed by Freddie Mac and Fannie Mae why don't we just go straight to them?  Like travel agents, technology is pushing one of the big sectors of California out or at least chopping into its income potential.
Chart 3 – Population and nonfarm employment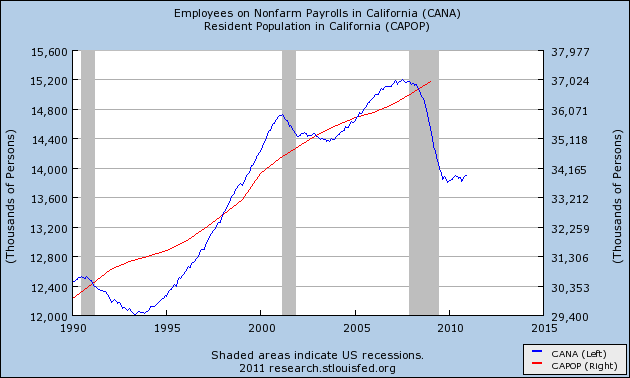 This is an interesting chart.  We have the same number of workers on nonfarm payrolls as we did in 1998 yet our population has increased by over 4 million during this time.  This is probably in one area where we differ from Japan.  Japan's population growth is solidly trending lower.  It is too early to say where California is heading although recent indications show immigration and population growth slowing down.  If population growth slows, where will the new demand from housing come?  Some builders are already betting that things will turn around.
Chart 4 – Home building permits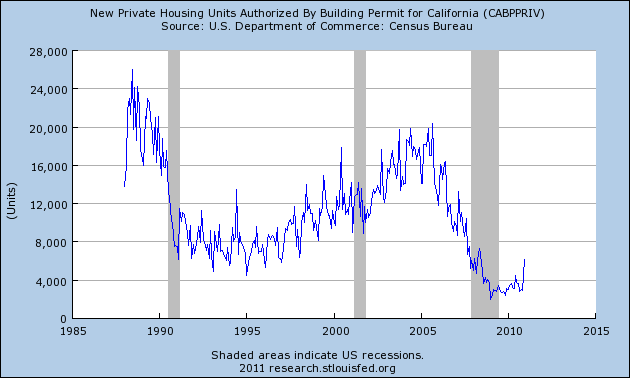 As you can see home building permits perked up starting in 2010.  But you have to remember what was going on then.  It seemed like everything was going well as people were sucked back into the market with tax breaks and other mortgage rate gimmicks.  That push is now largely gone.
Think of it this way.  Last month of all the homes sold in California 13,790 were foreclosure resales.  So even to clean out the current foreclosure inventory would take over 7 months and that is assuming no new foreclosures enter the market!  Well take a look at the earlier chart.  678,000 homes in California are at least 90 days delinquent and of that pool 285,000 are already in the foreclosure process.  This doesn't even address the natural sales process of people moving to new jobs, divorces, or other life circumstances.
Chart 5 – Homeownership rate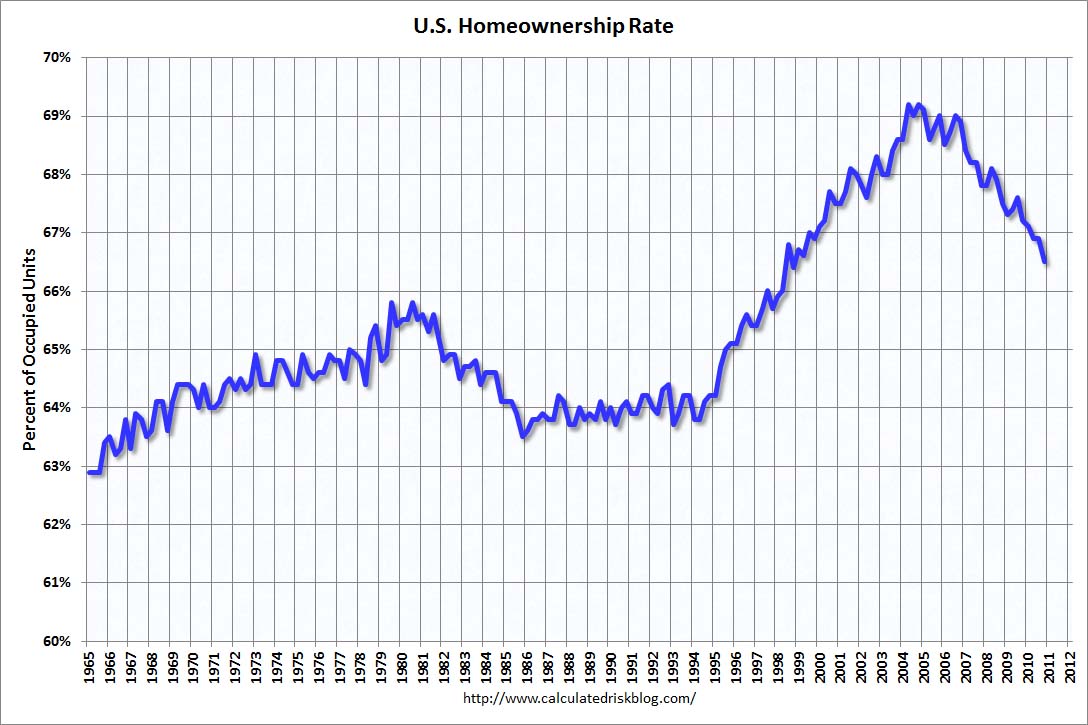 Source:  Calculated Risk
All those gains in homeownership have been wiped out like dust in the wind all thanks to the once in a generation housing bubble.  Now we are left confronting the reality that we have spent over a decade basically spending money we did not have.  The wealth has been transferred to Wall Street investment banks and all you need to do is pull up one of their financial statements.  They don't even bother hiding it from the public.  There seems to be anger at so many things except the number one culprit and that is the vampire like nature of investment banks to strip out true wealth from the economy.
The homeownership rate only went up as an illusion.  Those gains are completely gone.  But the bonuses and taxpayer bailouts to these bankers is a very real thing.  We have yet to venture out and do the one sane thing that even Paul Volcker advocated for which included the separation of investment banking and commercial banking.  Can you believe that nothing has changed since this crisis has started?  Well Japan did the same thing during their bailouts and look how far it took them.  And for people that think most of the shadow inventory will cure look at this: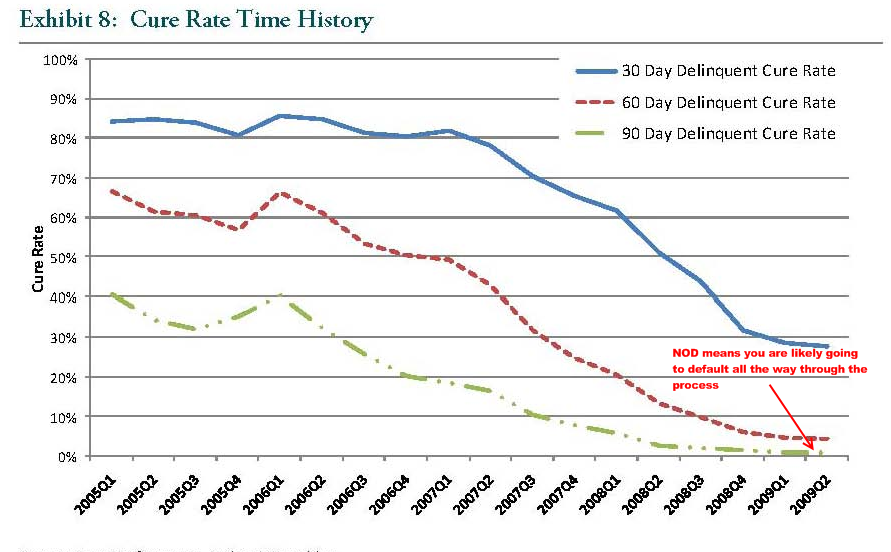 Some of the most strategic defaulters are those with higher mortgages.  Rewarding these enormous moral hazards is should be no shock that many in the population are acting out in similar ways.  What needs to be pushed is the breaking up of the too big to fail banks or we should gear up for another crisis shortly.  If things work out like the banks and the Fed are hoping, 2021 will look a lot like it does today.

Did You Enjoy The Post? Subscribe to Dr. Housing Bubble's Blog to get updated housing commentary, analysis, and information.