I tend to believe that financial markets just like fads or trends have tipping points.  There is always a mixture of factors that come together to push something into a new trend.  It looks like certain mid-tier California markets like Culver City are starting to see some of this behavior.  Culver City now has a flood of condos on the market selling in the $100,000 range which only a few years ago would have seemed nearly impossible.  Yet as we now know with the California budget once reality hits prices have to come in line with revenues or cuts have to be made.  Now these examples are becoming more and more common and I believe we will see a price correction in many of these markets in 2011.  This is similar to the Beverly Hills home on the market in the $500,000 range.  Today we will look at a home, an actual single family residential in Culver City that has cracked the $300,000 mark.
Culver City and crossing the $300,000 milestone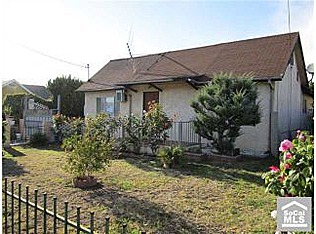 11541 Braddock Dr, Culver City, CA 90230

Beds:                     3

Baths:                   2

Square feet:       873
Many of you know that I have tracked Culver City extensively.  I feel this is a city where there is just enough income to snow people over to thinking that homes should be selling at $600,000 to $700,000 without a deeper analysis.  It is a carefully orchestrated veneer but what more can you expect from an area that caters to entertainment and glamour and glitz?  Now many of you in the Westside know that many of the people driving around with leased cars are merely faking it until they make it.  That is not only common to Los Angeles but other areas of the country as well.  Yet Culver City has started facing some cracks in their housing market and this is being reflected in home prices.
The above home popped up on my radar because of the current listed price.  I remember seeing this home pop up for sale back in February of 2010 for $520,000.  This wasn't a stunner because this was common for the area even after the California housing bubble burst in spectacular fashion.  Yet the bubble bust was definitely not equally distributed.  Many have been left asking when will the full correction hit universally across the state?  And that is the stubborn fact that not all areas are created equally.  Beverly Hills will never be affordable to the common person.  That was the case in 1997 and remains the case in 2011.  A $5 million home is still out of reach for most even if it drops to $3 million.  But many homes in Culver City do not cater to the extremely wealthy.  They target the working professional family and income for these households is probably less than the foreign cars in their driveways would signify.  The above home came on my radar because it dipped into the $300,000 range.  Let us look at the listing history: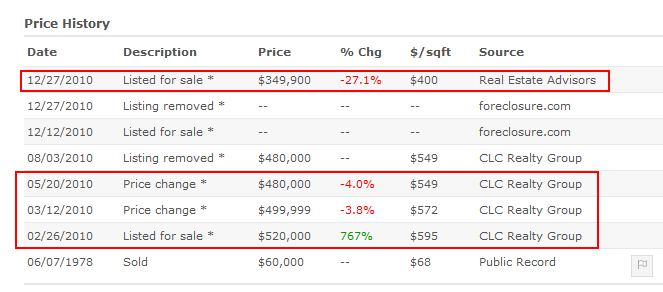 This is an interesting case and you can see the $520,000 listing from a year ago.  It looks like the home was foreclosed and the bank put it on the market for $349,000.  Now many are going to criticize the size of the place or say that it is overpriced and that is likely the case.  The point is I have not seen a $300,000 single family home that isn't a tear down in Culver City in ages.  This might be an anomaly but tipping points always have to start somewhere.  The condo market in Culver City has weakened incredibly and many places are selling for $200,000 and even in the $100,000 range.
If we look at the price history in this zip code we can see that this is a trend reversal: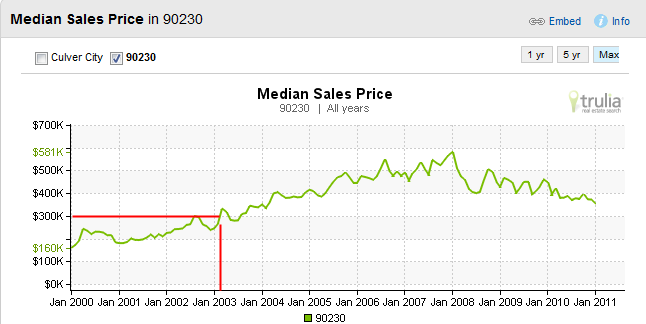 The last time the 90230 zip code was in the $300,000 range was back in 2003.  You can also see that this place was likely an attempted rehab and sell: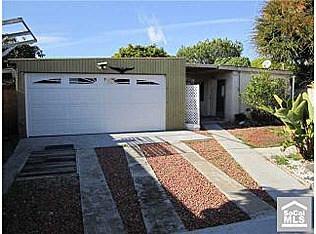 You can see a unique modern edge here so some money went in recently to fix this place up.  And given that the last sales price occurred back in 1978 this was likely a HELOC machine before it foreclosed.  And for those of you who think there are many homes like this on the market think again: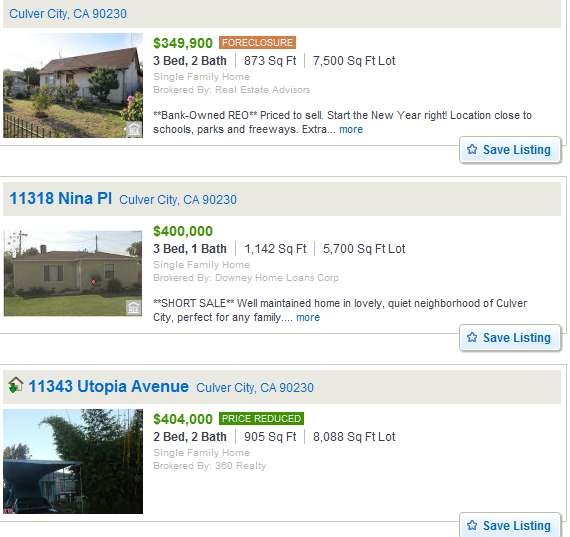 The next cheapest single family home on the market is priced at $400,000.  And if you think this is some odd occurrence know that 34 homes are listed for sale in the 90230 zip code but 145 homes are in foreclosure, have an auction scheduled, or have a notice of default filed.  In other words, the pipeline is full and the tipping point is getting much heavier to hold back.  Can it be that this bank is merely jumping ahead of the curve and trying to get out before the correction hits further?  I was also interested in seeing where the city of Culver City pulls revenues from: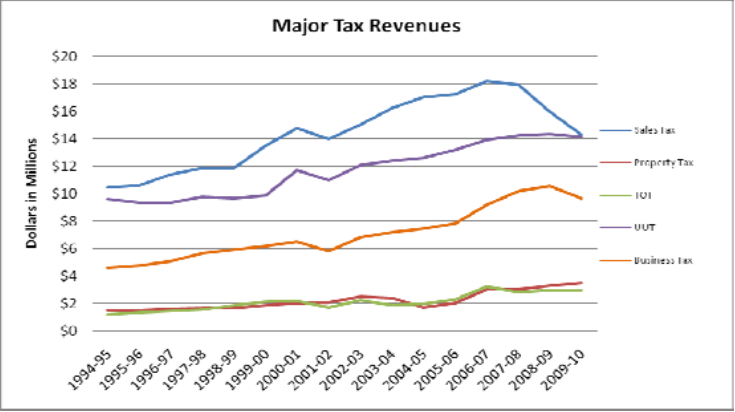 Source:  Culver City
By far the biggest revenue source is with the sales tax and this has declined sharply.  However property taxes have been on a steady rise so it benefits the city to have higher home prices.
Today we salute you Culver City with our Real Homes of Genius Award.

Did You Enjoy The Post? Subscribe to Dr. Housing Bubble's Blog to get updated housing commentary, analysis, and information.