Debt is not a source of income.  I have on occasion watched a few budget makeover shows where a family that spends more than they earn suddenly gets an epiphany that debt is not part of your household income.  Many American families have been conditioned via Pavlovian methods to assume that home equity and credit cards are some kind of El Dorado of hidden money.  On these shows many of the guests just assume the access to debt will never run out.  They have found the perpetual oil well and it is conveniently located in the home or via plastic in their wallets.  Of course some of these shows are reruns because as we all know that home equity has gone up in smoke in many parts of the country.  The bottom line amounts to people being told they have to live within their means.  People hate hearing that like being told that eating broccoli is good for you.  Very few states in the country have people living beyond their means to the extravagant extent of California families.  It is the case that 50 percent of Californians living in mortgaged homes cannot afford the place they live in.  If these people went on one of the budget makeover shows they would be told to downsize their housing cost.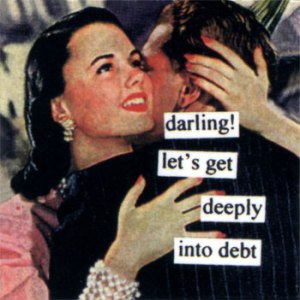 50 percent of Californians cannot afford their mortgaged home
Being able to buy a home is not the equivalent of being able to afford a home.  There is a big distinction and a large number of people still have a hard time understanding the contrast between being able to buy something and being able to afford it.  The proliferation of Alt-A and option ARMs in the state allowed for maximum leverage and allowed many people to purchase homes they could not afford.  California is in a world of its own when it comes to housing costs for those with a mortgage: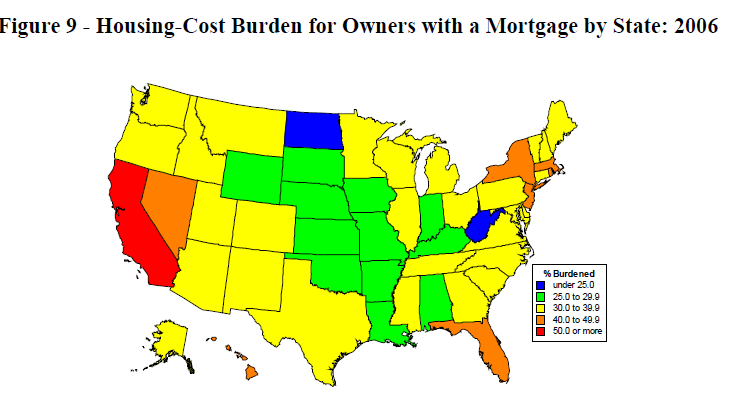 Source:  Census
Over half of Californians with a mortgage spend more than 30 percent of their income on housing costs.  By prudent standards this is spending too much on housing.  Of course housing pundits would like you to believe that this is somehow okay and justified but the massive amount of people unable to pay their mortgages in the state tells you that many are unable to support their current home (aka they cannot afford their home).  If we look at more recent Census data we realize that in many counties the 50 percent benchmark is solidly breached: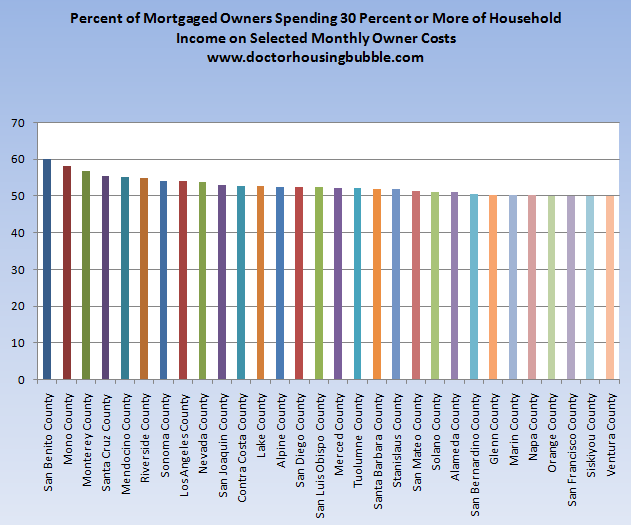 Source:  Census
Even in high priced counties like Orange and Marin for example those with a mortgage are dumping more than 30 percent of their income into their housing costs.  In fact 42 percent of Californians spend more than 35 percent of their household income on housing costs.  The Census caps out at this level since it is rather obvious that going beyond this point is going to put your financial future in peril.
Some interesting data from the recent Census (data going up until the end of 2009) shows that the median housing cost for Californians with a mortgage is $2,317 although the typical mortgage payment committed to by California buyers in the latest monthly data, December 2010 is $1,010.  In other words tens of thousands of Californians are living in homes they cannot afford if they were to buy today.
This inability to pay on an inflated asset is manifesting itself in a variety of ways.  Many are losing their home through foreclosure.  In fact over 546,000 California homes (1 out of 10) in 2010 had a foreclosure filing.  Another way this is showing up is through the large number of people who have stopped making payments on their mortgage.
Over 30 percent of mortgaged California homes are underwater
The correction is occurring because California housing is unaffordable.  The only reason it appeared to be affordable is because of junk mortgages that allowed people to speculate in real estate as if they were some kind of late night infomercial guru.  Now with the toxic mortgage market imploded and investment banks moving onto another area to pilfer with tax payer money, new buyers have to contend with 30 year conventional and government backed mortgages.  Verifying income and meeting debt-to-income criteria may be an issue with 23 percent of Californians unemployed or underemployed.  It also does not help that over 30 percent of mortgaged homes in the state are still underwater: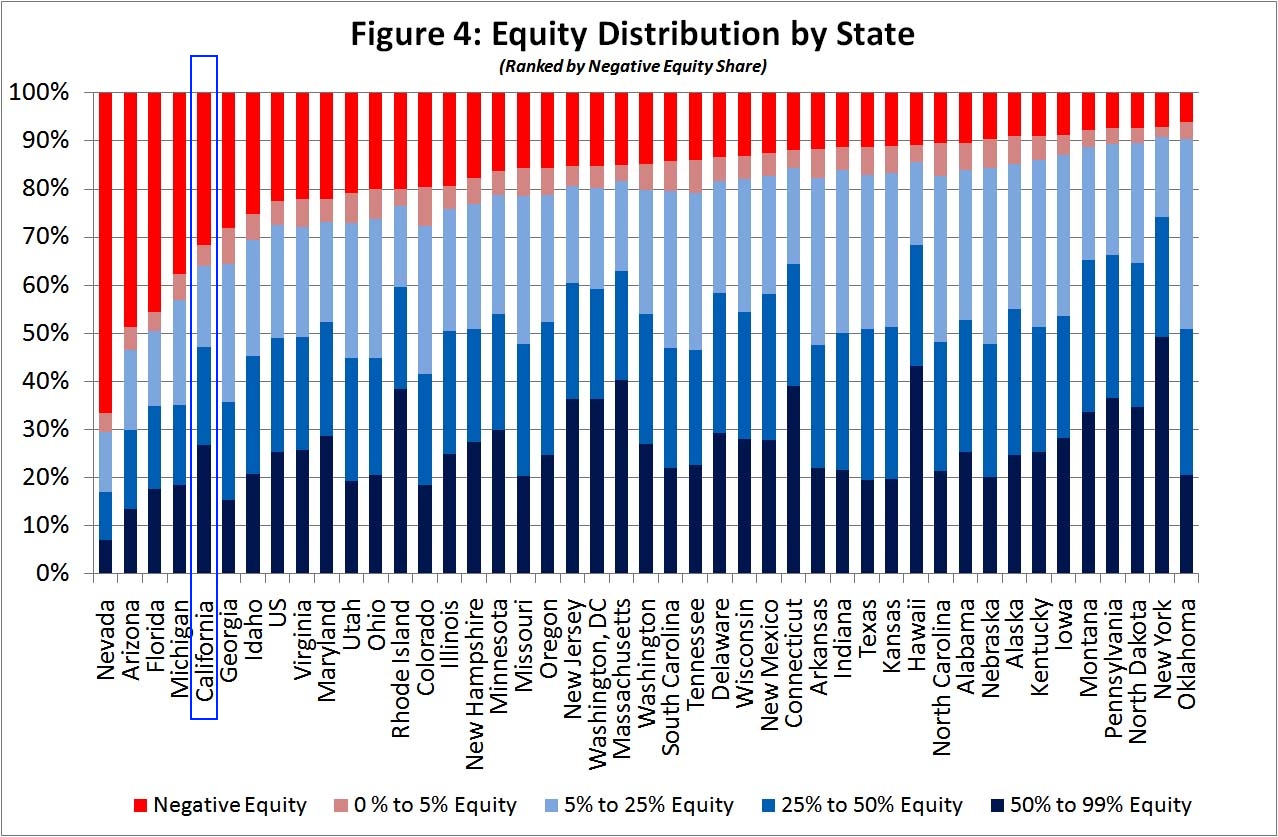 Source:  Core Logic
Keep in mind the above chart rolls out until Q3 of 2010.  When the data was pulled 1 out of 3 homes in the state with a mortgage was sitting underwater.  The biggest contributing factor to a potential foreclosure or strategic default is negative equity.  After all, if you had equity and could sell you would simply do it (if you refused a bank would simply foreclose and sell the home at market rate).  Yet there are many people pinching pennies to make the mortgage payment in hopes that bubble-day California home prices are only around the corner.  They are not.  The amount people are committing to with new mortgages should tell you everything you need to know about the current state of the market.
Where are all those Alt-A and option ARMs?
The national media has seemed to forget about the Alt-A and option ARM mess largely because it is relegated to a handful of states.  California is option ARM central and many of those loans are still wrecking havoc on the market: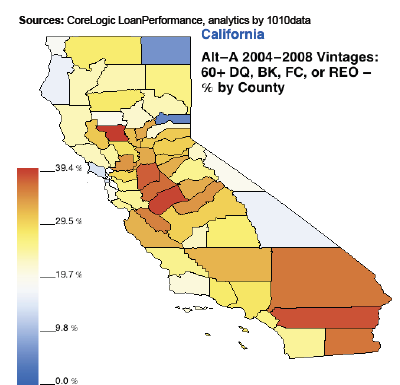 Source:  American Securitization Forum
These loans have default rates surpassing subprime loans in many cases.  If you think we are out of the woods just look at this map showing only a handful of foreclosures: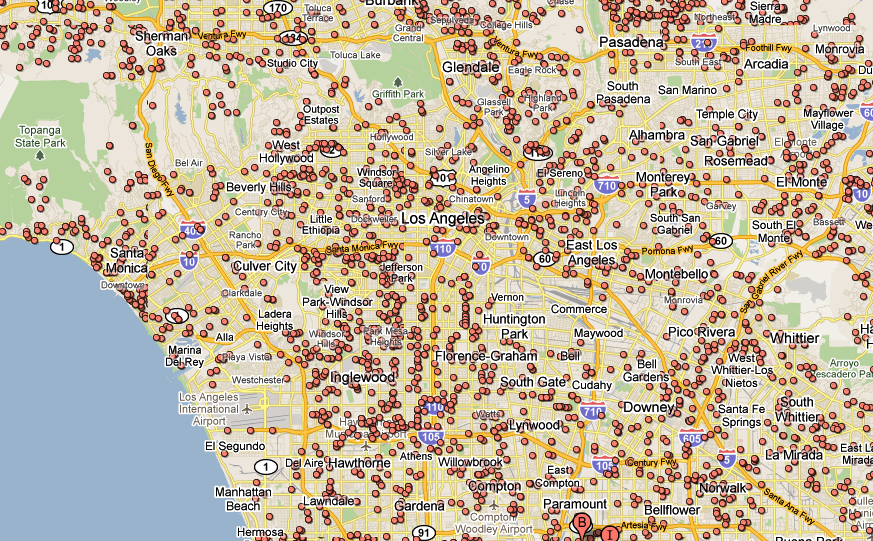 It looks like California home prices are correcting through the sales of foreclosures.  Even with that said I would bet that half of those with mortgages would like to think that they can afford their home even though the overall market data tells us otherwise.

Did You Enjoy The Post? Subscribe to Dr. Housing Bubble's Blog to get updated housing commentary, analysis, and information.