I find it extremely useful to take the pulse of the overall housing market in California by combining multiple data sources.  One of the bigger driving forces that will put a wet blanket on housing for years to come is the stagnant decade of wages.  This is problematic especially when prices are still unaffordable for households in local markets.  I think people over estimate how much wealth is out there or how evenly distributed it is.  They see the nice European luxury cars but don't see the $800 monthly lease payment being sucked out of the dwindling checking account.  They see the McMansion but don't see the massive 30 year mortgage.  Talking about income is taboo yet flaunting artifacts of wealth is a daily thing here in California.  I've seen brand new Jaguars pulling up to recycle large trash bags of cans and Hybrid Escalades at the 99 Cents Store.  No doubt the really rich are among us but simply looking at purses and cars is not exactly the best indicator (especially when you see $70,000+ cars parked outside 600 square foot apartment complexes on the Westside of LA).  Let us look at the state of California housing as it stands today.
The housing situation in California – Q1 of 2012
Let us first look at owner-occupied data.  I get readers looking for this data all the time because it does speak to the California housing situation.  55 percent of occupied housing is owner-occupied (45 percent is renter occupied):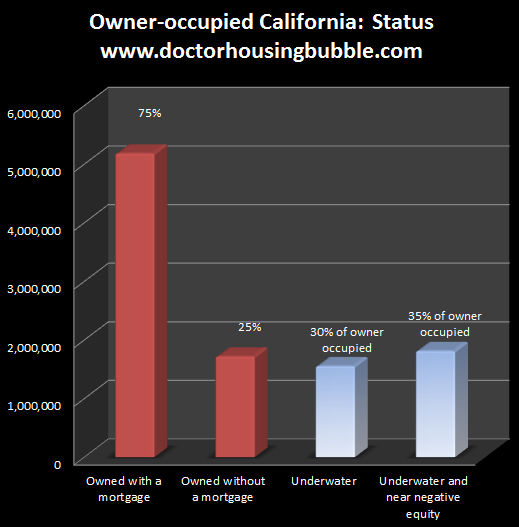 This is thought-provoking.  Over 75 percent of those that "own" a California home carry it with a mortgage.  This is a much higher rate than nationwide data.  More disturbing is when we bring in another data source and examine how many households are underwater.  When we do this, we find that 30 percent of the approximately 5,100,000 owner occupied-homes are underwater (aka negative equity).  In other words, a renter would be in a better spot because these owners have negative equity and would have to bring money to the table even to sell their home.  If we include those that are near negative equity (another 5 percent) the combined figure balloons to 35 percent of all owner-occupied units.  To put this in perspective, there are more "owners" with negative equity than folks that own their homes outright in California.  Is it any wonder then why the shadow inventory is so large in this state?
You have to think of the psychology at work here as well.  The notion is that being a homeowner all of a sudden connotes a sense of wealth yet 35 percent of those homeowners are actually worse off than renters.  The above data shows this.  In other words, dig deeper into the various data sources.  And how many others only have 10, 15, or 20 percent equity which is eroding away as California home prices make new lows?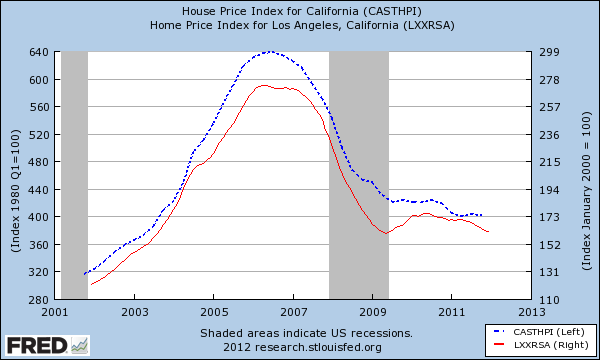 This ties in with the issue of household incomes: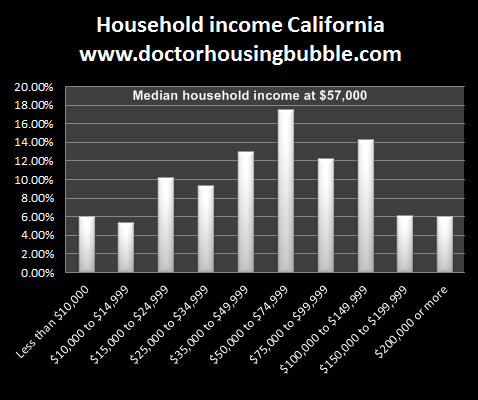 Source:  Census
The median household income in California is $57,000 and this comes from the latest Census data.  The reason we have so many people with negative equity is the bubble of course, but also the amount of people with little savings that are buying with FHA insured loans that require only a 3.5 percent down payment.  FHA has been the choice of many recent buyers especially in the last three years.  All those buyers are likely to have seen their equity evaporate into thin air.  Even if prices remained stagnant (unlikely) the typical selling costs shouldered by the seller is 5 to 6 percent.
I tried digging around for wealth data for California households and it is very difficult to find.  I was able to pull a few items regarding California household net worth's: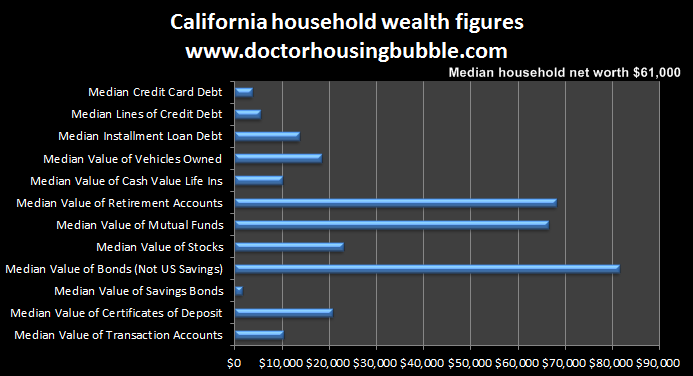 The median net worth of a California household is $61,000 but this data is old and was based on 2008 figures.  A large part of this was based on California home values being inflated.  Even then a net worth of $61,000 is not worthy of a McMansion or a luxurious foreign car.  When you run the numbers above you realize every other Californian is acting as if they have a $1 million net worth when in reality, the facts highlight a very different picture.  Too many people think they should be living like reality TV stars when they should be living like a reality based household.
I wish we had more up to date net worth data for California but this is hard to gather and the above metrics may be out of date.  If anyone can point to recent California net worth data this would be very useful.
Negative equity and shadow inventory
If you want to get a big picture of negative equity across states look at this: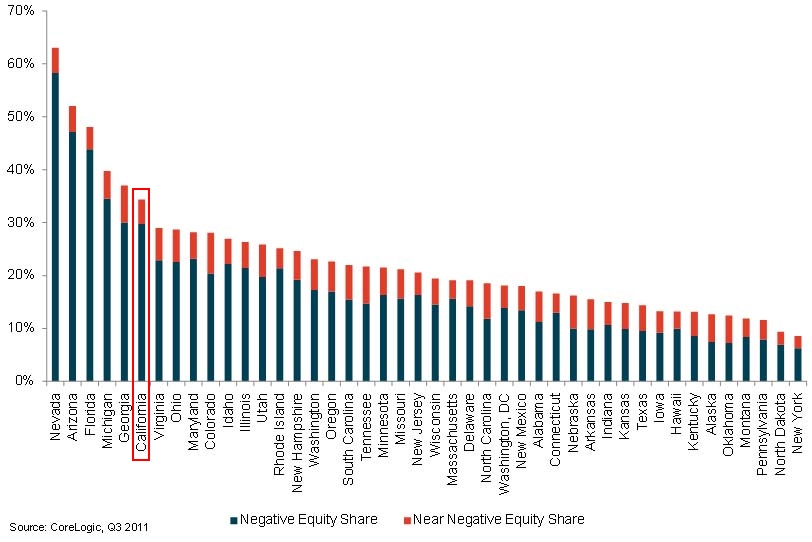 Source:  CoreLogic
Nevada, Arizona, Florida, Michigan, Georgia, and California take the top spots for states with negative equity.  California stands out because it has the largest number of residents in the United States.  RealtyTrac lists some 257,000 homes as being in foreclosure in California.  We also know that the combined foreclosure and 30 day late rate is 12 percent of all loans.  This is nationwide so we know for California the numbers will be higher.  But we'll use the 12 percent figure to be conservative.  Let us run the numbers:
5,183,554 homes with a mortgage in California (owner-occupied)

622,000+ homes in foreclosure or with one missed payment
We see that 257,000 are in a state of active foreclosure but most don't even show up on the MLS.  Only 114,000 foreclosures even show up on public home searches:

With actual active foreclosures, you have some 143,000 homes completely missing.  You have roughly 500,000 homes that simply do not show up on the MLS and are part of the shadow inventory.  When you look at the big picture, you can understand why it is hard to see home prices moving up soon in California.  Yet some still like to believe in the all hat and no cattle vision of wealth.

Did You Enjoy The Post? Subscribe to Dr. Housing Bubble's Blog to get updated housing commentary, analysis, and information.