I'm going to tell you something that you probably already know. Americans are horrible savers. In fact, this trait has provided the perfect breeding ground for credit products that provide the illusion of real wealth. I've been hammering away in article after article going after the big players on Wall Street and also going after unscrupulous lenders that have been the pushers of the credit products for this past decade that have led us to this current economic cliff. Yet there is sufficient blame to go around and one is the psychology of the American consumer.
As of 2008, the average household debt is $117,951 and this includes credit cards, installment loans, home equity loans, and mortgages. The New York Times has an excellent series regarding the "Debt Trap" and below is a graph that I will be talking about in great detail. If you are interested, click on the image to go to the New York Times interactive chart: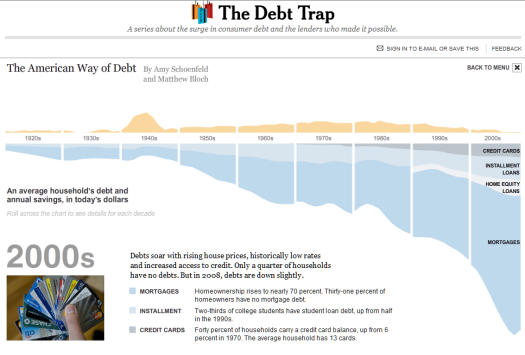 All in all Americans have over $2.5 trillion in consumer debt. This number is staggering. That is why during the first signs of any economic problems the first thing that came to mind to our financial politician wizards was an economic stimulus package. Of course the majority didn't ask where the money came from but you can now thank higher consumer inflation for the byproduct of this action.
Yet this mentality is still guiding much of our economic and political policies. People have become addicted to credit as if it were some form of drug. Recently, many lenders especially those with high concentration loan portfolios in California have started closing off many consumers' home equity line of credits. The reaction is very telling since it gives us an insight into how people view credit.
Many believe that this home equity line was similar to you having access to your regular savings account. That is, whenever you needed the money it would be there for you. This was one of the inventions that started in the 1990s and has exploded recently. As you can see in the interactive chart above, home equity loans really had no place in the market prior to the 1990s. The concept was that the equity was your ultimate safety net, not some modified credit card that would put your biggest asset at risk. Recently with the run-up in the housing bubble, American consumers with their lack of savings decided to tap into this resource to continue spending. So when many people realized that their home equity lines have been shut down, they felt as if they had their savings stripped away. This idea that access to debt is equivalent to access to wealth demonstrates the profound lack of financial knowledge from many in our country.
Why would people be so willing to spend money that they don't have? This is where the discussion veers off from economics and begins to look at consumer behavior and psychology. People want to be loved and accepted. Just watch MTV or VH-1 for a few hours and you'll see this for yourself through their advertising. What you'll see are ads about looking a certain way or buying a certain fragrance and with this simple act, you will be loved or accepted (normally by a very attractive member of the opposite sex). Of course you'll have to spend money on a certain product which is probably over priced.
You also see this in many of the local clubs and night spots here in Southern California. Pick anytime, if you go out on a single night, you'll typically see a guy trying to impress his friends with a round of the most expensive spirits not because of the taste, but because of the price of the drink. The group like a Pavlovian experiment responds as, "wow, you are the [best, greatest, coolest, hottest, funniest] person alive!" So the condition is imprinted on the mind. That is, if you spend on an expensive item you will get recognition from the group. The fact that many of these clubs accept credit cards is a perfect place to watch this social experiment unfold. Watch how many people use cash.
Now carry this psychology over to home purchases and automobile purchases which are the two largest consumer debt items around. Buying that home was about being secure and having a place for your family. After all, who doesn't want this? It's not like someone is going to respond, "no, I actually don't want my family to be secure and rather live under the San Gabriel River." So many either feel the pressure directly from family and friends or indirectly from media campaigns and those in the industry. The idea of owning a home is deeply imbedded in the American psyche. It is a cultural archetype that even as a kid, many start drawing a home with a picket white fence and a dog as a reference to what home is.
Those in advertising produced excellent (meaning they got people to do a desired action) marketing campaigns that exploited this insecurity which many carry deeply. Some of you may have seen this Century 21 ad where a couple is debating over real estate: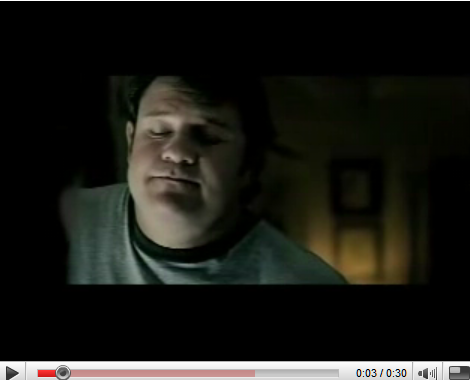 *Click to watch full ad on YouTube (warning, you may become financially ill)
Think about what this ad is telling us. What does your gut tell you when you watch this? Try finding an ad that has a more financially prudent debate where the couple is sitting down with their accountant and going over the ratios on a conventional 30 year fixed mortgage. We didn't see any of this because the entire industry would have halted! Hello! $397 average savings per year and people were going zero down on $500,000 starter homes? No wonder why our economy has placed a multi-year debt albatross that is slowly drowning us.
Amazingly, six in 10 Americans oppose Wall Street Bailouts but the majority do support the government keeping people in their homes:
*Source: Gallup
So why did the Bear Stearns bailout go through so quickly without going to the public? The answer is, many people simply do not care enough to cause an uproar about what occurred. They rather focus on saving 10 cents a gallon on oil while their mortgage payment just went up $500, $1,000, or even $2,000. The talking heads told us that if Bear Stearns wasn't bailed out, the dark clouds of financial ruin would sweep over the nation and cover us in fire and brimstone. Guess what? We still ended up flying into a bear market and people are still losing their homes. We are getting this same rhetoric with Fannie Mae and Freddie Mac. A quick solution is nationalize the entities, split them up, and let the shareholders eat their risk. Enough with this implicit guarantee when we all know the taxpayer is on the hook.
The problem with Wall Street and bailing certain institutions out and this uttering of a second stimulus from politicians is they still believe that we are living in a world where people are willing to sacrifice their lives to go deeper into debt. They miscalculated on how people view housing. When the archetype dream of a picket white fence home came with a $4,000 a month mortgage payment, the sudden reality hit and many realized that the dream wasn't worth the actual price tag. That is why the zero down craze was so utterly incompetent. Buyers had no skin in the game.
In places like California, buyers were effectively given a put option. The mortgage itself is non-recourse, meaning if there is a foreclosure the home goes back to the lender or bank and the buyer walks away with a foreclosure on their record. Many are electing to go down this route. Some by choice and many because they cannot afford the recasting payment or have seen a decrease in their income. Amazingly, the person that rents with a zero net worth now has a stronger financial position than the person that bought at peak levels and actually has a negative net worth of $100,000 or even $200,000.
The obsession with credit and the ultimate sign of debt the McMansion is now crumbling on its weak edifice. Our economy has been so dependent on debt and real estate for the past decade that we have fallen behind in many crucial areas like biotechnology and engineering because much of our capital and resources were diverted to non-productive sectors like building bigger and bigger homes accompanied by cars that are bigger and less fuel efficient. Slowly this is changing at least with the auto industry.
Many rational Americans looked around their neighborhood and saw what was a once in a lifetime spending binge. A boat, Hummer, and McMansion for all. The only problem is, it was on a temporary lease. The problem with this is that 70 percent of Americans were living like the top 1%:

*Source: Wikipedia
Many had to deal with cognitive dissonance of knowing incomes didn't justify the spending they were seeing in the real world. The majority however decided to capitulate and get into unbelievable amounts of debt. It was a façade. The government is simply feeding into this cultural delusion that all the consumption items of debt reflected the actual income of our country but it did not as you can clearly see. No politician has the courage to say what needs to be said, "my fellow Americans, we have spent way beyond our means and need to change the way we live our lives." Not during an election year. They will keep feeding into this myth that you can save nothing and sacrifice little and enjoy everything today even if you don't actually have the savings to pay for it. Until we see some CEOs doing the perp walk instead of going to them for advice on saving the housing market (much of the problems created by them), then we will know that times are changing at the top. People need to demand this from their government or at the minimum, not buy into this financial myth.
We have $500 billion in Pay Option ARMs that are set to recast in the next few months. These are the absolute most toxic mortgages out there. I would put them on the same level as subprime loans and we are going to quickly realize that they too will be defaulting in high rates. Banks and lenders are artificially counting that these loans will still remain current once they do recast. If you look at their bottom line, they are actually counting much of the deferred interest as income. Many are current but not for long. They are betting that owners will exercise their put option but many will simply allow it to expire worthless.
I notice that parts of our cultural consumer psychology are changing. There was one commercial this weekend on a show that was targeted to the teen crowd that had a girl fixing up her dorm room. The room looked trendy and had all the knacks that someone could possibly need for college. She looks at the camera and tells us, "I got this all for a discount. After all, I am a math major." It will now be cool to save if not for any other reason then there is no other option. There was also a segment on a show poking fun at those who waited in lines for the new iPhone. One of the actors was showing a new feature of, "using the phone to navigate for places for cheaper rent since I can't afford my current place with this phone." Time for the wake up call folks. Things are not going back to how they were.
Did You Enjoy The Post? Subscribe to Dr. Housing Bubble's Blog to get updated housing commentary, analysis, and information