When the House of Morgan speaks, people listen. There are very few banks that carry an aurora of royalty like that of JPMorgan. Unlike our brethren in Europe or Asia, long historical banks or families simply do not exist in our nation's short history. The life of American financier, bankers, and art collector John Pierpont Morgan with the ability to merge Edison General Electric and Thompson-Houston Electric into the mega conglomerate General Electric, is one of great historical reference and study.
Morgan entered banking in 1857 in his father's London location and then moved to New York City with the knowledge he learned. During the Civil War Morgan was approached to purchase old rifles being sold from the army at $3.50 each. One of Morgan's partners retooled the rifles and sold them back to the army for $22 each. This was touted by some as a scandal but the army knew the weapons were retooled; what this highlighted was the ability of the government to spend more than it should and also, brought to light inefficiencies in large bureaucracies.
This is part XV in our Great Depression series. Below you'll find the latest five articles:
10. The Sham of our Current Unemployment Numbers
11. Understanding the Impact of Asset Deflation and Consumer Inflation.
12. Is the DOW now Tracking with the California Housing Market?
14. Bank Failures.
Morgan had an uncanny ability of taking over businesses and reorganizing them. He had a reputation that would be similar to something of a Warren Buffet in our day and age. Yes, they played in the economy in different roles but their ability to be successful is born from the same ability to make businesses work.
During the Panic of 1893, the Federal Treasury was nearly out of gold. Yes, they actually used gold back then unlike our current system where money is made up out of thin air. During this panic the President at the time Grover Cleveland asked Morgan to help supply the U.S. Treasury with $65 million in gold with half coming from Europe to restore the treasury surplus. This move saved the Treasury. During the 1896 campaign Republican William McKinley ran under the gold standard platform.
It is incredible to think how much power Wall Street had back then. One year before his death in 1912, Morgan testified before the Pujo Committee, a subcommittee of the House Banking and Currency committee regarding finance and banking. As it turned out, a small group of financial leaders were abusing their public trust and consolidating power to the hands of an extreme few. Morgan died in March of 1913.
Many books have been written about J.P. Morgan. His life is more complex than a single article can sum up but suffice it to say that it is an intriguing one that has left a historical impression on the life of American finance. The fact, that the House of Morgan was the one who stepped in to save Bear Stearns with the aid of the Federal Reserve should tell you how the American finance system is structured. It wasn't Bank of America that stepped up.  Maybe to soothe their ego they took over Countrywide trying to gain some love from daddy at the Federal Reserve?
Now why is this relevant to what is going on today? Well it is relevant because there are very few institutions that have the ability to tell you how it is with little fear of repercussions. Many firms including the now taken over IndyMac Bank were assuring the public that they were fine up until the day they were taken over by the FDIC. Even Bear Stearns was telling the public all was well before that faithful weekend when they were sold off for a token $2 a share. Yet JPMorgan Chase & Company with their current CEO Mr. Dimon recently came out with a few simple words that essentially sum up the current situations. Mr. Dimon told analysts on a call that mortgage problems were now spreading to prime mortgages:
(Housingwire) "Prime looks terrible," he told analysts on the call. "And we're sorry, and there's nothing else we can say."
The company currently holds $34.4 billion of jumbo mortgages, along with $2.5 billion of Alt-A mortgages. Net charge-offs among prime loans in the second quarter rose to $104 million, more than double the $50 million recorded just one quarter earlier. JP Morgan jumped in headlong into jumbos and Alt-A mortgages during 2007 – obviously an ill-timed bet, given where the market has headed.
"We were wrong, we obviously wish we hadn't done it," Dimon told analysts. "We're very early in the loss curve."
This is as honest as any top CEO has come out in the recent housing debacle. To take ownership of a blunder in your company plan. The fact that we are now being told that "prime looks terrible" is simply another way of saying we are now all in this mess. No one in this country will be able to hide from the hideous repercussions of this housing and credit bubble bursting.
Yet it is important not to setup a system where we are doomed to repeat similar mistakes in the future. The knee-jerk response to trying to save Fannie Mae and Freddie Mac, trying to symbolically go after a select few naked short sellers, and making a public spectacle of the public's money is coming to an end. The Federal Reserve came into existence signed in by President Wilson in 1913, after the death of J.P. Morgan: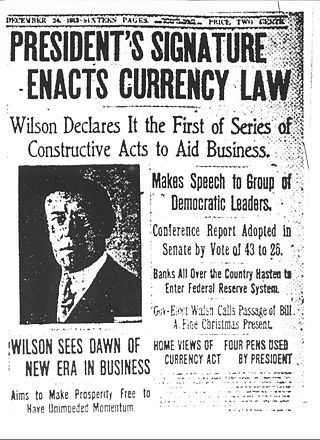 The Federal Reserve Act spells out their purpose:
"To provide for the establishment of Federal reserve banks, to furnish an elastic currency, to afford means of rediscounting commercial paper, to establish a more effective supervision of banking in the United States, and for other purposes."
Well they succeeded on an "elastic" currency since it is has been bouncing off the walls these last few years. Should we even discuss the supervision component? The fact the IndyMac Bank is now under the FDIC and other banks are hanging by their nails speaks for itself. The fact that the investment banks on Wall Street are holding a hand grenade of credit default swaps and have essentially insured mutually assured destruction goes to show that supervision once again was not there.
And this goes beyond Ben Bernanke. This stems back to Alan Greenspan who under his watch, allowed the balloon to inflate to the current point of global financial destruction. Anyone thinking that we are out of the woods because a brief bear market rally last week is simply deluding themselves. Take a look at the raw numbers in terms of bad mortgages, foreclosures, bank balance sheets, and you'll quickly realize that we are standing at the edge of Niagara.
If you want to gain some perspective, it may be helpful to look at a letter of a banking president during the height of the Great Depression:
"This is a shameful and humiliating exhibition. It is uniquely bad. Across the border in Canada, there was not a single bank failure during our period of depression, and one must go back to 1923 to find even a small one. Nowhere else in the world at any time, were it a time of war, or of famine, or of disaster, has any other people recorded so many bank failures in a similar period as did we. We were not experiencing a war, a famine or any other natural disaster. All the economic tribulations we have undergone in the past three years have been man-made troubles, and Nature has continued to shower us with an easy abundance – more, indeed, than we have known how to distribute with economic wisdom.
Human stupidity and cupidity were the taproots of this great financial disaster. Those are evils which will always best us. There have, however, been revealed faults and weaknesses in our banking and investment practices that account in part for the extreme nature of this experience. Isn't it about time that we began thoughtfully to examine some of the fundamentals of our banking and investment theories and methods?"
The question is, are we going to continue fueling policies that clearly led us into this mess or are we going to finally sit down and examine the actual premise of our entire system? Here in California, it appears that both parties are more interested in getting re-elected than actually coming up with long-term sustainable solutions.  I think that is key here.  What is sustainable for our nation in the long run?  Clearly debt isn't. Government officials would rather borrow and expect that money will grow on trees. Yet this is checkmate folks. Some don't like the comparisons to the Great Depression but when I drive down to work and see huge lines of customers trying to get their money out here in California in a desperate panic from an institutions that made absolutely absurd loans, what other comparisons do we have? I think many people for the first time in their lives are seeing housing prices go down nationally (first time since the Great Depression), bank runs, a crumbling dollar, and unemployment that realistically is hovering around 10 percent if we count those underemployed and those who have simply given up looking for work.
What Mr. Dimon is saying is things are as bad as they look. It will take time to fix. Yet why compound these mistakes by giving carte blanche to the institutions that got us here in the first place? The Federal Reserve could have stopped this mess before it got out of hand with Alan Greenspan. He could have raised rates and used his rightful jurisdiction provided by the Federal Reserve Act of supervising banks but instead chose to lower rates and become a cheerleader for adjustable rate mortgages. And now, we want to give the Federal Reserve more power?
Mr. Dimon may have summed it up when he said, "And we're sorry, and there's nothing else we can say."
Did You Enjoy The Post? Subscribe to Dr. Housing Bubble's Blog to get updated housing commentary, analysis, and information