It is rather appropriate that the second largest savings and loan failure in history that of IndyMac Bank occurs here in Southern California. IndyMac is based out of Pasadena California, an upper-middle class city within the concrete jungle of the 88-city metropolis.
With a stunning $32 billion in assets, this is by far one of the largest failure in decades. And of course, the FDIC with their usual dark suit posse swooped in after the market had closed on Friday to not spook the sheep in the public. Add this one to the list as the fifth bank failure of the year: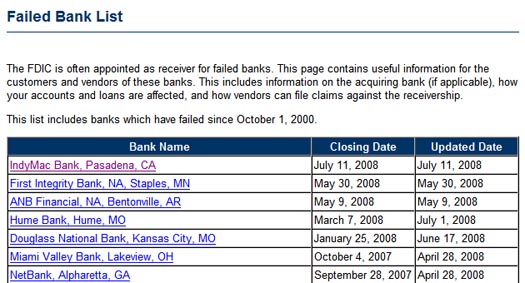 Source: FDIC
Just to put this into perspective in relation to the other failures this year:
Douglas National Bank: $7.3 million in assets
Hume Bank: $11.2 million in assets
ANB Financial: $2.1 billion in assets
First Integrity Bank: $35.8 million in assets
IndyMac Bank: $32 billion in assets
That is how large this closure is. They also have $19.06 billion in total deposits with approximately $1 billion that does not fall within the $100,000 FDIC insured prevue.
It is important to understand the history and how this institution was bred to take us through memory lane of the now defunct savings and loan.
IndyMac Spawn of Countrywide
Countrywide Mortgage Investment was founded in 1985 as a dumping ground for loans that were too big from the original mortgage sausage maker, Countrywide Financial. Ironically, these were the loans that were too big to be sold to big brother Fannie Mae and Freddie Mac which have their own obscure and fascinating history. In 1997, Countrywide Financial decided to spin the company off as an independent unit which is (was) the beloved IndyMac Bank.
IndyMac Bank profited handsomely during the decade long housing and credit bubble. They expanded their services by acquiring Financial Freedom in 2004 who were experts in the reverse mortgage business. The only problem with having reverse mortgages is you have to have equity in your home which of course is now becoming rarer with the housing collapse. As the FDIC sorts through the mess, I'm sure this piece of the pie will be bought off since there is a legitimate viable market with the many baby boomers that will be retiring soon. In the midst of all the mortgage mess it is easy to forget that housing for the most part is a good investment. Approximately one-third of those who own their home have no mortgage. Many of these are facing retirement soon. So we'll see how the vultures divvy up the $32 billion in assets.
IndyMac like many alternative lenders was simply another casualty of the housing Ponzi scheme. During the boom days, IndyMac soared to peak share price of $50 during the peak in 2006. In fact, in September of 2006 CEO Michael Perry went on CNBC to give this brief interview: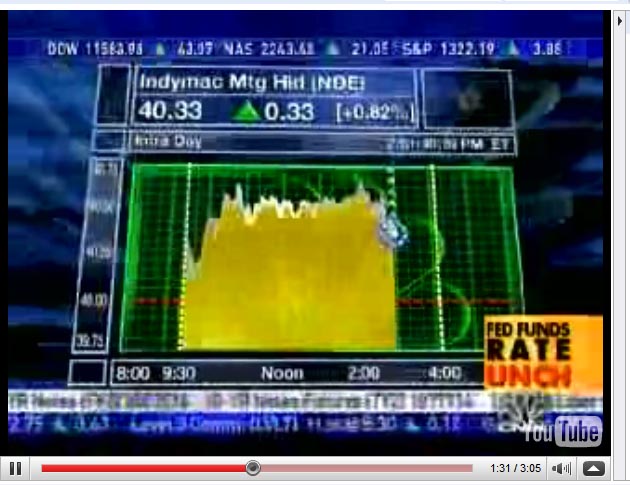 *Click on picture to watch 3 minute video
Some lovable quotes from the video:
"only a quarter in option arms…"
You mean the $500 billion in Pay Option ARMs that are now collapsing? What about those Alt-A toxic loans that are now falling apart like sub-prime mortgages?
"the borrowers have very strong credit…"
The ultimate misnomer of the Alt-A phony baloney bubble. Just because you have a 700 credit score and make $100,000 a year does not mean you can afford a $900,000 mortgage on a home. Especially now that the home is worth $600,000 and your $100,000 income came from an industry tied to real estate. Whoops.
"borrowers know what they are getting into…"
Yes sir they did! So much so that your institution was taken over 1 year and 10 months from this interview.
"half of our business is owners accessing the equity in their homes…"
Hard to access money from a home that is now down 35% and you are in a negative equity situation.
The point being is that the model was completely flawed and the only reason institutions like IndyMac lasted as long as they did was the false pretense that somehow credit worthy borrowers knew what they were doing when they took out Alt-A and Pay Option ARMs on over priced homes. The lender like the borrower on these uber priced homes both were speculating and playing into this Ponzi housing game. Like any Ponzi scheme, those that can get in early usually make out very well. It is those that get in late who stand to lose the most.
Keep in mind when this interview was given, California was still going hot and strong. In fact, at this time Los Angeles had a median priced home of $509,000 that was up from the previous year by 3 percent. The market kept on going strong until August of 2007 when the housing market in Los Angeles peaked at $550,000. Let us take a quick look to see how IndyMac quickly disintegrated once the housing bubble collapsed especially when the market in California started tanking in 2007: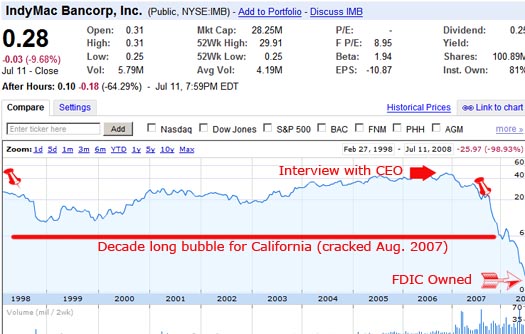 Here is some interesting information:
Peak Price $50 per share
Market Cap at Peak: $5.04 billion
Current share price is 10 cents
Current Market cap: $10 million
Basically the current market cap is enough to buy half of Ed McMahon's foreclosed home in Beverly Hills. Problems really started happening at IndyMac in 2007. Now we have some of Kudlow's minions who believe in the psychological recession trying to pinpoint the collapse of IndyMac on letters released by Senator Charles Schumer on June 26, 2008 urging regulatory agencies to take steps to prevent IndyMac's collapse. Let us look at the chart again with a 1 year horizon: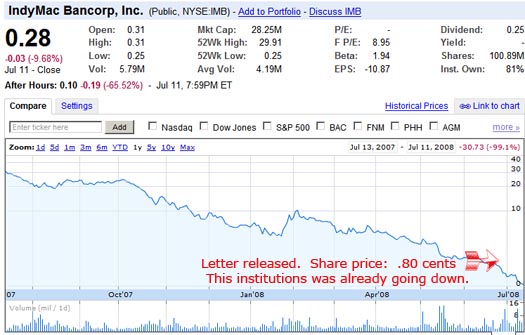 When the letter was released IndyMac was already trading at 80 cents per share. The only thing the release did was spur a bank run on this shoddy institution that caused a run of $1.3 billion in 11 days. Doesn't the FDIC tell us in their takeover memo that they have $19 billion in total deposits? Of course. But these folks were treading on such an under capitalized thin margin that $1.3 billion was the coup de grace on this place. Anyone blaming this on Senator Schumer is an absolute moron.
In fact, one of the absurd consequences of a moral hazard is as problems started occurring with IndyMac, they started raising their rates on CDs! This is simply astounding given the nature of their balance sheet but to shore up capital, they had to increase their rates to draw in customers. In fact, take a look of an ad I just spotted today on Bankrate: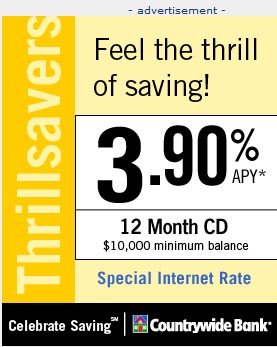 For your information there is no longer a Countrywide since they were bought out by 2008 royal problem solver, Bank of America. Since some of these ads are bought on a monthly run, I imagine this was simply on the queue of ads since BofA just finished their takeover a few days ago. Look at that astounding rate! That is flat out beyond any other thing you can get: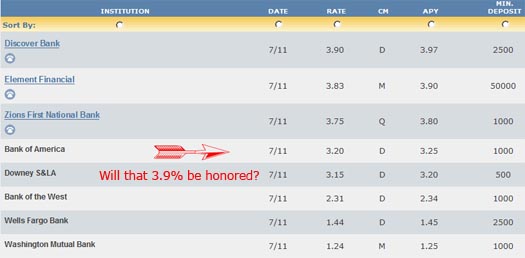 This kind of last minute behavior reminds me of the Monty Python Black Knight skit: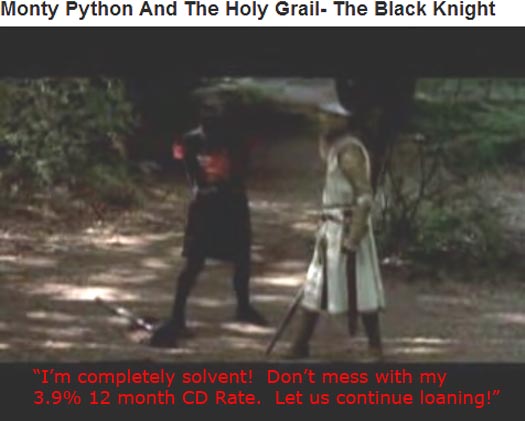 *Click to watch persistence in the face of failure
When the market opens on Monday, a bridge bank will be running the show under the name of IndyMac Federal bank, FSB which is now under conservatorship with the FDIC. IndyMac when it was still running announced a job reduction of 60% from an employment base of over 9,000. Now being under this legal restriction, the institution is only operating as a liquidation sale. Given the even larger issues with Fannie Mae and Freddie Mac, I doubt you'll see any government aid here. IndyMac is the first of many failures this year. During the Great Depression, many small banks failed so we won't see the sheer size in numbers but keep in mind one IndyMac is the equivalent of 100 small banks.
Did You Enjoy The Post? Subscribe to Dr. Housing Bubble's Blog to get updated housing commentary, analysis, and information