There will be no recovery until the shadow inventory is cleared out.  This backlog of properties hangs over any sustainable housing recovery like a dark cloud overhead.  Many of these properties are still priced at values too high simply to inflate bank balance sheets.  The problem is apparent although not transparent.  If these homes could fetch breakeven prices in the market they would have already been sold by banks.  However with the prospect of a decade of stagnant home prices moving forward because of stunted wage growth many banks are starting to leak out some of this inventory onto the market.  They were able to stomach 2 to 3 years of non-payments but 4 or 5 years?  Bank of America plans to unload a sizeable amount of shadow inventory through a three year process.  So where do things stand today?  Is the shadow inventory really decreasing at a sizeable rate?  Let us take a look at the current figures.
Shadow inventory still too high and will drag prices lower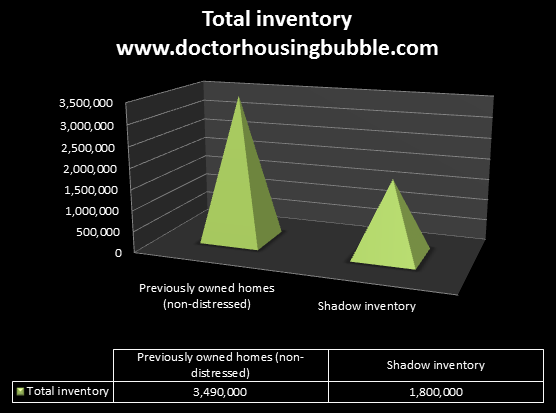 Source:  CoreLogic
According to recent information 3,490,000 homes are listed for sale that are non-distressed previously owned homes.  This is part of the "healthy" market if we can even label it that way.  Yet as you can see from the chart above, we have another 1,800,000 properties that are in some stage of foreclosure or have the stigma of being 90 days behind on payments.  What is more disturbing is that this doesn't capture the entire potential future pipeline of problem properties:
"(LA Times) The CoreLogic statistics don't include nearly 2 million homes that are more than 50% "underwater," those worth less than half of the mortgage balance. These homes will probably fall into foreclosure in the near future, CoreLogic and other experts say."
In other words we have more homes in foreclosure or that are 50 percent underwater than we have of actual previously owned homes (non-distressed) that are looking to be sold.  This is the core of the issue and it has been this way since the beginning.  If you can pull your memory back to 2007 and 2008 much of the bailout talk revolved around putting mechanisms up for clearing out the shadow inventory.  Whatever happened to that?  The financial industry used a Trojan horse ploy to funnel money into their system while still keeping these properties on their portfolio.  Why?  Consider it double dipping.  First with bailout money in hand, they found other speculative methods to make money.  This is clear by their profits and where they made their money.  Yet they also believed that home prices would rise shortly so when prices did move up, they would be able to unload properties at a profit and make money yet again.  How can you lose with this kind of system?
However home prices continue to move lower and the shadow inventory is still extremely high.  After a brief bounce in home prices in 2010 thanks to gimmicks and tax credits home prices are now moving lower again:
The only way home prices can stabilize and move up is if family wages move up in tandem.  This just doesn't seem to be happening, at least in the short term.  It has been one decade of negative wage growth for American families so ultimately this I believe will be the key in either maintaining home prices or allowing for further declines.  States that had the biggest housing bubbles face even deeper challenges because a large part of their economic success was tied intricately into the housing market.  Take a look at employment sectors in California tied to housing either directly or indirectly: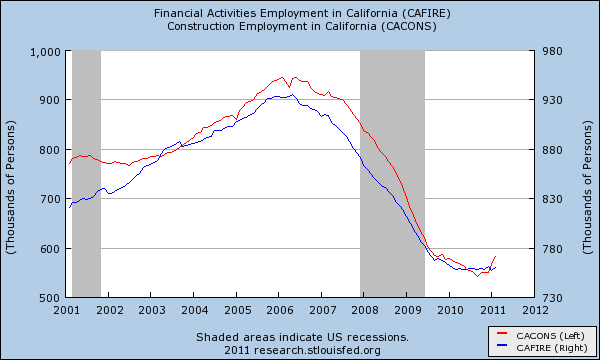 The employment sectors of finance, insurance, and real estate (FIRE) are still way below their peak.  It is unlikely that we will be seeing the peak number reached anytime soon.  Construction is seeing a tiny perking up but this is a blip in the above chart.  What this means is that high paying jobs in these fields are still gone.  Where have these workers gone?  If recent hiring trends are any indication they have gone into lower paying service sector jobs.  Certainly not any career that supports $500,000 home prices.  The shadow inventory is keeping prices lower and moving prices lower in many markets.  So even the cut of the pie has shrunk relative to the income you can derive from an inflated asset.  Bottom line is we have a structural change on hand.  The nationwide housing market is being turned on its head.  Not only is the perception of home ownership being directly questioned we have demographic shifts that will play into the headwinds of the shadow inventory coming online.  Many baby boomers who were able to support a household with one income are selling to younger professionals needing two working professionals to support a household.  Many are delaying starting a family or even thinking about having one at all.  In the end, the consumer has changed and this is happening when inventory is massive and will only increase.
Think for a second what "shadow inventory" is composed of and what it signifies about the housing market.  It means 1,800,000 homes are currently in foreclosure or are bank owned but do not show up in the regular non-distressed inventory.  Another 2,000,000 homes are underwater by at least 50 percent.  These are likely to end up as foreclosures since the number one predicting factor for future housing issues is being underwater (otherwise you would simply sell into the market and move on).  I would put these 2 million homes into the category of the 1.8 million homes and these two items combined are larger than the "healthy" market.  And don't think the pipeline has stopped growing.  Each month we add more people into this and there has been little movement here to purge the inventory.  This is probably the more troubling factor.  The inventory is slowly dissipating but at this rate we are looking at 3 to 7 years before the market is "normal" depending on the rate and that assumes no more homes fall into the pipeline which is unrealistic.
Ultimately what we are left with is a horrible housing market.  This also means an entirely new generation of Americans will be absolutely reluctant to buy a home or at the very least, do more significant due diligence.  The fact that we are leaking the inventory out slowly and the system is designed to help banks preserve their balance sheets guarantees us problems down the road.  The financial industry is largely a drag on the economy right now and will continue to operate that way.  Until we truly clean out the shadow inventory to a manageable level there will be no recovery in the housing market.  Until solid wage growth occurs, there will be no push for home values to go up.  This is the end scenario of the experiment orchestrated by Wall Street investment banks.  Gear up because the bill is now coming due and it certainly isn't Wall Street investment banks that will be paying the bill.

Did You Enjoy The Post? Subscribe to Dr. Housing Bubble's Blog to get updated housing commentary, analysis, and information.