One of the unintended consequences of growing a large shadow inventory is the unfortunate creation of a giant pool of negative equity homeowners.  Zillow recently reported that over 28.6 percent of homeowners with a mortgage now sit in a negative equity position.  This is up from the 26.8 percent reported only last quarter.  It should seem obvious that the process of simply ignoring non-payments by banks to keep balance sheets inflated will reflect in other aspects of housing data.  If we look at MLS data the picture is one of declining inventory yet the negative equity position reflects a quite struggle for many homeowners.  The shadow inventory looms large.  We even have a report out today showing that delinquencies are on the rise again.  Let us take a look at some of the housing reports and try to make sense as to what is occurring.
Over 14,000,000 Americans own a home and have negative equity
Current information now shows the ranks of those with negative equity have grown once again.  The latest Census data shows 50,339,500 homes with a mortgage.  If 28.6 percent of these are underwater you have 14.3 million homeowners in a negative equity position:

Source:  Census, Zillow
This coincides with the large shadow inventory but also the lag in the foreclosure process with banks.  It should be apparent that if someone had equity in their home and was falling behind economically that a plausible option would be to sell and scale down.  But here you have over 14 million homeowners who would need to come to the table with money if they wanted to sell.  Most that encounter problems of course are facing the tough challenges of our economy.  The recognition of this is becoming more widespread:
"(USA Today) Another possibility for the bump in the delinquency rate is that a new crop of adjustable mortgages written toward the end of the housing bubble is resetting. Even if their interest rates remain low after the adjustment, payments might have increased, said Darren Blomquist, a Realtytrac spokesman. "We still have the bad loans mixed in that are resetting."

Although TransUnion still expects the delinquency rate to continue to fall in 2012, the company is now forecasting a few quarters of elevated nonpayment rates due to the uncertain economic outlook. The company doesn't predict a return to the national peak rate of 6.9%, but said some increase is expected.

"More and more homeowners are likely to struggle," Martin said. "I'm not sure this is a one-quarter blip."

That echoes predictions from other sources, like RealtyTrac.

"This isn't just about bad loans anymore," said Blomquist. "It's about a bad economy that's pushing people into foreclosure."
This has largely been our argument that low interest rates or other enticements like tax breaks can only go so far when the economy is getting worse or muddling along on the employment front.  The approach to solving this crisis was wrong from the beginning because it was banking-centric instead of focusing on shoring up households and looking at the job market.  So entering the half decade mark since the crisis hit little has really been done to help middle class American families.
Home prices still declining
The large shadow inventory will keep pressure on pushing home prices lower.  That is why year over year home prices are still falling: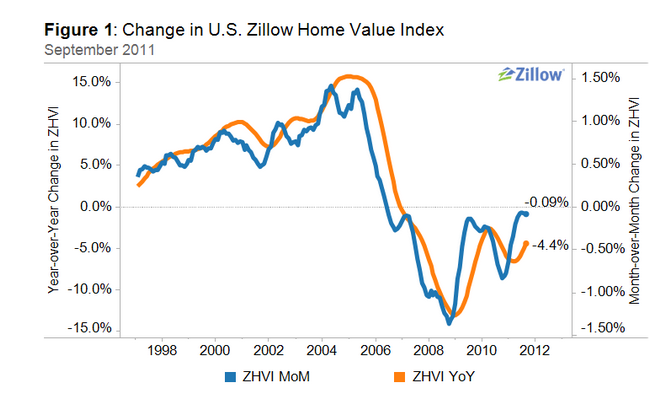 Yet this above data doesn't really highlight the differences in metro markets.  Bubble regions like Los Angeles are seeing more severe contractions in price compared to national trends: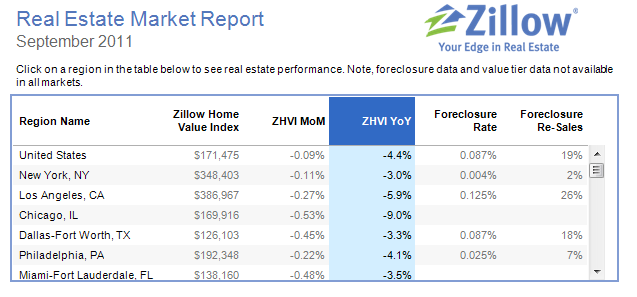 The L.A. market is down 5.9 percent year over year and Chicago is down 9 percent.  This is in comparison to the 4.4 percent drop nationwide.  We have an interesting market at the moment.  You can rest assured that you now have many not buying homes even with low mortgage rates.  Call it sticker shock but also household income shock.  You have multiple avenues of receiving information and most are becoming more educated especially when it comes to the biggest purchase of their lives.  Just because the Fed is artificially pushing rates to 4 percent on mortgages doesn't mean $500,000 is now somehow chump change.  As I have stated before people should take a high interest rate and a lower home price over a high home prices and a low interest rate.  With a high rate you have more options (i.e., refi if rates drop, easier all cash sale, add more money to knock mortgage balance lower, etc).  The low rate only gives you a low monthly nut.
The trend seems to be clear and that is the shadow inventory backlog is pushing many more homeowners into the negative equity column.  The number one predictor for future foreclosure is negative equity (this is the strongest barometer).  In other words the years of pushing and hiding properties in bank balance sheets may be causing a new set of problems.

Did You Enjoy The Post? Subscribe to Dr. Housing Bubble's Blog to get updated housing commentary, analysis, and information.