There is something surreal in the air in California.  With the warm summer weather and gorgeous sunsets it is hard to come to terms that the state has a $26 billion budget deficit that will be solved with massive cuts and borrowing.  The state is issuing IOUs which should be a warning sign to most that the state isn't flush with excess revenues.  Yet for some reason, there is this belief that we will once be back to the bubble heyday.  I was talking with a person trying to sell their home.  They had pulled the home off the market and told me, "I'm going to wait for one or two years when the market bounces back."  Bounce back to what?  The manic easy credit induced bubble days?  Those days are long gone.  In fact, in this particular area the homes are littered with Alt-A and option ARM loans.  How can you tell?  You see massive additions to the home and remodeling projects that have costs upwards of $100,000 courtesy of a HELOC.  This is not Beverly Hills but your mid-tier market.
Today we'll look at another Westside area in Rancho Park.  So far we have looked at:
In each of these areas we are seeing the early signs of a foundation cracking at the edges like poorly applied makeup.  Yet many in these areas believe in the housing bubble like some kind of underground cult.  They know something you don't.  In their world, math doesn't apply and supply and demand are words left to boring analysis.  Who needs analysis when you have the almighty power of the granite counter-top?  Who cares if the state has an 11.6 percent unemployment rate, the highest in modern BLS record keeping history?  That is a minor footnote.  Who cares that nearly 50 percent of option ARM loans sit in California anxiously waiting like ticking time bombs to level equity in mid to upper priced areas?  These are minor inconveniences and roadblocks to California housing bubble version 2.0 which will come to a theater near you.  It won't be the first time in history we have a jobless recovery but it will be a jobless recovery with a housing boom.  At least that is the perception in this parallel universe.
The budget is a mess.  The fact that we have a gap the size of one-fourth of our general fund is something beyond comprehension.  Notice of default data was released for the second quarter and it was the second highest quarter on record: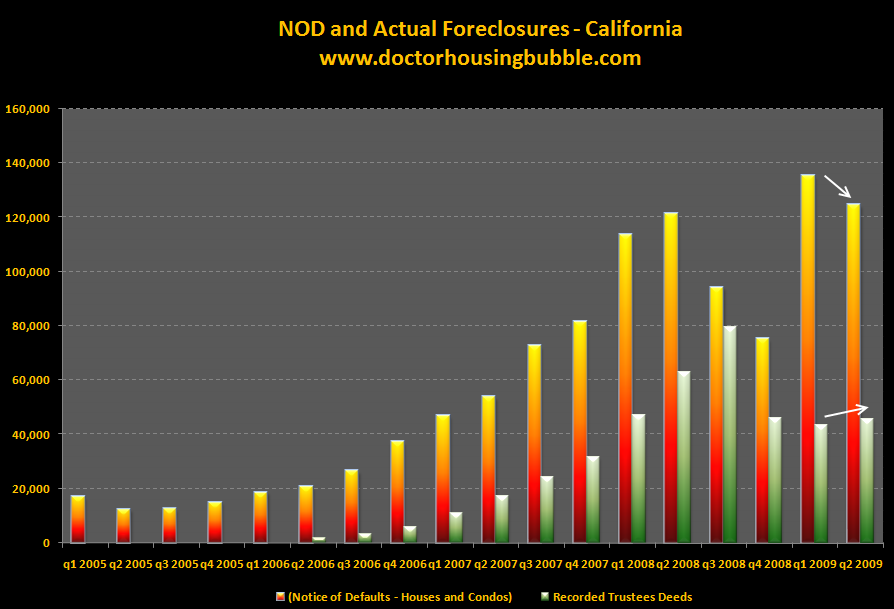 Although notice of defaults decreased from the first quarter, they are still sky high.  However, foreclosures did increase.  Keep in mind there is some serious funny business going on since some banks don't even bother to start the notice of default process for half a year.  We've had many comments posted on this site of people sitting in their home, missed payments and all, and have yet to hear from their lender (please share if you have a similar story in the comments).  Yet things are supposedly fantastic.  124,000 notice of defaults were filed in Q2 of 2009.  In these cases, the bank has sent a notice.  When do you think the Q1 and Q2 NODs will hit the market as inventory?  Try Q3 and Q4 of this year.  This aligning of the planets including the Alt-A and option ARM tsunami will engulf the mid to upper tier markets.
It is easy to drink the housing Kool-Aid since the system is still largely present.  Banks have only changed names and colors yet the mentality is still the same.  The S&P 500 is now up 300 points from the 676 low reached in March.  Hey, if the S&P 500 can increase 44 percent in four months why not housing?  In no other place is this silo-cover-my-ears-and-eyes philosophy more prevalent than in the Westside of Los Angeles.  Today we salute you Rancho Park with our Real Home of Genius Award.
Rancho Park – Translation: the Expensive Ranch
During the housing bubble, it was typical to hear people ask during cocktail parties, "so, where do you live?"  Of course, this was code for, "how much money do you make?"  Some enterprising bachelors would say, "I'm in the 310 and live in the Westside."  They didn't have to clarify that they got a T-Mobile phone in some strip mall shop with a 310 area code and live in a tiny studio.  The illusion of wealth is just as important as actually having it for many in the Westside.  Rancho Park is one of those areas that benefitted from being part of the Westside but really has very little in common with Santa Monica and Beverly Hills for example.  This is what many would call the all hat and no cattle crowd.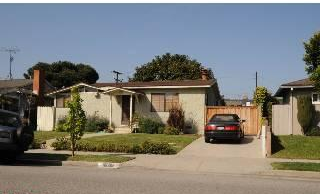 Today's home is an example of someone who sold at the peak (and conversely someone who bought at the peak).  Now who can really tell if they timed it perfectly or if the cosmos merely smiled upon the seller.  This above 2 bedroom and 2 bath home sold for $775,000 in 2005, near the peak of the bubble.  The last sale on this home was in 1978 for $90,000.  Does anyone doubt the diluting power of the Federal Reserve and U.S. Treasury?  The home as you can see does not look like a home that is worth three-quarters of a million dollars.  It is 1,134 square feet.  Yet these are the homes that are still sitting on the market.
But when we look at how this home was purchased, you will see why this home is now in distress:
I'll do the quick math for you:  $620,000 + $155,000 = $775,000
A zero down deal on a $775,000 home!  And this isn't even like they used two lenders for the piggyback loan.  These lenders were so eager to lend that they made the 1st and the 2nd mortgage.  Now you may be asking, who is WMC Mortgage?  WMC Mortgage was GE's defunct subprime mortgage business.  This operation ceased sometime in late 2007.  With loans like this I know you must be stunned.
Well as you can tell, a notice of default was filed in December of 2008 for some $37,000+ in missed payments.  A notice of trustee sale was filed approximately 3 months later in March of 2009.  Now the home is on the market for $679,000.  The ad tells us the following:
"2bed,2bath home. Rebuild or remodel. Sold as is. Great area. Foreclosure sale pending august 9, 2009. Owners seeking loan modification. Possible short sale pending lenders approval. No showings at this time."
What is there to modify?  As we have discussed the payment modifications being undertaken amount to government sponsored mini-option ARMs.  Possible short sale pending?  Who in their mind would pay $679,000 for a 2 bedroom home in Rancho Park?  And here is another point.  Those 100 percent deals are long gone.  This is jumbo financing here.  So if you were to buy this place and put 20 percent down you would need $135,800!  In the middle of the state printing money and unemployment skyrocketing.  All you need to do is look at areas like this and you will see that we are far from a bottom.  Those Alt-A and option ARMs are coming and are largely attached to homes in these areas.  The 310 is no longer immune.
Now let us assume you managed to get a loan with 10 percent down.  How much will you pay for your new 2 bedroom home?
Down payment:               $67,900
PITI:                      $4,569
Now I looked at some average gross income data and it looks like households in this zip code pull in $100,000 to $120,000.  Keep in mind this is the average, not the median.  But let us be generous and use that $120,000: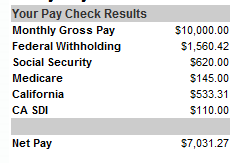 The above is a quick analysis.  We didn't contribute any funds to a 401k or anything of that sort.  No healthcare is in there either.  So even with that, the PITI will eat up 64 percent of the net income of this household that pulls in $120,000 a year.  Do you see why home prices still have a long way to go down?
Today we salute you Rancho Park with our Real Homes of Genius Award.
Did You Enjoy The Post? Subscribe to Dr. Housing Bubble's Blog to get updated housing commentary, analysis, and information.