The Westside of Los Angeles is the perfect region for real estate neurosis.  Bubbles play on human nature's manic tendencies and nothing is more volatile than real estate in the Westside of Los Angeles.  I've written a couple of pieces highlighting homes in Culver City and Santa Monica and discussed why these regions are prime candidates for the destruction that the Alt-A and option ARM tsunami will unleash later in 2009 and 2010.  Just to give you a perspective, in May only 219 homes sold in the Westside of Los Angeles while the entire county had 6,521 homes sold.  The 29 zip codes that make up the Westside of L.A. make up only 3.3 percent of all total sales for the county but there are probably more per capita articles written on this region than any other.  Call it the "MTV Cribs" obsession.
Now in this article, I want to examine data from March of 2009 and compare it to data from May of 2009.  I will also pull up current MLS data and distressed property information to show how a silent tsunami is building up in these areas that many people seem to be in denial with.  California with a $26.3 billion deficit and pumping out IOUs, yet some people still think that their region is locked in a tiny silo that protects their pseudo housing wealth.  Some people are still in the mania phase of the bubble, (as hard as that it to believe).  Let us first examine data from March: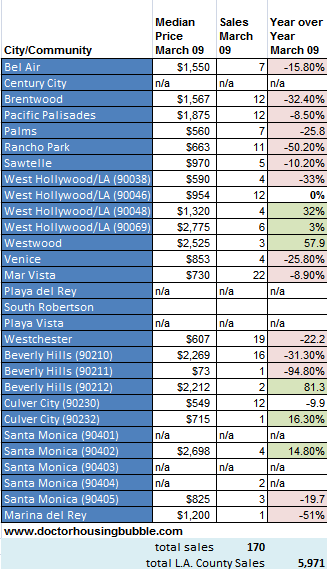 This is important information.  What you'll see is that 14 zip codes are reporting year over year declines in their median price while only 6 are reporting an increase.  Even in March, the Westside only made up 170 sales of the 5,971 sales in Los Angeles County.  Let us now see what occurred in the period of two months: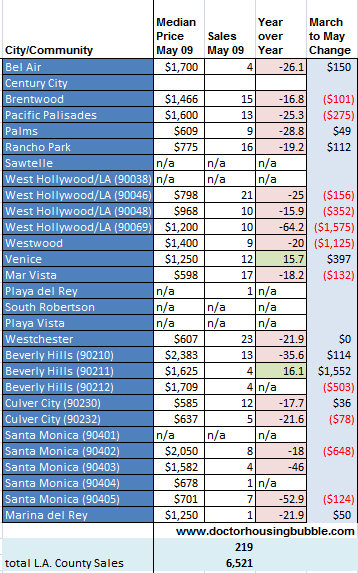 What you now see is more year over year price declines.  In this latest data, you will see that for the Westside 18 zip codes are reporting year over year declines while only 2 zip codes show any increase.  I've also included a comparison from March to May and you'll see how extremely volatile this region is because of the tiny subset of sales.  Sales did increase from March but that has to do with falling prices.  Just look at Westwood for example.  The median price fell by $1.125 million from March but this is only based on 9 homes sold.  This also occurred in Beverly Hills (90212) where the median price fell by $503,000 in two months but is also based on 4 homes sold.  Yet the overwhelming trend is to lower prices.  What else would one expect in a region littered with Alt-A and option ARM products?
People sometimes need examples so we'll take a look at a home not in the Westside, but in Southern California which exemplifies what is going on.  The former New York Mets and Phillies baseball player Lenny Dykstra recently filed for bankruptcy protection.  He had purchased Wayne Gretzy's gorgeous Thousand Oaks home for $17.5 million.  The home was recently on the market for $25 million then dropped to $16.5 million.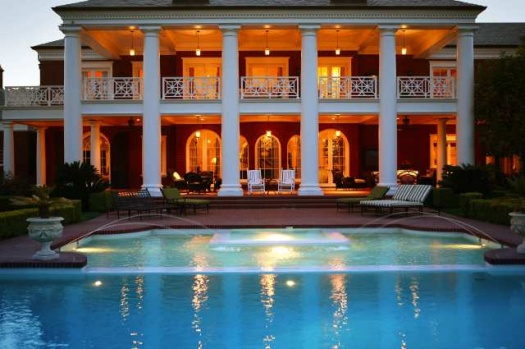 *Source:  Zillow
"(ESPN) Walter Hackett, a lawyer for Dykstra, said the event triggering the bankruptcy filing was a planned foreclosure sale of a southern California residence that Dykstra bought from hockey legend Wayne Gretzky for $17.5 million in 2007.
Dykstra is "in good spirits," Hackett said in an interview. "He understands now that bankruptcy is truly a protective act. I do expect that Lenny is going to emerge from Chapter 11, and make those people whole who have legitimate claims."
According to the bankruptcy petition, Dykstra's largest unsecured creditors include units of JPMorgan Chase & Co., owed $12.9 million, and Bank of America Corp, owed a combined $4.2 million.
Hackett said Washington Mutual, now part of JPMorgan, was the main lender on the 2007 home purchase, and that the bank misled Dykstra about his ability to afford the property. The lawyer said the bank deserves nothing on its claim.
JPMorgan spokesman Tom Kelly said: "We don't comment on individual cases, but we expect our customers to repay their legal obligations under their mortgages when possible."
Bwahaha!  $12.9 million plus $4.2 million comes out to $17.1 million!  You mean to say on a $17.5 million dollar place Washington Mutual and Bank of American allowed virtually a zero down play?  I was searching for the home in the MLS but it doesn't seem to be there given the bankruptcy filing which will now forcibly sort things out.  In April it was reported by Zillow that Sotheby's International had the home listed at $25 million which obviously did not sell.  The current Zestimate is $13.1 million.  Apparently, multi-million dollar properties are not immune to the busting housing market.  And if you want to see leverage, take a look at this:
"The 46-year-old has no more than $50,000 of assets and between $10 million and $50 million of liabilities, according to a petition filed Tuesday with the U.S. Bankruptcy Court in the Central District of California."
Maximum leverage.  I find it hard to believe that there is still a sizable contingent of anti-math folks that believe this entire global credit mess was created by subprime borrowers.  They think that poor people in the inner city somehow led to $13.87 trillion in household wealth being wiped off the balance sheet.  Try telling these people that some $1 trillion in subprime loans does not equal $13.87 trillion in wealth destruction.  The reality is much of this is a distraction from their puppet masters on Wall Street and the true crony-banking machine.
Now moving back to the Westside you can rest assured the likes of WaMu, Countrywide, and IndyMac made plenty of maximum leverage loans that will end horribly in the next 6 to 18 months.  Now let me give you a glimpse of the shadow market that is developing in the Westside.
Take for example the community of Palms.  If you look at the March to May data, you will see a slight increase in the median price from $560,000 to $609,000 but this doesn't tell you much since the increase in sales went from 7 to 9.  It is a small sample size.  However, if you look at the MLS there are currently 94 listed properties.  Not bad right?  Well that would probably be true if there weren't 95 distressed properties!  That is right, in the zip code of Palms with 94 listed MLS properties there are now 95 distressed properties.  Westside L.A. immune?  You can rest assured that the conversation in the summer of 2010 will be extremely different.
But let us keep our focus on Palms.  With 95 distressed properties, you would assume that many would show up in the MLS right?  Nope.  Only 3 of these properties are listed as foreclosure or short sales even though 43 of the 95 distressed properties are bank owned or geared up for auction.  Welcome to the shadow inventory world.  The other 42 properties are in pre-foreclosure.  But let us look at one of the places that is currently listed as a short sale: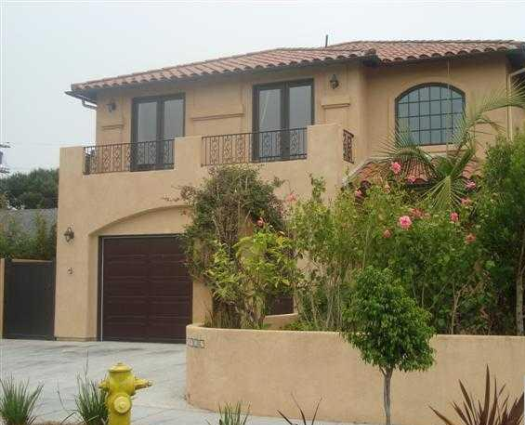 This is a nice 5-bedroom home with 3 bathrooms.  It is definitely a good home for a higher income professional.  Yet even these kind of homes are not immune to the housing bubble bursting.  The home has been on the MLS for 67 days.  It is currently a short sale but at this range, you don't have a big client base like you would with some Real Homes of Genius.  It is a larger home with 3,017 square feet and is listed as being built in 2005.  This home has a last sale in 1992 for $206,000.  But once again like the Culver City home example, it looks like this home was the ultimate California equity withdrawal machine: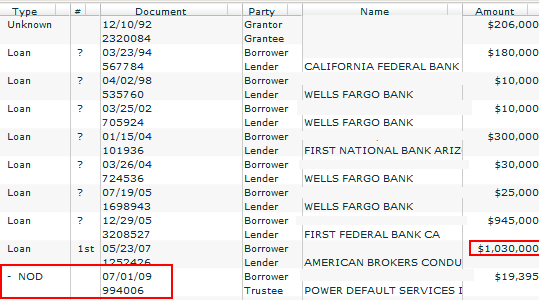 This home was tapped out like a keg.  Keep in mind the last sale occurred in 1992 for only $206,000 and somehow managed to end up with a $1,030,000 first mortgage on the place.  Looking on the history you will see how notorious Wells Fargo was in this California housing bubble but also First Federal Bank, an option ARM specialist.  The notice of default was filed on July of 2009 so this is a fairly new listing but given the enormous amount of notice of defaults being filed, we are going to have an epic Alt-A and option ARM wave hitting like a ton of bricks later in 2009 and into 2010.  The public-private investment program better stay away from these California loans because you can rest assured these are the kind of loans that will be pushed into it.
As you can see, the current borrower is now behind by $19,395 and this of course will be growing each day the home doesn't sell.  And it isn't selling:
Price Reduced: 06/02/09 — $1,199,000 to $1,099,000
Price Reduced: 06/11/09 — $1,099,000 to $999,000
As you can see from the tiny number of sales in the Westside that there are still people buying in the Westside who still believe in the pagan god of real estate.  Yet many will be stunned when the Alt-A and option ARM wave strikes.  I have never seen such a massive pent up wave of problem real estate and this current pattern is very similar to what occurred in 2007 with the subprime bust.  We all know what damage that is ravaging in the Inland Empire and Central Valley for example.  Take a look at the NOD chart: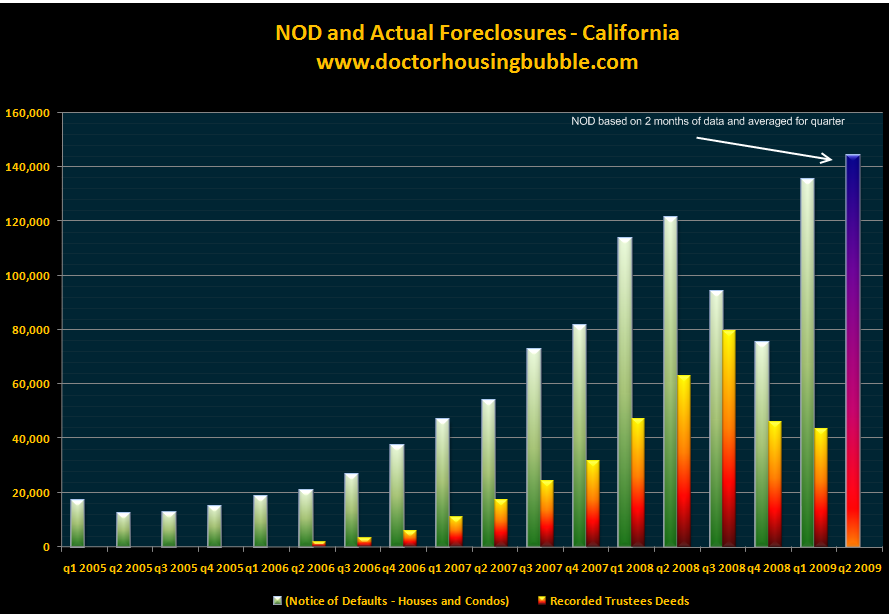 The home currently has a $1,030,000 first and is selling for $999,000.  If it would sell today the loss would be:
$1,030,000 – $999,000 = -$31,000
-$59,940 (6% commission)
-$19,395 (missed payments)
Total loss = $110,335
The lender should count their lucky stars if this sale goes through at this price.  Yet the homes that sold in Palms are for much less.  From the latest 9 homes that sold the median price is $609,000.
The Westside is now standing in the direct pathway of the Alt-A and option ARM tsunami.  It is much too late to get out of the way.
Did You Enjoy The Post? Subscribe to Dr. Housing Bubble's Blog to get updated housing commentary, analysis, and information.