Washington Mutual also known as WaMu, failed Thursday making it the biggest savings and loan failure in the history of our country.  What makes this event more astounding that it comes on the heels of stalled bailout talks regarding the absurd and poorly planned $700 billion bailout package.  A recent CBS News and New York Times poll shows that only 16 percent of people actually think the plan is a good idea.  If that is the case, why are politicians pushing so hard to get this thing rammed down the throats of Americans?  Could it actually be that tomorrow is the target adjournment date and many of these politicians simply want to go back to their districts to campaign?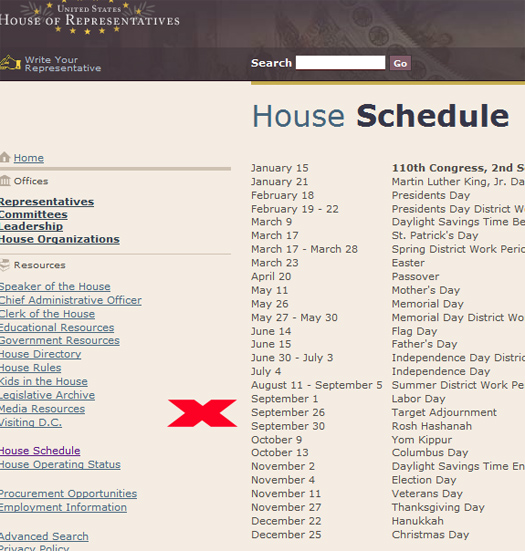 As many of you remember with the collapse of IndyMac Bank on July 11th of this year, all the media headlines had this running as a top story for nearly a week.  WaMu fails and it is a footnote on the stalled bailout talks.  We are now dealing with multiple fires all at once.  Let us first discuss some history of Washington Mutual before we discuss the failure of the S & L.
WaMu – History

WaMu was founded in 1889 and was initially called the Washington National Building Loan and Investment Association.  At the time of the formation, Seattle was in tatters after a major fire had nearly destroyed the city and put the economy in a difficult situation.  The bank in one respect was setup as an attempt to help the local economy.  The first loan made by WaMu was in 1890 and of course happened on the West Coast.
Over time WaMu started to grow.  Showing business savvy and ultimate marketing prowess, over the next 50 years WaMu pioneered cash machine networks and telephone banking.  In fact, this early start in machines to easily access money served them well when they decided to go nuts and create a virtual ATM which clients were able to attach to their own home and suck every dime and nickel from their home equity.  One of the their initial slogans was "The Friend of the Family" which ironically has little to do with toxic pay option mortgages.  
In 1983 WaMu bought Murphey Favre a brokerage firm and by 1989 its assets had doubled.  Purchasing subprime credit issuer Providian in October 2005 for $6.5 billion may have not been such a smart deal especially when they paid prime dollar at the peak of the market insanity.
Serious problems started hitting WaMu as the United States housing market started to collapse.  Not only was this bad news for WaMu, but it also didn't help that Washington Mutual made a large amount of pay option ARM loans in California and Florida: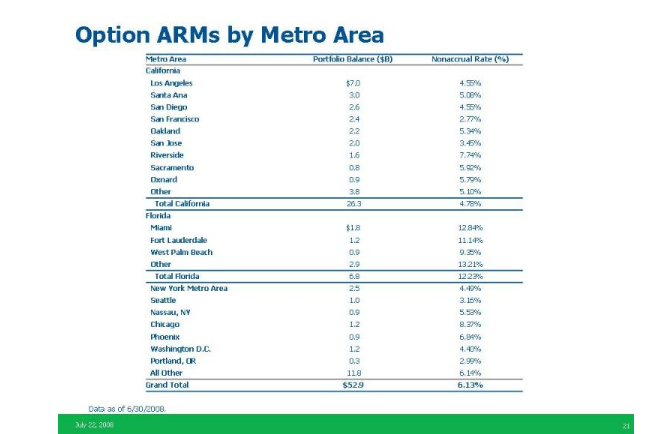 In December of 2007 WaMu closed 160 of their 336 home-loan offices resulting in 2,600 people being laid off.  Things only got progressively worse from there.  In April 2008 WaMu took a $7 billion cash infusion from TPG Capital out of Texas to stay afloat.  How well did that work out?  Let us take a look: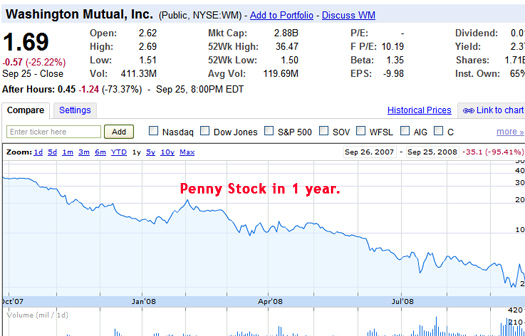 The company went from having a market cap of $62.3 billion to $753 million in one year.  That is definitely not a way to run a company.  As time went on WaMu could not fend off the issues it had with its loan portfolios.  The losses kept on mounting over and over.  On September 25 federal regulators took over WaMu's assets and sold them off to JP Morgan Chase & Company and many of the directors at WaMu were kept in the dark about the announcement.  The FDIC made that pretty official on their site: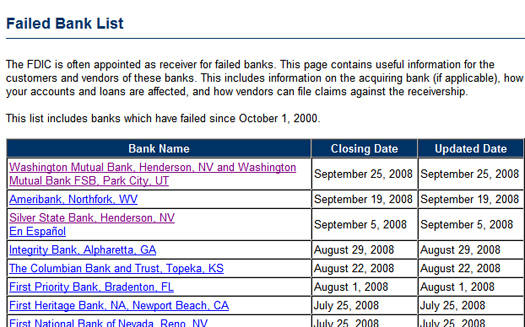 JP Morgan acquired WaMu for $1.9 billion with all assets and retail branches.  What is more fascinating about this situation is that JP Morgan released during their press conference their expectation of the toxic loan portfolio and in this information, they gave us a little perspective on the future of the California housing market:

Right off the bat they are expecting to write-down approximately $31 billion in the toxic loan portfolio.  Yet they have a few different scenarios that can play out: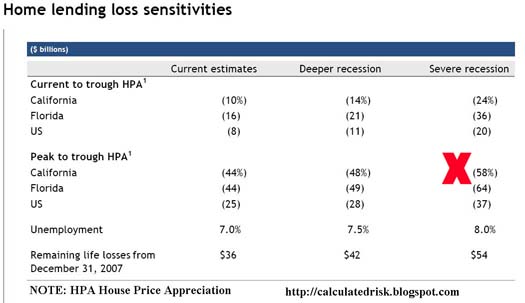 JP Morgan is estimating that California from peak to trough will drop 44%!  That is assuming things stay as they are.  If we hit a deep recession, they are predicting a drop of 48%.  Should we hit a severe recession, the number would jump to 58%!  Even Dr. Housing Bubble is surprised by the doom and gloom in those numbers.  I don't rule that out but it is something else hearing JP Morgan come out and publicly make that prediction.  Again, the current economic situation in California is horrible.  Our unemployment rate is 7.7% and JP Morgan announced a closing of branches which of course will lead to more layoffs in the state: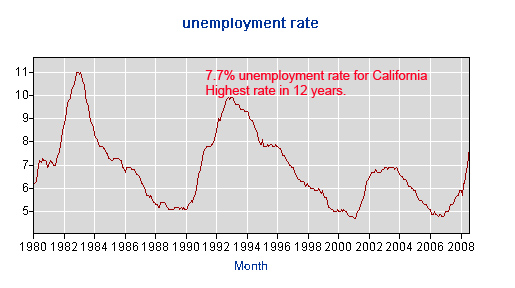 When IndyMac Bank failed, they had no buyers and it ate into the FDIC fund to the tune of $8.9 billion.  The FDIC is adamant that no one will lose money here (aside from the shareholders and bondholders).  With this one move, JP Morgan Chase WaMu and [insert blank] will now be the 2nd leader in retail banking and number 1 in deposits: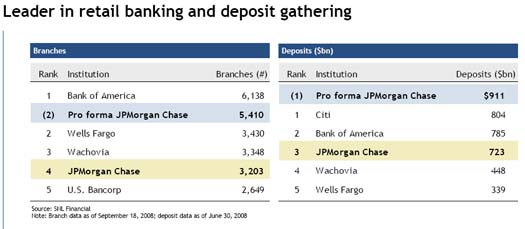 The big are swallowing the small.  That is if you can consider WaMu with $309 billion in assets and 44,000+ employees small.  This move by JP Morgan is smart.  It gives them a major stake in the west coast.  I'm not sure who they are going to get money from since many people went broke with toxic WaMu loans.  In fact, they now will be one of the large contenders here in California: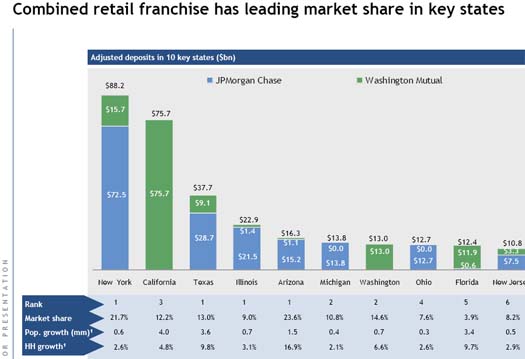 Like Bank of America buying Merrill Lynch to have a stake in the investment banking world, JP Morgan now has a major stake in retail banking.  I wonder if they'll keep that Wooo Hoo campaign going?  One thing to consider is that fewer and fewer banks are getting bigger and bigger.  In fact, JP Morgan tells us in their presentation that one of their motives for doing this move is "cross selling" more products to customers:

Think of what occurred with Bank of America buying out Countrywide Financial, one of the pioneers in the subprime game.  These banks are buying up more and more and it looks like we are going to have 3 or 4 major banks that will provide all services to clients from investments, credit cards, deposits, checking, mortgages, auto loans, and everything debt related.  Can you imagine what will happen if one of these 4 gets into a troubled spot?  Do you see any conflicts of interest?
WaMu was a sitting duck.  They made absurd loans and simply had no sustainable model.  My guess given the current derailment of the $700 billion bailout program in D.C. is that this move is intended to light a fire in Washington.  Why not wait until the typical Friday night?  After all, every other bank failure this year occurred on a Friday night.  Was WaMu in such bad shape it couldn't wait one more day?  Of course not.  This feels more like a move to scare the public from that 16% opposition to a more palatable number.  I think most Americans are now hyper aware of the shady tactics being employed by those on the hill.  They do not want this bailout plan.  They do not understand nor do they want it.  In fact, some are ready for the unexpected even if we don't have a plan.  Look what happened here with WaMu.  A very clean and orderly demise.  Heck, it cost the FDIC $0!
Representatives are listening to your calls and letters.  Here again are the links to reach your local representative:
If you do not find your representative, contact another one.  The majority of Americans do not want this corporate welfare bill.  This bill will do nothing to help the average American family.  $700 billion bailout bill and they can't even explain how the money will be spent.  Is it any wonder a 119 year old institution like WaMu, the biggest S & L in the country just went down with a wimper?
Did You Enjoy The Post? Subscribe to Dr. Housing Bubble's Blog to get updated housing commentary, analysis, and information.