The state has officially run out of money.  The state government unable to govern themselves out of a paper bag missed the fiscal year deadline (again) and here we are starting the second half in a massive deficit.  The crony bailout continues with absurd ideas but the second half recovery pundits are out in full force.  Since this is the bottom, the Governator with no re-election and nothing to lose decided to give 200,000 state employees another day off formalizing a 14 percent wage cut.  As I discussed in a previous article we are in the midst of deflation created by demand destruction.  California has relied on two gigantic bubbles with technology and now real estate over the span of two decades to spend beyond its means.  Now, with no other bubble in the foreseeable future time has run out.
Why has the state run out of money?  First, a large portion of money is pulled from personal income taxes and another large portion comes from sales and use tax: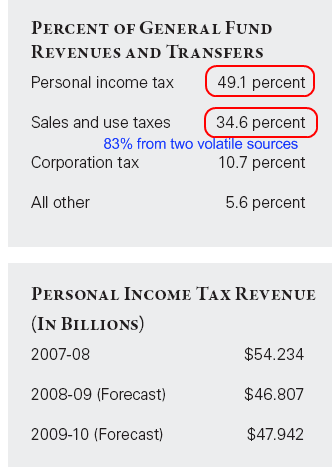 Over 83 percent of the states revenue comes from two extremely volatile sources.  This week I happened to get the wonderful news that Los Angeles County now has a 9.75 percent sales tax!  So not only do you get taxed on your income, now you will get taxed when you go buy goods.  And look at what kind of great government we have in Sacramento for this high tax rate.  The best that IOU money can buy!
Here is a problem with the current system.  No one has the ability to tell people in the state that we are flat broke!  I've noticed the pundits are out in full force again with horrible ideas about buying toxic mortgages and bottom callers are out in mass again preaching to their housing gods.
Dumb and Dumber – I.O.U.
In another smart move worthy of a Noble Prize, the state has decided to offer IOUs:
"SACRAMENTO – In a move certain to draw national ridicule and exact financial hardship on business owners and taxpayers across the state, California is slated today to begin paying billions of dollars in bills with IOUs instead of cash.
Nearly 30,000 IOUs totaling more than $53 million are expected to be sent out by state Controller John Chiang this afternoon, the day after Gov. Arnold Schwarzenegger declared a fiscal emergency in the face of a staggering $24.3 billion deficit. The state Legislature remained in its familiar state of gridlock, raising the prospect of an extended standoff that further damages the state's financial reputation."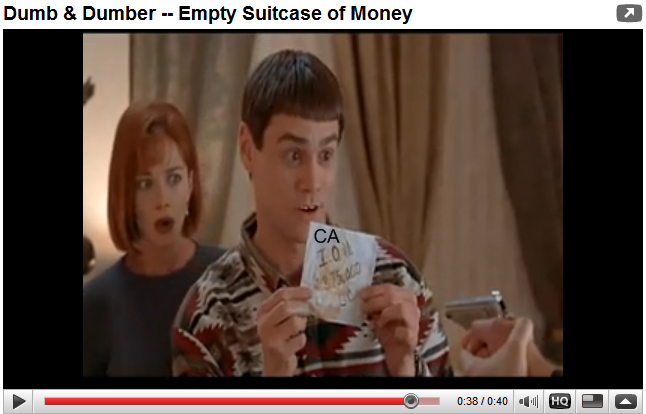 If you have noticed unlike the early 1990s not many banks have come out and stated publicly that they'll honor these IOUs.  It is likely that many will honor the IOUs but the banks are flat out broke too!  We are going to give people monopoly money so they can go and deposit their funds into a bank that is broke so it can then lend it out to people with no money!  This is the solution to the $26.3 billion shortfall.
But wasn't it $24.3 billion on Tuesday night?  Yes it was.  So buy the end of the month people in jail will be getting legit get out of jail cards.
"CHICAGO, June 29 (Reuters) – Michigan has to close prisons to save money. California's are bursting at the seams.
Both states are struggling with huge budget gaps.
Now, Michigan Governor Jennifer Granholm has offered California some of the state's prisons that are slated to close at a yet-to-be-determined cost."
Well I guess we've found one export we can depend on.  The budget is in shambles because each year, we go through this song and dance and eventually, a budget does pass but it is basically a patchwork of delaying reality for another day.  That day has come.  Asking the Federal government to bail us out would be a nice form of beggar thy neighbor.  Even though Bernard Madoff is getting 150 years in prison, there are far more corrupt things going on right now.
Two of those things involve California and National Housing.
OCC and OTS Show Country insane like State
Earlier this week the OCC and OTS released their first quarter results on the health of the mortgage market.  As you may have guessed, lenders across the country are as blind as those in California.  Some have thrown out the idea that the government should simply buy up all the toxic debt.  When they say the government, they mean you and every other taxpayer.  The public-private investment program, which ironically is anything but an investment and does not resemble a partnership, is one of these crony banking ideas.  Yet that doesn't resolve the fact that if you are unemployed or have a mega-mortgage then any housing payment is a burden that isn't within your budget!  These programs are to aid Wall Street and all lenders that are still living in their delusional crony world of housing bubble economics.
Yet some of the public are taking notice.  During the Great Depression the word banker took on a negative connotation and I don't see how it is avoided during our Great Recession.  But let us look at those OCC and OTS stats: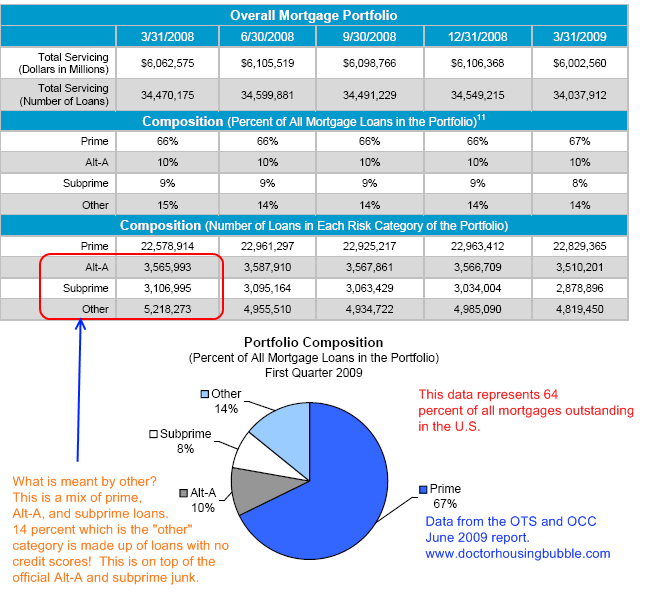 This is important information so let us spend some time here.  This data covers approximately 64 percent of all first lien mortgages.  In the data covered by the report, we have a sample of 34 million mortgages.  Of these 34 million mortgages, we can say that 11.8 million loans (the Alt-A, subprime, and other) are questionable.  Essentially 34 percent of the entire portfolio is made up of junk!  Here is the breakdown of the loan categories: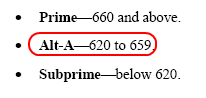 This is junk!  In fact, that "other" category is a mix of Alt-A, subprime, and prime but these are loans made with no credit scores or low documentation!  Who in the world knows what this crap is.  We have a better chance of guessing what is floating in the Los Angeles River.  And those in the housing industry are eagerly waiting to unload this crap to the public.  Let us just assume that the entire portfolio has mortgages with the same balance.  34 percent of $6 trillion is $2.04 trillion!  As you all know 634,000 of those Alt-A loans are here in California with an average balance of $420,000+.  According to data from the OCC and OTS, there are still 3.5 million Alt-A loans floating out there.  But fear not, loan modifications are way up.  Let us look at that data:

The crap California is doing is nationwide.  That is, with loan modifications and workouts the main strategy is to convert loans into option ARM, low teaser rate, 40-year mortgages.  Take a look at those principal reductions!  Bwahahaha!  Now you know why they ripped out all that cram-down legislation.  With bankruptcies skyrocketing many of these loan modifications and workouts are basically converting people to renters and locking in the bubble price of the home.
Think of a situation in our current market.  You buy a home at the peak for $500,000 and the home is now worth $300,000.  Their idea of a workout is turning your loan into a 40-year mortgage with a teaser rate.  But what happens when you want to sell?  You can't!  Homeowners are now being swindled once again by the same banks that issued this toxic waste under the guise of "helping" you.  Sort of like how Bernard Madoff helped all his investors; things look good until you read the fine print or dig deeper.  The Alt-A and option ARM wave is going to hit California like a tsunami especially in the more so-called prime areas.  Some of these people think they are insulated from the rest of the state economy in silos.  They are going to find out the hard way in the next few months.
What the OCC and OTS data tells us is this problem goes beyond California.  You can look at Florida, Nevada, and Arizona and these states are loaded as well with these toxic mortgages.  Yet you will find the toxic waste in every state.  And to show you how much a waste of time this is look at the re-default rates: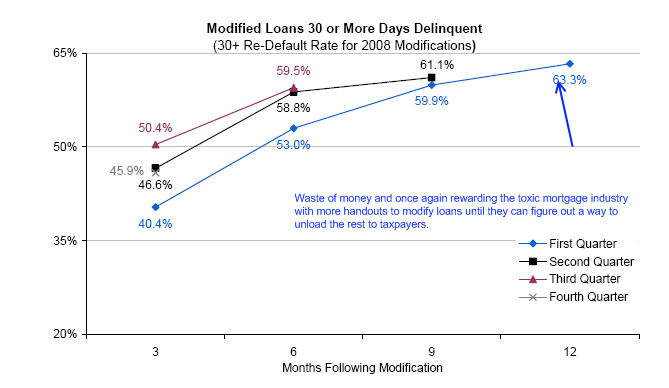 If we extend this out to another year and break the data out by Alt-A, subprime, and prime I bet you would see in some categories a 90 percent plus re-default rate.  The data is telling us this is a waste of time.  It seems like people are hell bound to repeat the lessons from Japan.
Some people have told me, "but California housing is now affordable.  It is a good time to buy."  I have decided to compile a list of median household income and median home prices for all California counties to show you that we are still over priced in many regions: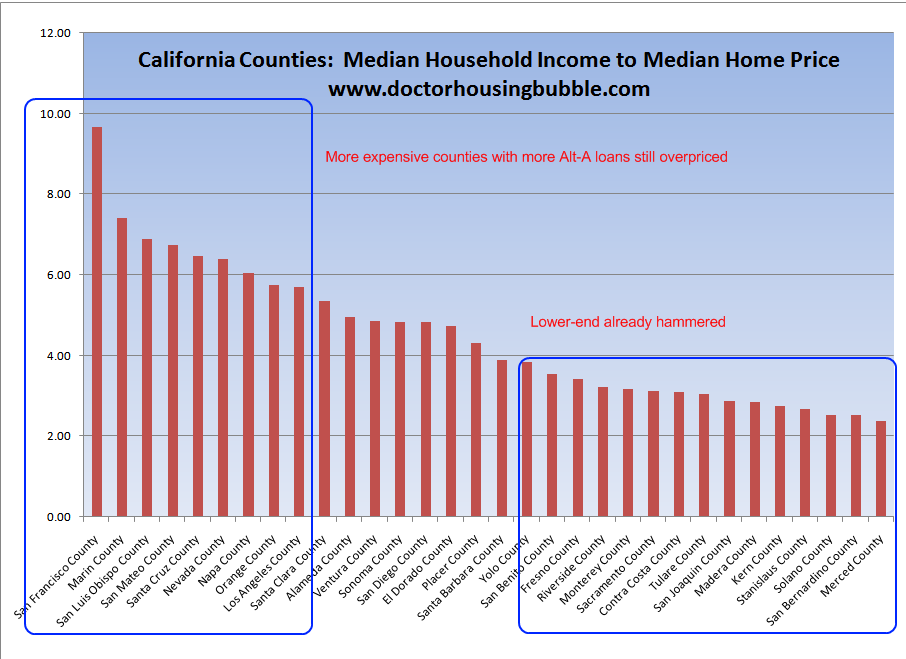 The above chart sums up the California situation.  What you have is the lower-end being pummeled and now having more modest price to income metrics.  Yet those higher priced areas, those areas with the 643,000 Alt-A mortgages with a nice average sum of $420,000+ are going to take it on the chin next.  These numbers are simply unsupportable.  Bottom callers are drinking the Kool-Aid once again.  Ironically, we may see the median price stabilize but this does not show the real story. The mid to upper range of the market will fall, creating more sales, and thus creating volume to shift the median price up.  For example, say a place like Culver City has a $600,000 home that sits on the market for ages.  The place has a nice Alt-A, the borrower walks away and the bank is forced to unload it.  It goes for $400,000.  The median price for L.A. County is $300,000 so this gives fuel to a higher median price but the place took a $200,000 hit.  This will happen.
The state has an 11.5 percent unemployment rate (the highest in record keeping history), the state is slashing the wages of 200,000 employees, more layoffs are in the pipeline, the Alt-A and option ARM problem is not being addressed by delusional loan mods and workouts, and yet this is the bottom.  What high paying industry is being created to give birth to the new era of suckers that will over pay for housing in those so-called prime areas?  Maybe we can start buying homes with IOUs.
Orange County had a median price of $258,000 in 2000 and Los Angeles County had a median price of $192,000.  Just think of that when you see the current median price for Orange County of $411,000 and $300,000 for Los Angeles.  To describe the problem takes much analysis.  Solution?  Let these homes foreclose as quickly as possible and let banks fail.  But too many people believe in the Angelo Mozilo school of, "homeownership is not a privilege but a right!"
Did You Enjoy The Post? Subscribe to Dr. Housing Bubble's Blog to get updated housing commentary, analysis, and information.