Mortgage equity withdrawals accounted for billions and billions of consumer spending in California this decade.  The home became a private ATM that seemed to pump money out every year like clockwork.  This was a win for the homeowner since they were able to spend beyond their wildest imagination and the state enjoyed those wonderful sales tax revenues while local agencies enjoyed the higher property tax rates.  As we all know, all of this was built on sand and now the state is grappling with a $26.3 billion deficit and issuing IOUs like Wimpy haggling for another hamburger.  The large problems we will face with option ARMs and Alt-A mortgages will kick the California housing market down once again.  But you will need to know where to look to see this crisis unfold.
If we look at the current decline, it would look something like this: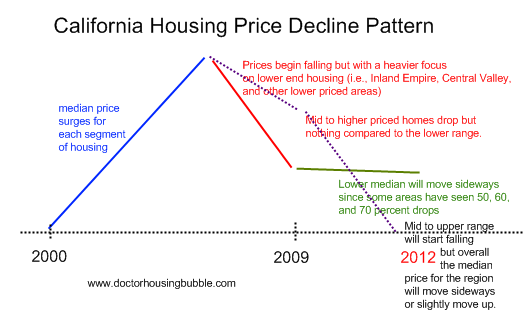 We've seen countless charts and this one isn't drawn to scale but simply highlights the next phase of the housing decline.  The surge occurred in every segment of housing; low, medium, and high all soared to the stratosphere.  But since the bust, we have seen the low end take the brunt of the price decline while the mid to upper priced areas remain stubborn.  They have started to fall and with the Alt-A and option ARM tsunami coming online later this year we will see these segments begin to fall.  Just be warned that you will undoubtedly hear pundits say, "the median price has gone up" but in reality what is happening is higher priced homes instead of sitting with delusional sellers asking for yesteryear prices and not moving, will now be competing with a surge of foreclosures in these areas that will be sold by anxious lenders.
Today I want to focus on Culver City again because this is the next prime candidate area to take a major hit in the next cycle of the bursting bubble.  These are your mid to upper range areas but not enough to be called "über prime" like Bel Air or areas of Santa Monica.  Let us first look at an example home that is in pre-foreclosure and has already had a notice of default filed on it.  Today we salute you Culver City with our Real Home of Genius Award.
Culver City – The Home Equity Machine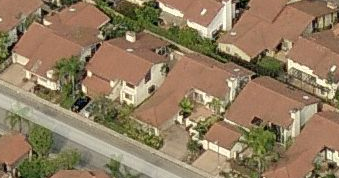 The home we will be examining has a Zestimate of over $1 million.  To give you a sense of the area, the home on the left sold for $860,000 in 2004 (2 beds 3 baths) and the home to the right sold for $385,000 in 1995 (3 beds 3 baths).  The home we are looking at has 3 beds and 3 baths but this home went through what we would call the mortgage equity withdrawal machine.  Now keep in mind all 3 homes have a square footage of 2,600 to 2,700 and this area looks planned so I would imagine many of these homes are built by the same builder.  To confirm, I look at the date built and find that all 3 homes were put up in 1980.  In California, that is a fairly new home.
So that should put this home in context.  According to estimates, these would be $1 million homes.  But let us see why the Alt-A and option ARM issues are going to explode in these areas over the next few years.  The mortgages on this home tell us a story of an epic bubble.

IndyMac was sure busy in Southern California!  The home sold in 1998 for $500,000 and then was either transferred or sold in August of 2003 for $580,000.  At least in this respect, IndyMac wasn't the biggest gambler on the list which is probably one of the few times you will ever hear that said.  But after that, the home equity withdrawal machine kicks it into the next gear.
Only 4 months after closing, Greenpoint Mortgage Funding issues a $122,000 mortgage on the place.  At this point, in a matter of months some $702,000 in mortgages are placed on this property.
We are now in 2006.  The California housing market is burning at a fever pitch and anything and everything is rising in value.  So in March of 2006, the borrowers on this place get a 1st mortgage of $735,000 and take out a second for $157,500.  So simply adding up these two mortgages, the home would have a lower range value of $892,500 assuming they went with 100 percent financing.  This looks like an 80/20 situation but the numbers don't exactly add up.  Either way, this home went from $580,000 in 2003 to approximately $900,000 in 2006.  This would mean that in 3 years this home went up $106,000 each year!  Why work when your home brings in six-figures for you just sitting in it?
Well as we all know the bubble exploded.  The Zillow chart for this area shows exactly what I am talking about regarding the tiered housing crash: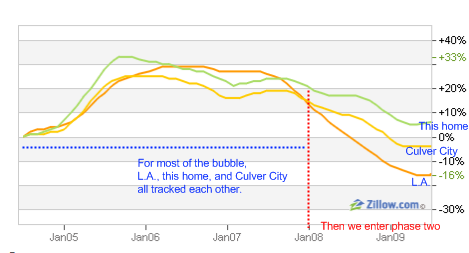 For most of the bubble Los Angeles, Culver City, and this home all trended neatly together but once the bubble burst, we start seeing home price falls segmenting out.  Now this area is in a prime location but prime doesn't mean $1 million.
Going back to the loan history, we see that in April of 2009 a Notice of Default was filed on this home with $24,018 payments in arrears.  Now for this zip code in Culver City we find that the median home price is now at $637,000 a drop of 21 percent from a year ago.  Here's the thing, only 5 homes sold in May in this zip code and obviously the homes that did sell are at the lower range.
I looked in this immediate area and there is only one home for sale and it is a 4 bedroom with an asking price of $1.1 million.  Of course, it has only been on the list for 3 days.  As I have discussed the Notice of Defaults are surging in California and this will provide ample inventory in the mid to upper priced areas to depress home values: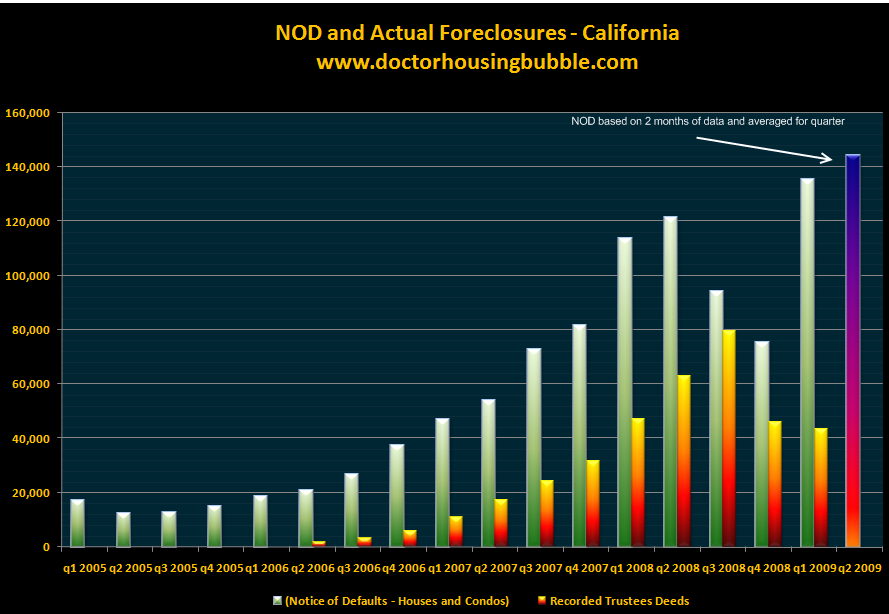 This home is a perfect example of the mortgage equity withdrawal machine.  Let us assume they try to sell this home for $900,000.  What would your mortgage look like?  We should assume that you will have 20 percent to buy this place:
Down Payment:          $180,000
Mortgage:                    $720,000
PI:                               $4,911 (assuming 7.25 percent jumbo 30 year financing)
TI:                               $937
Monthly Payment:    $5,848
Many of the government loan mods (aka kicking the can down the road) try to get the mortgage payment down to a 31 percent debt to income level.  So how much income would you need to purchase this home?
If we use gross you would need:        $18,864/per month or $226,368/per year
To stay relatively within safe prudent standards, you would need an income of $226,000 a year and this is assuming you are coming in with an $180,000 down payment.  The median family income in Culver City is $82,000.  I dug deeper in the data and searched for this specific zip code and found that for 2006 some 8,035 tax returns were filed with an average adjusted gross income level of $73,694.  However you slice the data, you will have a tiny number of buyers for this home depending on the price.  If the price were set at $900,000 you would need a household income of over $200,000 and this is only a 3 bedroom home.  This isn't your prime Beverly Hills location or some home in Rancho Palos Verdes.
You don't need to be a rocket scientist to realize that prices are going to fall and fall hard in these areas.  Today we salute you Culver City with our Real Homes of Genius Award.
Did You Enjoy The Post? Subscribe to Dr. Housing Bubble's Blog to get updated housing commentary, analysis, and information.