Culver City is considered an upper-middle class city here in Los Angeles County.  For a very long time, it would seem that the West Los Angeles region was somehow immune to the rules and economic laws that impacted the entire country.  This is not the case.  It may have taken a longer time for certain niche markets like Santa Monica and Culver City to start seeing any significant drops but the drops are now here.  In today's article we will examine a home in Culver City that has all the HGTV touches but is now a bank owned foreclosure.  But first, let us discuss what has been going on in other news.
I have been examining the wealth of data at the Bureau of Labor and Statistics.  One piece of data that I haven't seen being talked about but serves as a leading indicator of Main Street pain is the mass layoff data.  What exactly is mass layoffs and how is it calculated?  These are monthly numbers gathered from establishments where 50 or more unemployment claims have been filed in a 5-week period.  Why is this important?  Because it can give you a sense of the severity of layoffs.  Larger layoffs come from bigger institutions which are normally a bit more resilient than mom and pop shops.  In fact, many small business have less than 50 employees so they would rarely show up in this data.  The information here is big companies laying off large numbers of people.  Let us look at a chart: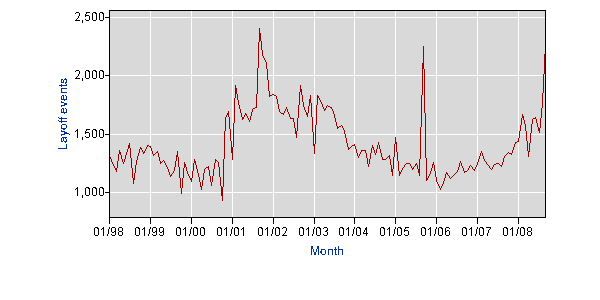 As you can see from the chart we had the most mass layoff events since September of 2001.  In September of 2008 we had 2,269 mass layoff events.  Keep in mind this can also mean that a company has had more than 50 unemployment claims filed against it.  This will be an important data set to look at to determine the severity of the recession we are in.
In addition, it is simply stunning who is looking to get a piece of the $700 billion TARP bailout action.  It's as if an uncle hit the lottery and all of a sudden opportunistic family members want to spend quality time with him.  Let us quickly run a list of some of those who have already been given government welfare assistance:
Support Already Received or Committed
Bear Stearns
Bank of America
JP Morgan
Wells Fargo
Consumer Debt
Student Loan Debt
American Express
Hartford Financial Services
Those Standing in Line
GM
Ford
Chrysler
States
Cities
Insurance Companies
There is no reason or rhyme to who may qualify for access to the $700 billion TARP.  Initially, at least from the preliminary plan, the major focus was on buying toxic mortgage assets at face value prices.  An extremely stupid idea.  Well, after some thought they decided to become a symbolic manifestation of the spending habits of Americans and bailing out practically everything within walking distance.  How many requests are coming in?
"WASHINGTON (AP) — At least 110 banks have requested more than $170 billion from the Treasury Department's rescue fund, and many more are expected to have submitted applications before Friday's deadline.
The requests would come from the $250 billion the Treasury set aside from the $700 billion fund to purchase stock in banks."
The line is getting busy.  There may be a G20 meeting/photo op this weekend but the real group is lining up outside the U.S. Treasury.  Talk about your tax payer money well spent.  I have to make a quick comment.  I was watching CNBC last week and they were grilling the bailout for American automakers.  They were criticizing how American autoworkers are paid excessively, have inflated pensions, and suck on company healthcare resources.  A bailout for them would be absurd they yelled!  We're talking about $50 billion here, twice the amount already flushed down the toilet at AIG.  It was fascinating to see the passion they had railing against the auto industry yet I have never seen such passion against over compensated Wall Street CEOs who make multiple times that of those in the auto industry.  They never screamed so loud against the $700 billion TARP or the already large allocation of capital to a select number of banks.
I'm not saying I'm for the auto bailout.  What I am saying is these pundits are the biggest bunch of hypocrites I have ever seen and they seriously have contempt for the American middle-class.  Even though I disagree with bailing out the American auto industry, I see just as much merit as say bailing out American Express.  Yet they have this arrogant attitude of the middle class and blue-collar workers.  To them, it is all about financials.  What a sad state of affairs.  As I was watching the talking head orgy go after the American auto industry I only kept thinking to myself, "and yet we have $2 trillion in off balance sheet securities in the Fed from banks and another $250 billion already allocated to some of the largest banks."  No yelling or screaming about that.  These arrogant chatterboxes have probably never worked with their hands in their entire life.
Real Homes of Genius – Culver City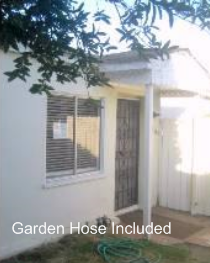 Today's home takes us to the West L.A. area.  The city we will be looking at is Culver City.  Once thought by many expert L.A. agents, actors, and otherwise tarot-reading brokers to be an unstoppable region in Southern California.  Culver City it was thought had a moat built around the city that only allowed appreciation to come in but the bridge would close when any of it tried to leave.  That bridge has now fallen and the appreciation is leaking out of the city.
The above home is a 969 square foot palace with 2 bedrooms and 2 baths.  It was built in 1954 and has been sitting on the market for 54 days.  This home has the nice touches which we have all come to love via the HGTV network or Flip this House shows.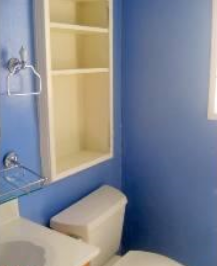 Nice bathroom.  Simple and affordable upgrades.  A bucket of bright paint and a few accessories from your local Home Depot or Lowes.  We also have the standard kitchen with standout tile: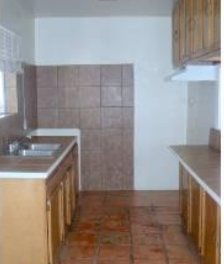 I've seen enough of those shows to see what is going on here.  So the home is in good shape.  What are they asking for it?  How about $459,900.  Before you think this is a fabulous deal, let us look at the sales history:
01/20/2006: $630,000
10/28/2004: $415,000   
Already we see a 27% price decline from the previous sale.  That is a significant drop in a so-called prime area.  Recently, I've noticed a new trend.  Now, whenever I pick out homes in prime cities like the last Pasadena Real Home of Genius I get some people saying, "well, its not in the prime area of the city."  So now we went from prime cities to prime locations in the city.  Do you notice that the places to hide are getting smaller and smaller?  This mega economic crisis will impact every area especially all those in California.  Now that the U.S. Treasury and Fed have stated they won't be using TARP money for toxic assets, 2009 is going to be a watershed year for the $300 billion in pay Option ARMs here in California alone.
The average household income isn't high for this area.  It is currently at $71,203 which will in no way cover the payment for this home.  That puts the current yearly income to home price ratio at 6.459.  We've mentioned before that the mortgage amount on a home should never be more than 3 or 4 times (max) your yearly income.  Let us say the average household income family puts down 10% to buy this places:
Down payment:         $45,990
Amount financed:     $413,910
Mortgage amount to yearly income ratio:       5.81
The ratio is still too high.  The mortgage amount would have to be no higher than $284,812 to fall within these guidelines.  Assuming a 10% down payment, that would put the estimated housing price at $300,000.  Still a lot further to go.  I'm not the only one who thinks prices will fall further.  Let us look at the Case-Shiller futures market: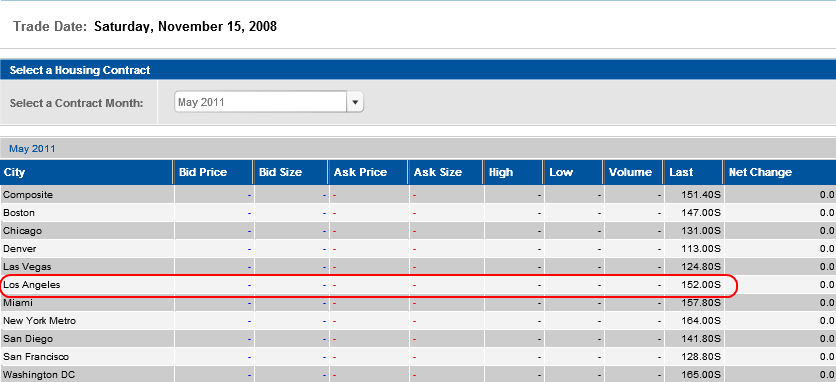 The last trade for a May 2011 contract put Los Angeles at 152.  What is the current index value for Los Angeles?  189.18.  What this means is people are betting that Los Angeles still has 19.6% more to go before hitting a nominal price bottom.  I tend to agree.  If you need 10 reason as to why California won't see a bottom until May of 2011 read further.
Today we salute you Culver City with our Real Homes of Genius Award.
Did You Enjoy The Post? Subscribe to Dr. Housing Bubble's Blog to get updated housing commentary, analysis, and information.