If you want to see a city that still has the traits of a housing bubble you can shift your focus to Sherman Oaks.  Like Culver City or Pasadena this is a coveted area in Los Angeles County.  Like many cities in L.A. it is incredibly overpriced and by that I mean it resembles a massive bubble.  Living in California I think people use the term overpriced as a way to mitigate the fact that an area is in a bubble.  Any way we slice and dice this market produces incredible data of a city that really still reflects every aspect of the housing bubble.  We'll dig deep into the data and see why this market is overpriced even after correcting lower.  The toxic mortgage leverage of the last decade still lingers.
Today we salute you Sherman Oaks with our Real Homes of Genius Award.
Sherman Oaks is an interesting market.  The MLS lists 426 homes for sale and the shadow inventory has 286 homes.  For the last month of data, 24 homes sold in Sherman Oaks.  Of the 426 homes listed publicly, only 7 are listed as foreclosures.  So in total, you have a real inventory of 705 homes.
705 homes / 24 sales = 29 months of inventory
Sherman Oaks is the prototypical bubble denial city.  Take a look at the median price for these two zip codes:
91403:                   $810,000

91423:                   $965,000
Keep in mind both of these zip codes were solidly over $1 million at one point.  In fact, the 91403 was up to $1,199,000 just in April of 2008.  But let us look at some recent trends here: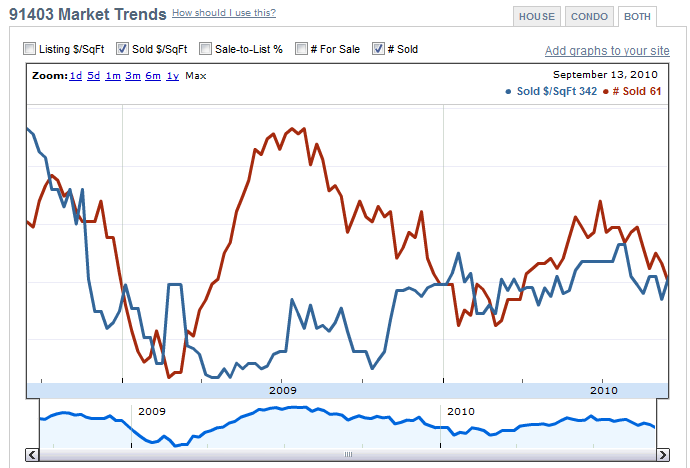 Source:  Redfin
The number of homes sales has fallen drastically.  Back in July of 2009 91 homes sold in the 91403.  For August of 2010 only 21 homes sold (a stunning decline of 76 percent).  Keep in mind July and August home sales are usually both strong.  But what is happening in this market exactly?  What is happening is the mid-tier market is finally breaking because of the growing amount of backlogged inventory.  The levies are now splitting open in some markets unable to support home sellers that are delusional about prices.  Keep in mind that out of the 426 homes listed in Sherman Oaks only 7 are in foreclosure.  So the bulk of sales are coming from non-distressed sellers hoping for sky high bubble prices.  What then happens is buyers balk and the inventory just grows and grows.  Yet foreclosures know how to get inventory moving by massive price cuts.
Let us examine how prices correct quickly once reality hits: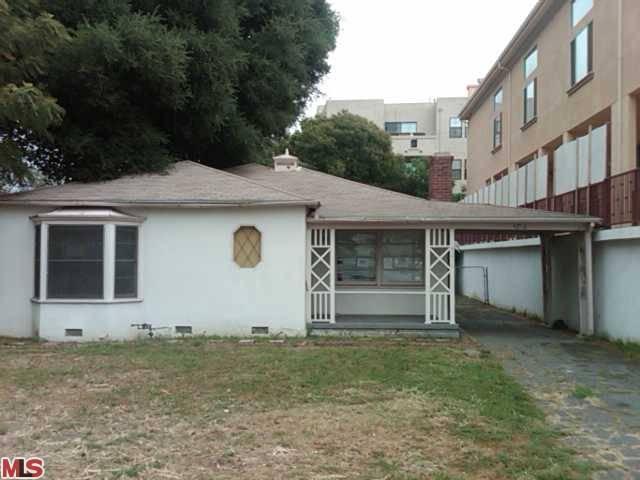 4216 GREENBUSH AVE, Sherman Oaks, CA 91423
Beds:                     2
Baths:                   1
Square feet:       1,609
Built:                      1939
List Price:             $608,000
Sale history
April 1968:           $25,000
April 2007:           $836,363
This home last sold in April of 2007 for $836,000.  The home is now listed at $608,000 (a decrease of 27 percent assuming it sells at the current price).  Interestingly enough, on Greenbush Avenue near this home you have a place in pre-foreclosure and another scheduled for auction.  Why would anyone rush to buy with so much inventory in the market and prices still clearly inflated?  The shadow inventory game played by banks has created a backlog that appears to be leaking out into the market.  Now that banks have squared up their sources of income and bailout funds elsewhere, they seem to be letting out more and more properties into the market.
We also get a nice garbage can photo on this place: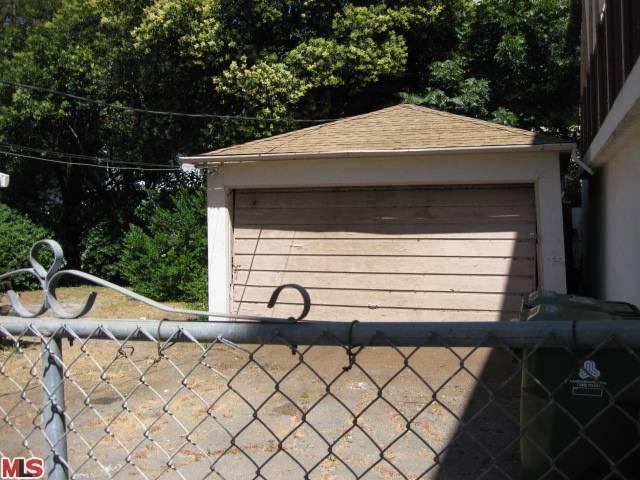 $600,000 for a 2 bedroom in Sherman Oaks.  Do you think that is cheap?  This place was built back in 1939.  I pulled up tax data for the 91423 zip code and for 2007 the adjusted gross income (AGI) was up to $93,000.  In other words, this home which would be categorized as a starter home should be at $300,000.  I know many in these niche markets think that is absurd but that is what the local area incomes can support.  Heck, even the Hearst mansion once up for sale for $165 million is now down to $95 million.  The theme is clear and that is California real estate is getting cheaper.  I pulled up data for the 91403 zip code just for reference and the AGI is up to $131,000.  Interestingly enough, the median home price last month was cheaper for the 91403.  The number of homes sold is low so the sample can be skewed by anomalies (i.e., foreclosures etc).
You want another example?  Take a look at this major correction: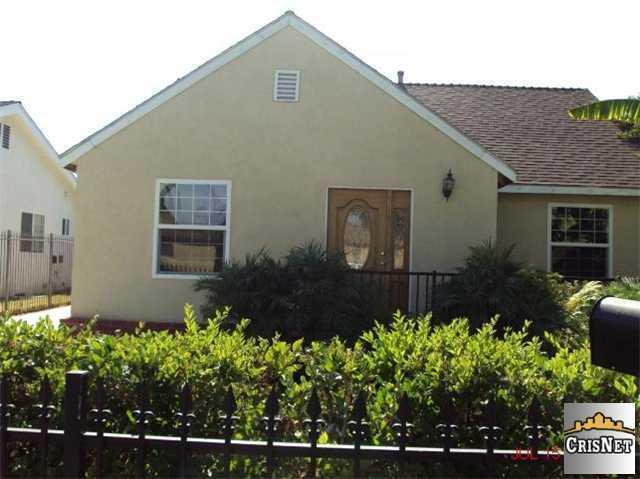 4469 STANSBURY AVE, Sherman Oaks, CA 91423
Beds:                     3
Baths:                   3
Built:                      1945
Square feet:       1,967
List price:             $720,000
Sales history
June 2005:                           $683,500
February 2006:                  $850,000
June 2006:                           $1,200,000
This place sold three times in one year and doubled in price during that time!  Did this home suddenly find itself over a flowing river of gold?  This home is now selling for 40 percent off its peak in Sherman Oaks!  This is a 3 bedroom 3 bath home in very good condition: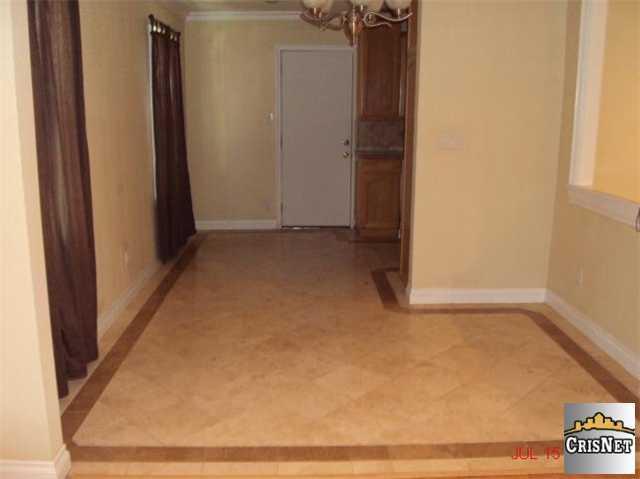 Think the correction won't hit prime markets?  Wake up, it is already hitting.
Today we salute you Sherman Oaks with our Real Homes of Genius Award.

Did You Enjoy The Post? Subscribe to Dr. Housing Bubble's Blog to get updated housing commentary, analysis, and information.