It might come as revelation to some that two counties here in sunny Southern California were labeled as being the most affordable in the state.  Of course it wasn't the overpriced counties of Los Angeles and Orange but those located in the Inland Empire.  Riverside and San Bernardino made the list as two of the most affordable regions in the entire state thanks to their crushing price collapse in real estate.  In many of these areas you have now found a nominal lost decade in home values.  I found the report interesting since it came from the California Association of Realtors and actually used household income and home values as a measure of affordability.  I'm curious how they would break down the most unaffordable regions based on household income?  It doesn't seem like they want to burst the bubbles in many inflated areas in the state.  Let us exam why the Inland Empire is now viewed as an affordable region.
Going back a decade in home values
It is always helpful to put prices into perspective.  Those that ignore history are bound and destined to repeat it.  The Inland Empire is not only already at an inflation adjusted lost decade, but it is inching closer to a nominal lost decade:

Now this is an important trend to exam.  Last spring when gimmicks were sloshing all around like a tub full of water in an earthquake, some were calling for a bottom. Well look at how much prices have fallen simply since May of 2010.  Orange County is down $45,000 and so is Los Angeles.  San Diego dropped $15,000 since then and Ventura fell by $25,000.  The Inland Empire also moved lower with Riverside County falling $23,000 and San Bernardino shedding another $10,000.  With incredibly low down payment FHA insured loans this is the equivalent of a down payment (or two).
The massive correction becomes more pronounced when we look at home prices back in January of 2001.  San Bernardino is only up 7 percent over a period that is longer than a decade and Riverside is up 13 percent.  Are prices cheap?  This is the only region in SoCal that an argument can be made in this regard.  If you look at the rise and fall for Riverside the city, you can get a better picture of a bubble bursting: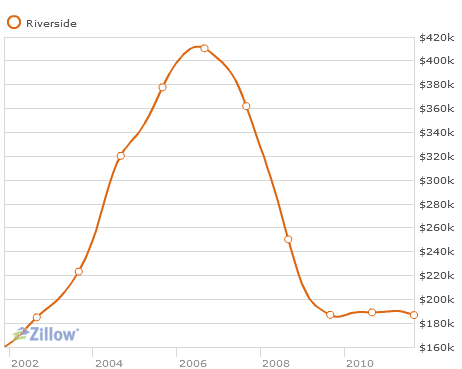 What you are seeing is a crash of nearly 60 percent from the inflated peak.  Or viewed differently, once the toxic mortgages were removed from the equation not much had really changed in the region to justify those peak prices.  Many investors are running out and buying properties out in these regions.  The typical all cash purchase was for $200,000 which seems more in line with homes out in Riverside and San Bernardino.  This is no small amount of homes since investors last month purchased nearly 30 percent of all SoCal homes with cash.
Here are some figures:
"(PE) Existing homes in Inland Southern California continued to be the most affordable of any region in the state, according to a report this week from the California Association of Realtors. In the third quarter of this year, 69 percent of households in the region that consists of Riverside and San Bernardino counties could afford to buy the median priced existing single family home.

Households needed a minimum annual income of $36,250 to qualify to buy the median priced existing single family home, where half cost more and half less, that sold for $172,090.

Of all the counties in the state, San Bernardino County had the most affordable housing, with 77 percent of households able to afford to buy the median priced existing single family home selling for $133,290. Riverside County came in as the third most affordable county for housing, with 65 percent of residents able to buy the $200,970 median priced house. The county with the second most affordable housing was Solano, where 75 percent of households could afford a median priced house selling for $192,350."
You have to dig below the headlines to see what is really going on.
Shadow inventory for the Inland Empire
Even with many investors rushing out to purchase in the Inland Empire because of low prices, we need to explore the reality that prices are low because the economy in this region is struggling deeply.  Let us take a quick look at shadow inventory data for both Riverside and San Bernardino counties: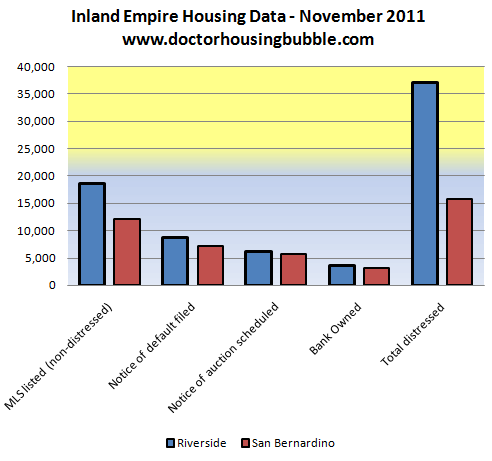 The data highlights the still enormous shadow inventory pipeline that is being worked through.  Even with prices reaching deep into the 1990s and investors exhausting the market many people are still facing a tough time covering their mortgage.  The above chart shows that the MLS listed properties are dwarfed by the shadow inventory properties still lingering in this market.  What this highlights is that even low prices are not enough to revive a stagnant market.
Prices may be cheap for other reasons as well
If you are wondering why there isn't a flood to pickup cheap homes you can look at this: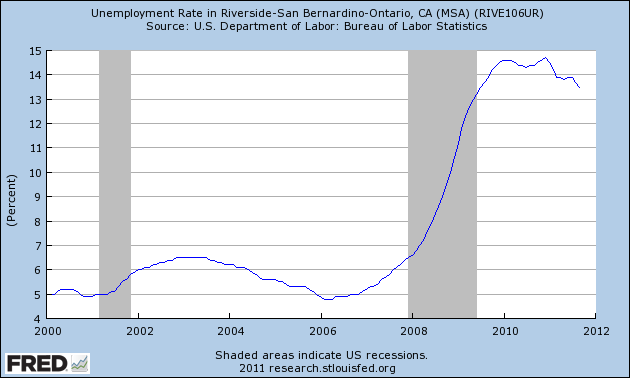 These regions still have some of the highest unemployment rates in the state.  Based on the unemployment data it can be argued that prices should be lower than the 2001 point because at least in 2001, the unemployment rate in the Inland Empire was in the 5 percent range, nearly three times lower than today.
In fact, you are starting to see homes going for two lost decades: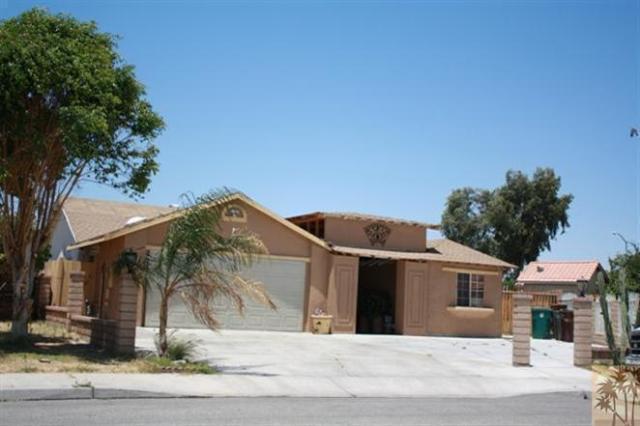 53143 CALLE LOS HERMANOS Coachella, CA 92236
5 bedroom, 3 bathroom, 0 partial bath, 1,402 square feet, SFR
And take a look at the price history here:

This place sold in 1995 for $95,500.  Today it is listed at $69,000.  This is likely the sale price if it sold in the late 1980s.  This place is two hours away from Newport Beach in Orange County yet some folks tend to forget that SoCal has a region that is dealing with the bubble bursting in very difficult ways.
There is general rule that you should not take on a mortgage that is larger than three times your household income.  For example, if your household is pulling in $100,000 a year then a $300,000 mortgage would be reasonable.  I'm glad the California Association of Realtors looked at household income in determining affordability in various locations because it is all about the income.  Or to put it differently, it really is about good paying jobs.  Low rates are simply magic dust trying to cover up the reality that the economy is still in deep pain.
Do we have any first time buyers or investors purchasing out in the Inland Empire?

Did You Enjoy The Post? Subscribe to Dr. Housing Bubble's Blog to get updated housing commentary, analysis, and information.