Contrary to anecdotal Taco Tuesday baby boomer nonsense, Millennials are not in any position to save the housing market.  Millennials have differing priorities some based on generational trends but some being driven by economic necessity.  The vast majority of the $1.3 trillion in student debt is being carried by younger Americans, not older baby boomers who went to college when state schools were nearly free and private institutions were dirt cheap that you could work at a fast food joint and pay for your annual tuition.  It was also a time when buying a home wasn't some giant global speculative gamble.  Today we have markets where investors dominate, foreign money is king, and flippers are house humping their way into leased cars and plastic surgery.  In California, 2.3 million adults live with their parents.  As things improved, some went out and formed new households as renters.  Some pundits think that many of these people were saving big bucks living at home with their parents but the latest survey shows the exact opposite.  50 percent of Millennials have less than $1,000 in savings.  And these are the people that will buy $700,000 crap shacks that were built during the Great Depression?
Millennials will not save housing
Millennials are not going to save the housing market.  Will they buy homes in other parts of the country where the typical home costs something like $230,000?  Maybe.  But that is a stretch for someone that is barely scraping buy.  That is why we are facing rental Armageddon.  But in areas where prices are looking very frothy, Millennials have no chance whatsoever to compete against investors and all cash foreign money.  The few that have a chance to compete are high earning professionals that still need to leverage into giant mortgages.  The idea that these adults are living at home with Taco Tuesday parents to save hundreds of thousands of dollars goes against actual data.
Let us look at the figures: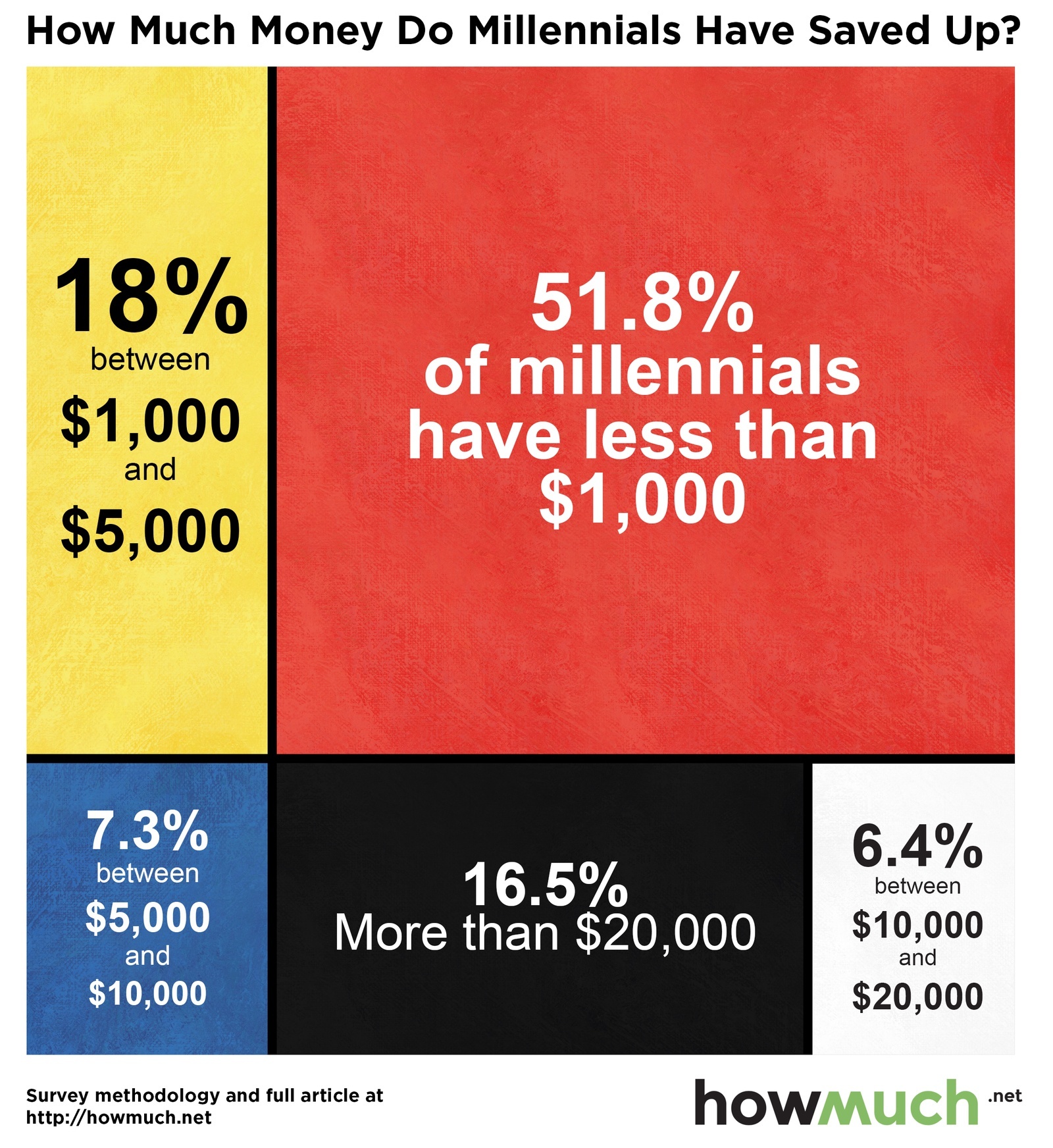 Source:  Google Consumer Surveys, Howmuch.net     
"For those surveyed, we found that:
51.8% of Millennials have less than $1,000 in savings.
18% of Millennials have savings of $1,000 to $5,000.
7.3% of Millennials have savings of $5,000 to $10,000.
6.4% of Millennials have savings of $10,000 to $20,000.
16.5% of Millennials have savings of more than $20,000."
Half of Millennials don't even have $1,000.  Even more to the point, 83.5 percent have $20,000 or less saved up.  Yes, six years into the "recovery" and these Millennials have been living at home saving up "big bucks" to buy that next piece of junk house in the Bay Area or Los Angeles.
Millennials have very different priorities: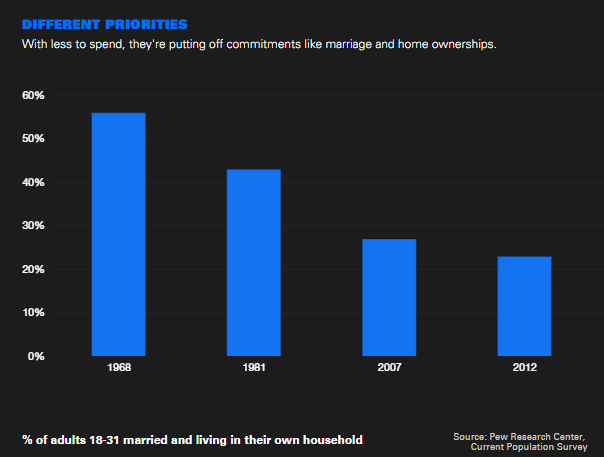 Source:  Pew Research, Goldman Sachs
In 1968 56 percent of those 18 to 31 were married and living in their own household.  Today it is down to 23 percent.  That is a massive change.  And a large portion of homes being sold in some metro areas where built when house humping couples were having large families and many lived off of one income.  Today, most will have smaller families and many don't even have or want kids.  If kids enter the picture, both will need to work and daycare costs are close to adding another mortgage on top of the current mortgage.  Some would rather live close to work in people dense areas.
More to the point, many Millennials are already deep into student debt:
Of the $1.3 trillion in outstanding student debt more than half is held by those 39 and younger (your prime first time home buyer demographic).  This is also the group that for the most part, has $1,000 saved up.  Most probably have a negative net worth when you look at college debt and throw in an auto loan.
Yes Millennials sure stepped in to boost the homeownership rate in the last six years of recovery: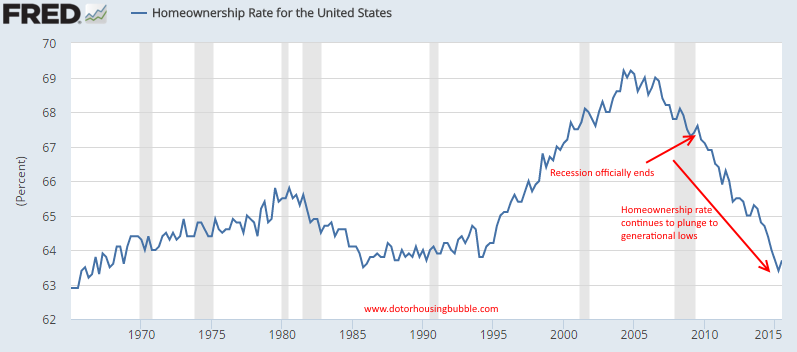 Yet somehow, these are the future $700,000 crap shack buyers that will take over properties when baby boomers put homes for sale.  What is more likely is that some "kids" are going to wait until their parents eat that last taco with Purina Dog Chow toppings before sailing into the halls of housing Valhalla.

Did You Enjoy The Post? Subscribe to Dr. Housing Bubble's Blog to get updated housing commentary, analysis, and information.