There is still a large amount of foreign money flowing into targeted markets for the direct purpose of purchasing real estate.  Not cheap real estate but trophy properties.  Usually when people get angry about the money flowing into some of these communities there is an underlying perception that they are being priced out.  There is certainly a factor driving home prices up but are you going to buy that $1 million home when it hits $800,000?  Most don't have the funds to purchase $700,000 crap shacks let alone these trophy properties.  A few readers sent over the data on Irvine new home sales where a new community sold roughly 80 percent of its properties to what appears to be foreign buyers.  It is an easy process to ascertain these details because you can simply look at cash purchases.  From what I gather, the vast majority of local professionals will need a mortgage to buy.  Irvine has some interesting trends because there are new communities coming online that seem to fully focus on the foreign money trend.  In Inception like fashion, the community that sold so well is "Arcadia" in Irvine.  As in an already foreign money focused area of Los Angeles now having a community built out in Irvine with the same name.  Sort of like the Los Angeles Angels of Anaheim (Anaheim is in Orange County by the way).
Foreign money into Irvine real estate
First, a piece from the article:
"(Bloomberg) Buyers from China and Asian-Americans purchased about 80 percent of the 47 houses sold at Tri Pointe Homes Inc.'s Arcadia at Stonegate community in Irvine, about 40 miles southeast of Los Angeles, according to Tom Mitchell, president of the Irvine-based builder.

Almost half of the buyers paid cash for houses in the development, at prices starting at $1.16 million, he said. The company has been surprised by how word travels among overseas buyers.

"A Chinese national bought one of our houses at Arcadia in Irvine after reading about it on a blog," Tri Pointe CEO Doug Bauer said in a telephone interview. "It was a Chinese blog. We couldn't even read it."
So I decided to pull-up a snapshot of these communities: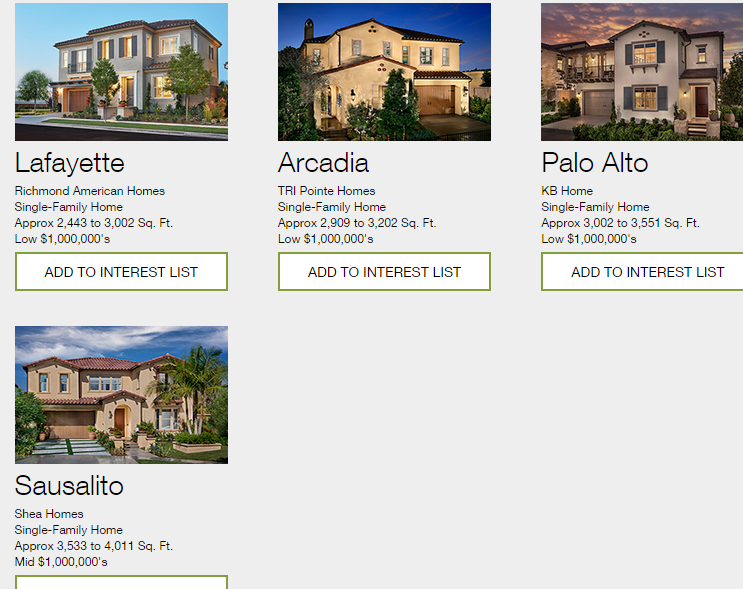 The cash buying is the major indicator of foreign funds.  I'm positive you also have local families purchasing these homes leveraging every penny they have to cover the mortgage.  But to have all cash on a $1.16 million purchase is unlikely to come from young working professionals even if mom and dad funnel in some funds.  These homes are catering to a wealthy clientele largely from China.  I love the fact that the community of "Arcadia" in Irvine was marketed on a blog that was fully in Chinese and the CEO of Tri-Pointe, the maker of these homes couldn't even read or understand.  I'm certain he understands the massive cash flowing into this market.
What I also found interesting is the name of these communities.  These are all a play on high-priced locations.  This isn't "New York" in Irvine or "Hampton" in Irvine.  They used the name "Arcadia" and "Palo Alto" connoting big-time real estate values here.
Supposedly, China has restrictions on money flowing out of the country but wealthy people like wealthy people in the US have creative ways around those restrictions:
"Some wealthy Chinese have come up with ways to evade the yearly $50,000 per-person limit on taking money out of the country so they can buy U.S. real estate, Yu said. Methods include laundering money through Macau casinos and cooking the books of import-export companies, he said.

"A lot of people over-invoice export proceeds, so they can park some money outside," Ha Jiming, chief investment strategist for Goldman Sachs Group Inc.'s China investment management division, said at a Los Angeles conference in April.

Sales of U.S. houses to long-term foreign residents and non-resident buyers accounted for about 7 percent of the $1.2 trillion of existing-home transactions in the year through March, the National Association of Realtors said."
I find all of this interesting especially since Irvine is unique in the respect that new communities are coming online.  Another reader mentioned that Irvine is planning on building a Veterans Cemetery near these new home developments and of course, some people are now worried about their big ticket home purchases:
"(OC Register) But for a group of Asian residents that live near Irvine's Great Park, the image is appalling – any cemetery would violate a strong cultural taboo of living near the dead.

Now, even as the state Department of Veterans Affairs prepares to request federal funds to build the cemetery, residents in the neighborhood – including people who aren't worried about the bad feng shui – are pushing city officials and others to make sure it's built somewhere else. Property values, many say, will be damaged.

And a wild card emerged this week. Orange County Supervisor Todd Spitzer, who supports the veterans cemetery at the Great Park, said a 288-acre parcel near Anaheim Hills might serve as a cemetery where veterans could be buried."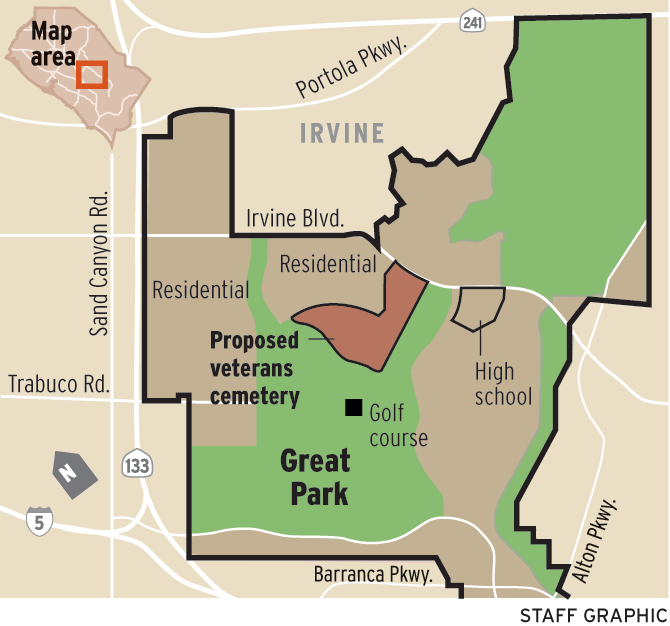 Wait.  So the driving force of relocating a cemetery for our war veterans is now being driven by property values?  We are talking about a place for eternal rest for those fighting for our freedoms, not a new theme park or sports stadium.  Keep in mind some of these new communities are being bought up by more than half of foreign money.  Of course the house lusters are more focused on inflating real estate values at all costs.  But even big investors from China are seeing frothy markets:
"(WSJ) Amid all the hype about Chinese investors buying real estate abroad, one prominent tycoon is bucking the trend.

Zhang Xin, chief executive officer of commercial property developer Soho China, said that real estate assets in major cities abroad are currently too pricey.

"I'd be holding cash now because if you look around, outside of China, assets are just so expensive because of all the rounds and rounds of QE," Ms. Zhang said Monday at a panel during the opening of Soho China's latest office building in Shanghai.

In recent years, quantitative easing efforts taken by the U.S. and European Union to support their economies have included bond-buying programs, which some say have flooded the markets with cheap capital and driven up asset prices."
If anything this shows how even a working professional couple is going to have a tough time buying that $1.16 million new home in Irvine.  And these places are built right next to each other.  But these builders know their audience.  And that audience is probably not you unless you are prepared to buy with a suitcase of cash.  On the other hand, there is now a trend in Irvine of people listing their properties on AirBnB and VRBO so you might be living next to one of these homes that suddenly turns into a high priced rental.  Of course this is probably (very likely) against most HOA rules.  Of course current residents aren't taking too kindly to their "quite safe" neighborhood turning into a high priced hotel: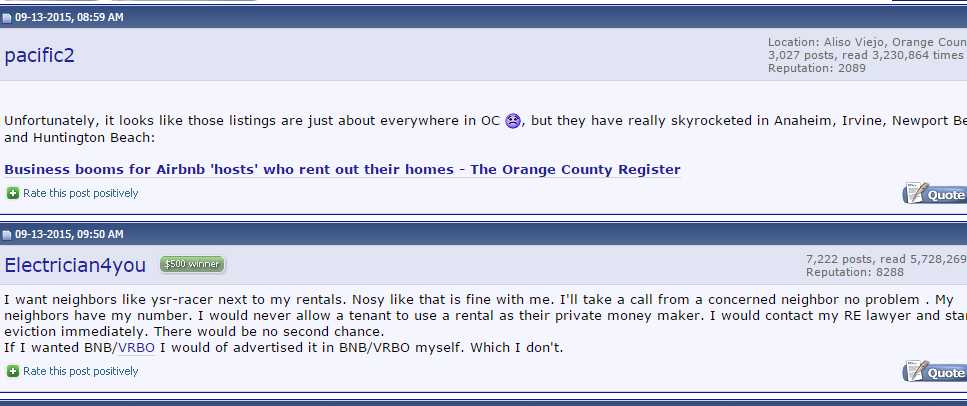 And part of the big trend in buying happened before the crash in Chinese stocks.  You also have the government becoming more stringent on money leaving the country.  Welcome to SoCal real estate.  And, Orange County has the fastest jump in inventory of all SoCal counties.
Any boots on the ground in Irvine willing to shed some light on the above?

Did You Enjoy The Post? Subscribe to Dr. Housing Bubble's Blog to get updated housing commentary, analysis, and information.