2012 has certainly provided a boost to the US housing market.  Incredibly low interest rates combined with declining inventory have certainly pushed prices higher.  Low interest rates have served as a method of giving US households more leverage to purchase homes.  I was taking a look at sales volume in places like Los Angeles County and Orange County and they are up year over year in the double-digits range.  Orange County has seen the biggest jump in sales volume in SoCal going up nearly 25 percent and home prices are up by 2.9 percent bringing the median home price up to $450,000.  Even with this jump inventories continue to decline by record levels.  Let us take a closer look at Orange County given it has seen the biggest year over year jump in sales volume.
The jump in sales
Orange County sales are certainly up over the last year:
July 2011 sales:                  2,455

July 2012 sales:                  3,087 (up 25.7 percent)
This has pushed the median home price up from $437,500 up to $450,000.  With so many homes being purchased with FHA insured loans, even though interest rates are low the cost is likely to increase:
"(Housing Wire) A House committee voted unanimously to pass a bill that looks to give a boost to the Federal Housing Administration through increased mortgage insurance premium caps and other changes.

The FHA, under the bill, could charge up to 2.05% for its annual mortgage premium, up from a current 1.55% maximum. It also sets a minimum of 0.55% for the yearly payment."
So workout the numbers.  On a $400,000 loan (near the median price) this will increase payments from $400 to $683 per month on top of principal, interest, and taxes.  That is a good amount of money.  Why are premiums going up?  For one, FHA insured loans are facing high defaults in spite of a housing market that appears on the surface to be stabilizing.
You would think that this kind of market would draw out inventory but it has not: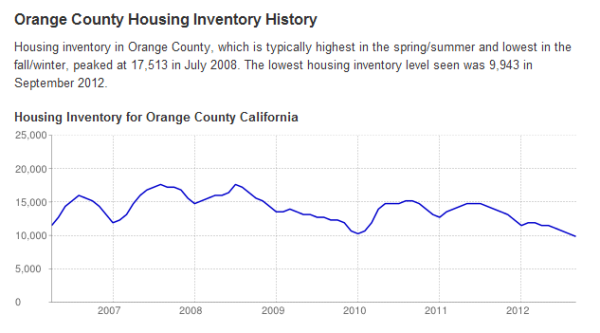 Source:  Department of Numbers
Orange County inventory is down a stunning 29 percent:

This is certainly an interesting market dynamic.  So you have 9,943 homes listed for sale.  How many homes are in the distressed pipeline currently?
Over 10,494 homes are in the foreclosure process, most of these do not show up on the MLS.  Many fall out of the process via the growing number of short sales and we are seeing this even in markets like Irvine.  Things are down in this pipeline:
January 2010 distressed pipeline:                             17,790

September 2012 distressed pipeline:                      10,494  (41 percent drop)
In spite of what appears to be better conditions, new defaults are still very high:

1,360 new notice of defaults were filed in July.  The fact remains that many of the loans made during the bubble years are still going bad but more troubling, even loans made post-bubble bust are going bad.  Keep in mind that in June of 2007 the median home price in OC hit $645,000.  The current $450,000 median price is off nearly $200,000 from this peak reached five years ago.  So what you have are many home owners unable to sell given that they are underwater.  You also have banks slowly leaking out shadow inventory and using the low interest rate leverage to unload houses in a supply constrained market.
If you want a quick timeline of price in Orange County here you go:
Median home price OC
June 1991:           $220,000

Jan 1996:              $184,000

May 1998:           $221,500

June 2007:           $645,000

Jan 2008:              $520,000

Aug 2012:            $450,000
Current OC median household income?  $74,000.  2000 household income?  $61,899.  If you go back to 2000, the income-to-home price ratio was 3.5 which doesn't seem so off base for California.  Today, even with the median home price down by $200,000 the income-to-home ratio is at 6.  Without a doubt low interest rates and the accessibility of FHA insured loans are driving a good portion of the market.  Back in 2000 the 30 year fixed rate mortgage was around 8 percent.  Today it is down to 3.5 percent (a 56 percent drop).  On a $400,000 loan this is the difference:
$400,000 PI at 8%:                            $2,935

$400,000 PI at 3.5%:                        $1,796
The leverage isn't coming from bigger incomes but ridiculously low rates and a market constrained by low inventory.  You still have people that bought at inflated prices looking for the day high prices come back.  So where did the inventory go?  It is still there just not for sale.  For the quality homes that are for sale expect some rush to buy given the mini mania.

Did You Enjoy The Post? Subscribe to Dr. Housing Bubble's Blog to get updated housing commentary, analysis, and information.