Perfectly timed, the Federal Housing Administration (FHA) is starting to see significant delinquencies at a time when the housing market nationwide is appearing to recover.  If you define "subprime" as the lowest quality mortgages on a totem pole, FHA insured loans now take that place.  It should not come as a surprise given the FHA is insuring an insane 30x leverage market with many that are diving in with only 3.5 percent down.  This is no surprise and even this summer, the FHA to assist in shoring up their dwindling capital base jacked up their mortgage insurance premiums.  The FHA has completely deviated from their mission and is simply another method of over extending debt strapped and income restricted Americans into homes that they clearly cannot afford.  What was once a tiny echo is now becoming a larger siren of impending financial issues.  The FHA is heading directly into a bailout scenario.
FHA is the new subprime
Some astounding information is coming out regarding the deterioration of FHA insured loans:
"(Reuters)- Fitch Ratings sees a growing divergence between 90-day past due delinquency patterns for guaranteed and nonguaranteed loans as a potentially troubling signal of future losses. This may eventually force the FHA to look for opportunities to put back some defaulted loans to the banks, particularly if the agency's funding status worsens and U.S. home prices fail to rebound quickly."
What stood out in the report is that eight of the largest US banks now have $79.4 billion in delinquent FHA insured loans.  Of this, 83 percent represent government-guaranteed mortgages.  If you need additional proof of this maximum leverage nonsense and that banks are willing to give loans out to a homeless person if they could offload the risk to the American taxpayer, read this:
"While delinquency rates for nonguaranteed loans have been improving steadily at these institutions, the trend for FHA-guaranteed loans is starkly different."
In other words, banks are cautious when their money is at stake but when it comes to government backed loans they are willing to make any kind of loan product so long as they get their cut.  This is very similar to the entire Alt-A MBS process where banks bundled crap loans together and distributed their toxic waste around the globe deceiving investors.  Now why is this a problem?  Because FHA has essentially stepped in as the low-rung mortgage option: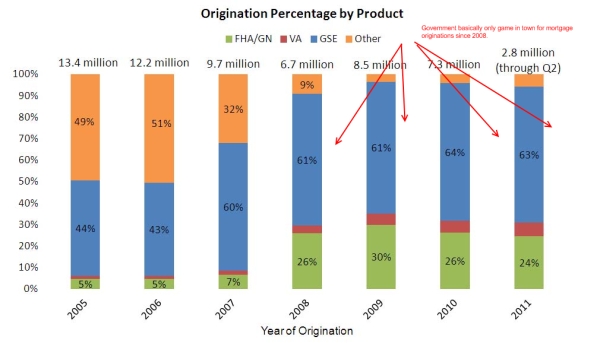 Since 2008, FHA insured loans have taken up a sizeable role in the loan origination market.  In 2005 and 2006 FHA loans were only 5 percent of the entire pool.  Today, they make up roughly 1 out of 4 originations and reached a high of 30 percent in 2009.  In other words, these loans were made after the bust so home prices were already correcting lower yet they have entered the default pipeline rather quickly.  Why?  Because 30x leverage is freaking insane!  Heck, we're talking about leverage ratios that brought down Lehman Brothers.  Some are so delusional to think that this is for the common good.  How about we implement some sensible restrictions like the following: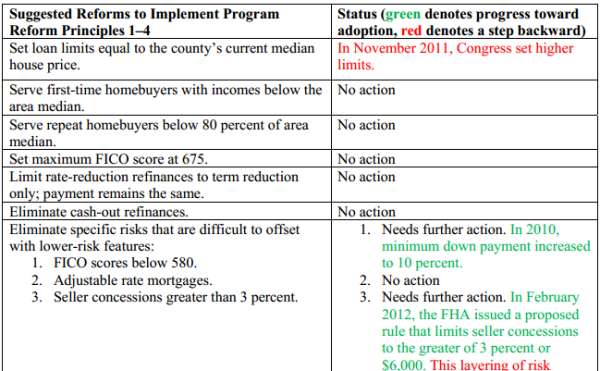 Source:  AEI, Edward Pinto
Of course these sensible items have been completely ignored for the sake of creating another monster that needs to be bailed out.  Ironically, FHA loans have a mission for affordable housing yet we have upped the limit to $729,000+ in some areas of California!  In a country where the median household income is $50,000 how is this even remotely close to sensible?  It isn't and we are quickly approaching another bailout.
FHA loans continue to be a big part of loan market
FHA insured loan originations continue to be a big part of the market: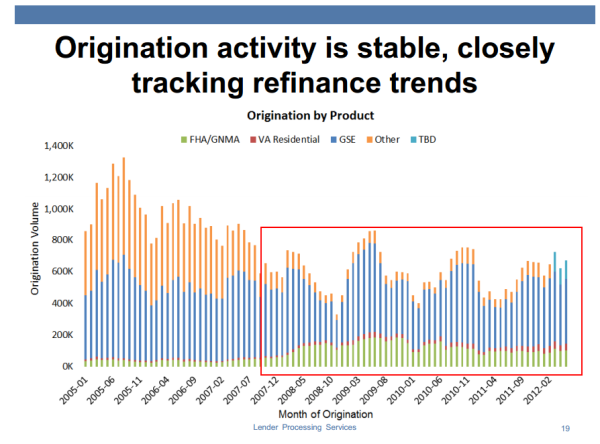 There is little appetite for more bailouts.  Fitch Ratings actually feels that with worsening conditions that the FHA may need to renegotiate loans with banks that hold these loans.  FHA might actually, to a certain degree default by paying less than the actual original principal protection.  In other words this will transfer some of the loss to banks.  If this plays out, banks are simply not likely to participate and this actually throws the entire purpose of FHA's insurance into question.  This isn't necessarily a bad thing since collectively this is a boondoggle and such a poorly crafted program that it is now leaking money left and right.  For anyone thinking that 30x leverage on a $400,000 mortgage at twice the national median home price is ludicrous they need only look at the very high delinquencies.  They are simply yearning for the days of the toxic loan fiesta to come back.  Just because you are checking W2s doesn't mean you are practicing wise due diligence.  That should be obvious given the massive delinquencies.  1 in 6 FHA insured loans is delinquent.
The young need leverage    
Banks are essentially in a symbiotic relationship with the government.  The entire mortgage market is government controlled.  I was talking with someone that jokingly mentioned that the slow progression of lower interest rates is a method for banks to collect closing cost fees and generate additional revenue on the back of the government forcing rates lower by encouraging mountains of refinances.  Given refinancing volume, there might be a point to that.
The government and banks are intertwined.  I mean come on, the entire mortgage market is now government backed and the loans are dished out by the too big to fail banks.  You have similar mispricing of risk with the massive student debt bubble.  And this brings us to the next point of the younger generation.  It is very clear that as a group, younger Americans will be less affluent than say the baby boomer generation and this will impact housing moving forward.
Gen Y most likely to hold low-paying jobs in retail
"(USA Today) Chances are if you're a working Millennial, you're working in retail, says a study released Tuesday by Generation Y research firm Millennial Branding in conjunction with PayScale, a company that collects compensation data.

Retail sales associate is listed as the fifth-worst-paid job, at an average of $19,300 a year, only better than cashier, barista, hotel clerk and dietary aide, the findings show."
This is where you find arguments for steady rising home values to fall flat.  The leverage to boost the housing market without a doubt has come from the following areas:
-Banks simply ignoring mark-to-market

-Banks artificially keeping inventory off the market

-Fed forcing mortgage rates lower

-Government ramping up low-down payment mortgages like FHA insured loans
None of the above reasons has occurred because incomes were going up.  We've added jobs but many of the jobs added have come in lower paying fields.  Many of the future home buyers are already saddled with massive debt:
"For an age group struggling with a poor job outlook and hefty student loans, many settle for retail while they look for jobs in their preferred field, says Dan Schawbel, managing partner at Millennial Branding. "A lot of them will end up in these retail jobs while applying for professional jobs and hoping there'll be openings," he says.

Many Millennials in retail have college degrees. Almost half of merchandise displayers — better known as floor clerks — and 83% of clothing sales associates indicated having a bachelor's degree, the PayScale data show."
The figures are not all that reassuring and certainly do not provide evidence to increasing home values.  It also may point to the flailing of FHA insured loans.  Many younger buyers may opt to go with FHA products because of the low-down payment option but with more transient jobs and lower paying jobs, one little hiccup and you quickly fall behind.  We already see the rise of the temporary employment market.  The student debt market is now up to $1 trillion and many have degrees from for-profit paper mills that provided little chance for higher earnings.  Yet they are now saddled with incredible debts.  The irony of all of this is that products like FHA insured loans have actually kept home prices more expensive when the market is demanding more affordable options.  Those that usually champion these products are massively self-interested and fail to appreciate the massive costs hidden here.  Even if you want to keep these products available, why not cap it out at the nationwide median home price and require 10 percent down?  Some don't want this because they want to swear allegiance to the new subprime flavor of the day so long as they don't have to pay for it.  Moral hazard galore.

Did You Enjoy The Post? Subscribe to Dr. Housing Bubble's Blog to get updated housing commentary, analysis, and information.