The condo market in mid-tier locations is in the middle of a major correction.  It is surprising to see the velocity of how quickly prices are falling in some of these condo markets.  Today we will look at Irvine and their condo market since it provides an interesting look at a lower price entry level market within a mid-tier location.  Two zip codes in Irvine have seen median condo values fall by 40 percent in the last year.  I have alerts setup for threshold points in certain locations and was surprised in the last few months of the number of condos hitting the MLS at $200k but also in the $100k range in Irvine.  The mid-tier markets are definitely in a correction mode.  I doubt many that buy these condos with FHA insured loans realize the HOA and high taxes on homes in Orange County, especially with Irvine.  Let us examine the market in detail and see what we can find.
Irvine snapshot April 2012
For a mid-tier market like Irvine there sure are a lot of people unable to pay their mortgages.  Roughly 200 of the current MLS inventory is listed as short sales (essentially one out of three in a solid mid-tier market).  Foreclosures on the MLS continue to be low.  If we dig deep into the foreclosure pipeline we realize that listed MLS data is on par with the actual shadow inventory.  Here is the current market snapshot for Irvine: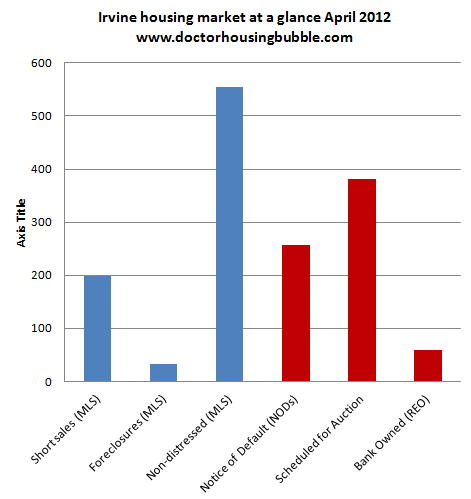 Almost 400 properties are scheduled for auction and this is a deep stage of foreclosure.  It is very unlikely these homes will cure.  The notice of default pipeline is large as well at roughly 250.  Information like this continues to suggest underlying weakness in the market and economy.  After all, if things were doing so well don't you think people would be current on their mortgages in an otherwise solid city like Irvine?  Those notice of defaults are all rather recent and with FHA insured loans defaulting at higher rates, you are starting to see folks going into foreclosures even after home prices collapsed in round one of the housing market correction.
$100k properties in Irvine?
It seems like banks are getting aggressive on moving condos in Irvine.  Take a look at some current listings: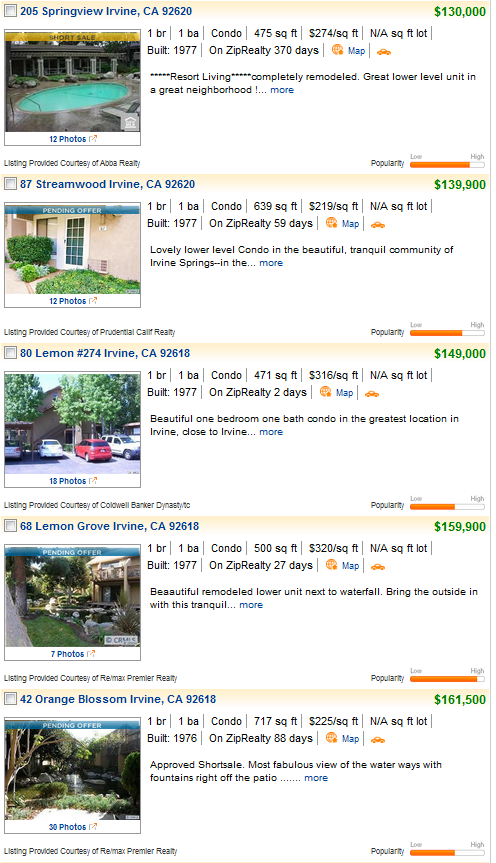 $130,000 in Irvine?  No wonder why my alert system went off.  We are now into 1990s prices at least for some of these condos.  You'll notice a couple of these already have sales pending.  I would really be curious if these were being bought as owner occupied properties or by investors to rent out?  I have seen some new investors running the numbers stating that a $200,000 purchase would yield a $1,400 rental.  Yet they didn't factor in the $300 HOA and $200 taxes that would be on the property indefinitely.  That might cut into those generous cap rates.  Either way, we are seeing some major price cuts in Irvine especially in the condo segment of the market.  The two condo markets with y-o-y price drops of more than 40 percent are 92604 and 92620.
The instability of the mid-tier market
It is obvious that a correction is taking place.  You would have been laughed at if you suggested a $100k condo in Irvine just a few years ago.  Now that we give examples of prices correcting, you'll then hear a response that quality homes in these markets are still expensive.  Sure.  People are willing to pay the price.  But is this a good investment or a good price point?  Maybe yes and maybe no.  These condo short sales were very bad decisions for people that bought them only a few years ago even in mid-tier Irvine.
The market is dynamic and much of the lower end energy has come from investors and FHA insured loans.  Yet premiums have jumped up significantly this month especially with mortgage insurance.  Why? Because massive defaults are hitting the FHA.  Ironically to keep the FHA going insurance premiums are going to go up and make it even more expensive to take on a FHA insured loan.  Instead of realizing that giving out 3.5 percent down payment loans is setting up many for failure, they are going to make the monthly nut more expensive for future buyers to make up for the defaults they are dealing with right now.  In other words, program future defaults at the expense of getting money right now.  Does this sound familiar?
The housing market at the moment is anything but a free market.  It is a jumbled up mess of shadow inventory being hidden from the public, real estate industry cheerleading, and emotional buying.  As we just showed, a solid mid-tier city like Irvine has more homes in the foreclosure pipeline compared to non-distressed MLS inventory.  All those in the foreclosure pipeline are not paying their mortgage.  Yet this is somehow construed as a healthy market?  I'm not sure about that arithmetic.
Recently California home sales came out and the spin was that we are now off to the races up.  Of course, this is the start of the spring selling season and let us not forget the insanely low artificially priced mortgage rates as well.  Yet when you put sales in perspective, you realize there isn't anything spectacular about the number: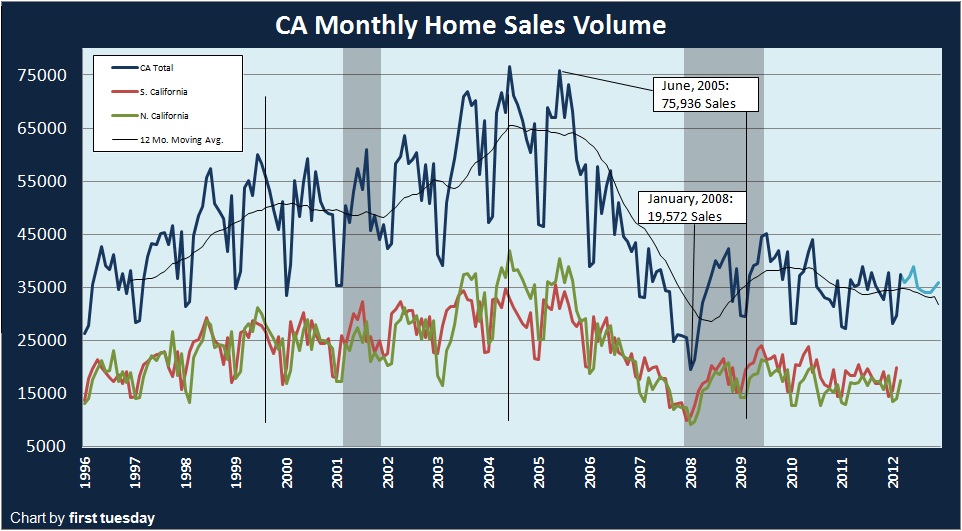 37,000 homes sold last month.   Not bad but in June of 2005 in the mania over 75,000 homes sold.  From 1998 to 2008 the moving average was never lower than 37,000 so take that in for perspective.  There are many leftover artifacts from the bubble and people are just itching to recreate the bubble environment.  You even have some real estate cheerleaders coming back out of hibernation from 2007 echoing "buy now or be priced out forever!"  Buy if it makes sense.  Run the numbers and don't take on a mortgage that goes beyond your household income.  I get e-mails from people making $200,000 worrying about buying a $400,000 home.  You are in good shape if you plan on staying put.  Yet the reality is you have people making five figures leveraging still and buying $500,000 homes typically with FHA insured loans.  That is purchasing with one foot on a financial banana peel.
The fact that we are seeing more shadow inventory coming online should actually be an argument for lower home prices and this is exactly what is happening in mid-tier markets.  A healthy market is going to be one where the foreclosure pipeline is minimal and prices start tracking household incomes.  We are still a long way from that but moving closer in that direction.

Did You Enjoy The Post? Subscribe to Dr. Housing Bubble's Blog to get updated housing commentary, analysis, and information.