The housing market is such an odd functioning system.  It really isn't a market in the true sense of the word but more of a carefully controlled market.  I get a kick out of some coming out with grandiose statements claiming that nationwide the housing market is closer to reaching the bottom.  This kind of statement is as audacious as looking out your window and saying the sky is blue.  The median home price in the US is $156,000 and the median household income is roughly $50,000.  Not exactly a stretch to state a bottom in price is likely at a nationwide level.  Interestingly enough, now with all the chatter of a nationwide bottom the ratio is near a perfect 3:1 with median household income and price.  Reversions to the mean eventually take place especially when incomes are not rising.  Yet most of the market since 2007 has been artificially kept afloat with massive government intervention and I would say that we have a housing market that is essentially a ward of the state but also have a burgeoning student loan bubble.  If the housing market or student debt markets were so healthy, why is the private sector MIA in lending action?
Government mortgage complex – New low-down bailout culprit
Make no mistake that since the market melted down in 2007, the private mortgage market has been nonexistent.  While total first mortgage debt has declined by roughly $600 billion, the share of government loans has shot up by $1.1 trillion during this time: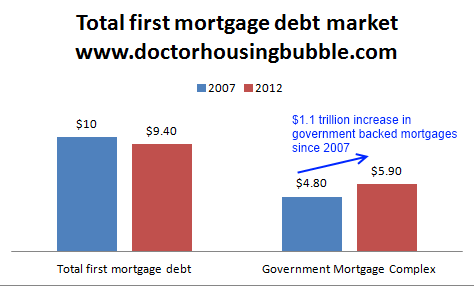 *Trillions of USD$
The government backed mortgage market is the housing market.  I was digging through reports regarding the GSEs and their activities and you will find the data fascinating: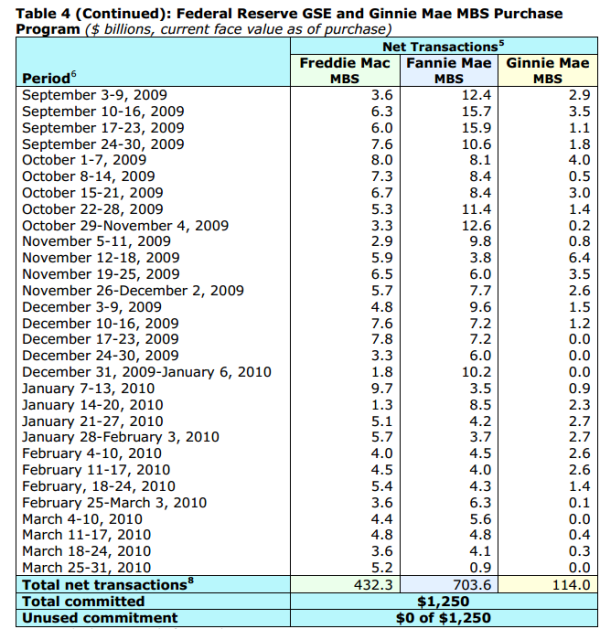 You can see most of the MBS activity for the GSE market came in 2009 and early 2010.  What you are looking at above is the Federal Reserve actions in basically becoming the MBS market.  In this timeframe, Fannie Mae, Freddie Mac, and Ginnie Mae ate up $1.25 trillion in MBS activity.  This is why when you look at the first chart with government backed loans going up by $1.1 trillion from 2007 even though total mortgage losses have been significant with over 5,000,000 completed foreclosures.
Has this cost us any money?  Absolutely: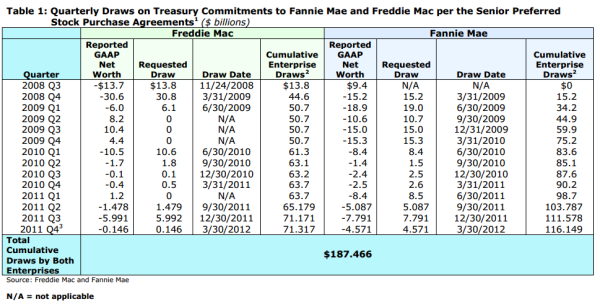 The latest data shows that the cost for taking over Freddie Mac and Fannie Mae has cost us $187 billion.  Sure is a long way from the profit good old Hank Paulson told us we would be turning.  The current mortgage system and banking system is essentially a churn machine to throw off profits to the financial industry all the while saddling Americans with more and more debt.  Just look at the above data and show me where the private sector is?  But the major banks enjoy all the perks of being government backed yet pass on all the major risks to the public.  Some people pretend as if we just didn't have the biggest financial crisis since the Great Depression.  $187 billion is no chump change and this is merely looking at the running total for the GSEs.  There are other trillion dollar games at play as well with guarantees, shifting toxic waste to the Fed, and now with insuring low down payment FHA products.  The FHA insured loan market is now an even bigger risk.
Default rates are soaring for FHA loans: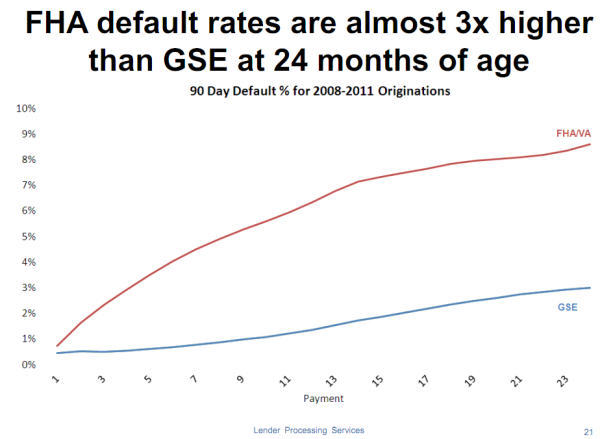 The FHA is completely backed by the government (aka the public) and this is a train wreck in the making.  The average down payment for FHA insured loans is 4 percent (just a tiny bit above the 3.5 percent down payment amount).  The absurdity here is that someone going in with a 4 percent down payment is paying the same as someone with say a 15 percent down payment and going with FHA.  In other words, there is no incentive for less risky LTV ratios from the buyer's perspective and this is exactly what they are doing.  We are encouraging risky borrowing behavior and look at the above chart.  This is a bailout in the making.  Which other government representative that is a former banker is going to tell us not to worry, FHA will turn a profit soon?
FHA insured loans have become a major part of the housing market: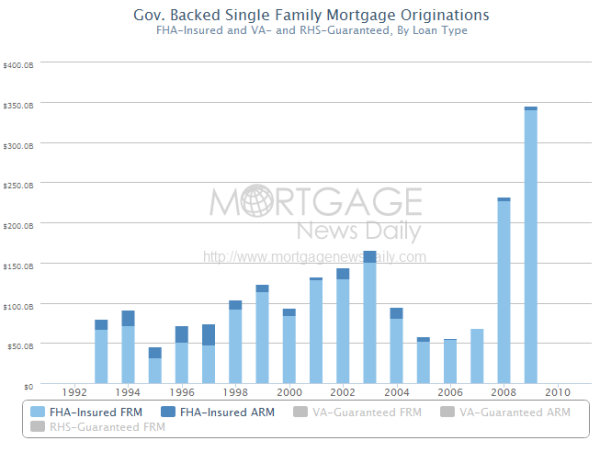 In 2006 FHA insured loans made up about $50 billion in loan origination volume.  In 2009 it was closer to $350 billion and even more in 2010, 2011, and also in 2012.  For example, in bubble land Southern California one out of three loans is FHA backed and this pattern has been going on for a few years now.  Yet starting this month mortgage insurance and premiums are going up to cover this monstrosity and rising defaults: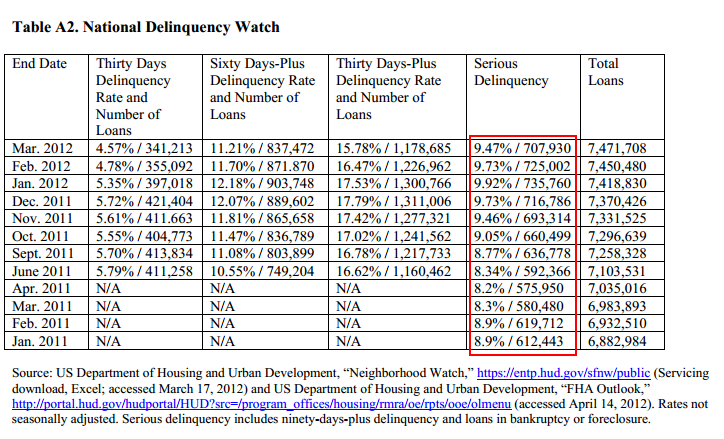 Source:  AEI, Ed Pinto
It is incredible that FHA is insuring a loan pool of 7,400,000+ mortgages with a serious delinquency rate of 9.47 percent!  15 percent of these loans are at least 30+ days delinquent.  Instead of admitting the obvious that we are seeing similar Alt-A and subprime patterns here, the FHA is simply going to make it more expensive to borrow on a monthly basis instead of increasing that down payment requirement!  All the talk of a healthy market is nonsense with 10,000,000 Americans still underwater on their mortgage.  Even if this is a nominal bottom nationwide, what are the repercussions of backing another $1 trillion in questionable loans and having the Federal Reserve artificially keep mortgage rates at these levels?  The risk is other bubbles.  Those that claim things are fine would not in a million years lend out $700,000 to a person making $150,000 for a home in California yet they are perfectly fine with the FHA insuring these loans.  Moral hazard galore.
Student Loans
So it is obvious looking at the data that pure targeted government bailouts and gimmicks in accounting rules are keeping the market afloat.  So what do we get for all this?  A $187 billion price tag for taking over the GSEs, $1.25 trillion more in MBS debt shifted into the Fed balance sheet, and another bailout in the making with the FHA.  Plus, we have had 5,000,000+ completed foreclosures since 2007 and the median price today is $156,000 with a median household income of $50,000:
"(NAR) The national median existing-home price for all housing types was $156,600 in February, up 0.3 percent from February 2011. Distressed homes – foreclosures and short sales sold at deep discounts – accounted for 34 percent of February sales (20 percent were foreclosures and 14 percent were short sales), down from 35 percent in January and 39 percent in February 2011."
Yet another massive debt bubble has formed in the student loan markets.  I find it interesting that a debt market reaching $1 trillion in debt outstanding had little coverage from the Fed only until recently.  In fact, data on this market from the Fed was only recently released in the last year or so.  It used to be scattered and hard to put together.  Now that we can put it together, you know exactly why this was kept under wraps: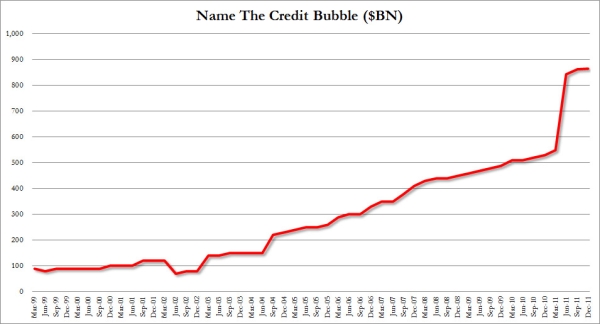 Source:  Zero Hedge
I've talked about the long-term issues we will face with millions of Americans being saddled with unsupportable student debt when it comes to buying their first home.  This is a serious issue.  Just think of someone coming out with $50,000 in student debt trying to buy that $150,000 home.  They already have debt one-third the size of the home they are looking to buy.  Think that'll make it tougher on their monthly disposable income?
The student debt markets are another fully backed government enterprise.  The banking sector essentially is the middleman for government mortgages and government student loan debt.  The major profits go directly to the banks, even if they fail since they get giant salaries/bonuses regardless if the loans they make implode at some point.  By the way, student debt defaults are soaring.  Does this sound familiar?  Saying the housing market is reaching a bottom nationwide is no bold statement especially with the 3:1 income to price ratio.  By the way, a bottom does not mean prices are now going to reverse.  The real issue is how massive government intervention is and how close the big banking sector is aligned with our political system.  Have things really improved?  It is interesting to read the comments since many readers are educated enough to realize how massively rigged the game is (and by default, unsustainable) yet in the next breath people are looking to purchase a rundown shack for $400,000 or $500,000 in Southern California.  We are starting to see the cheerleading coming out again but just like the last bubble, the silences on reliable household income data speaks volumes.  All the above data simply shows an enormous debt game being held up by the government backed markets and default rates are uncomfortably high.

Did You Enjoy The Post? Subscribe to Dr. Housing Bubble's Blog to get updated housing commentary, analysis, and information.