The mid-tier correction is likely to continue well into 2012 for many Southern California cities.  While this may not make national headlines it certainly is an important trend to follow for millions of Californians.  While national markets might be finding a more stable price bottom that is certainly not the case in shadow inventory filled Southern California.  It seems like more people are realizing that home prices even with significant corrections are still inflated in many cities.  This is trending because with FHA insured loans, practically anyone with a tiny down payment and a decent income has the leverage to purchase one of these inflated homes.  Add to the mix the incredibly low interest rates and you would think that all stars would be aligning for a booming market.  Not in Southern California.  And certainly not in the mid-tier cities.  Let us take a look at Burbank very carefully and parse through the entire housing inventory.
Distressed inventory three times as large as non-distressed properties
Burbank has an enormous amount of properties in the shadow inventory pipeline.  In fact, the shadow inventory is three times as large as the non-distressed MLS inventory.  We also have many new distressed properties hitting the MLS.  For example, 44 percent of all listed properties are either short sales or foreclosures: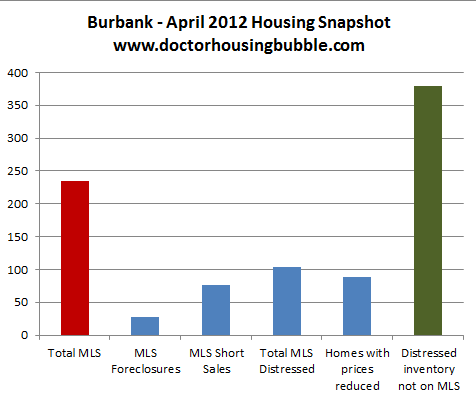 What can we gather from the data above?  First, most of the distressed properties are off on the sidelines in the shadow inventory.  Even with listed properties, nearly half are distressed and you also have roughly a third with their prices reduced.  Now why would you reduce prices in a mid-tier city if there was a large amount of pent up demand and sales were booming?  The demand really isn't there at these price points and even FHA insured loans will now become more expensive because these low down payment loans are defaulting in mass.
Sales and prices falling
I'm not sure why anyone would even rush to buy in one of these mid-tier cities right now.  If we look at prices and even sales, we see that there is no sudden reversal to the upside: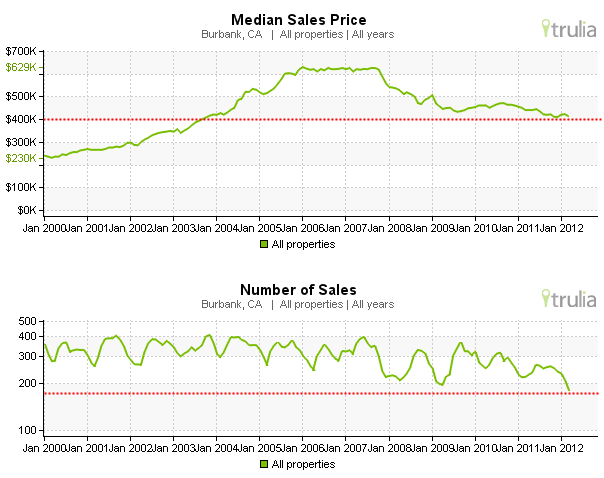 After hitting a median home price above $620,000 the median Burbank home is now going for $400,000 (over a 35 percent fall).  On top of that, you can see that sales volume has fallen.  What we are seeing however is a larger amount of short sales hitting the market in mid-tier locations including Burbank.  As the first chart highlights, every 3 out of 4 distressed listed MLS properties is a short sale.
Why would prices not be surging with record low mortgage rates and risky low down payment loans?  It has to do with household incomes: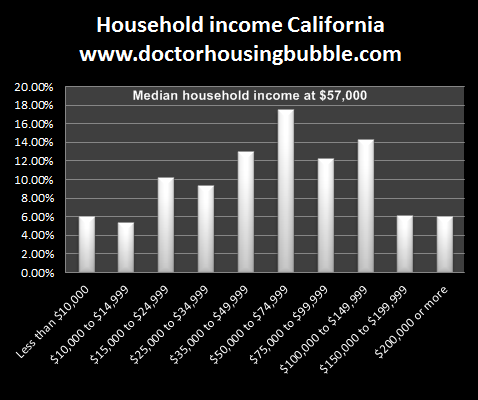 The median household income in Burbank is roughly $62,000.  So a $400,000 home for your typical family is still going to be incredibly expensive.  The misnomer that these families have giant down payments is nonsense (otherwise why would one third of SoCal buyers opt for FHA insured loans with a 3.5 percent down payment and more expensive monthly payments?).  Let us be generous and say that the median household income for a family buying is $80,000 or even $90,000.  Is it a good time to buy?  Probably not given incomes are back to levels last seen in 2003 and more shadow inventory is leaking onto the market.
This trend is playing out all over California as demonstrated by the low sales volume across the state: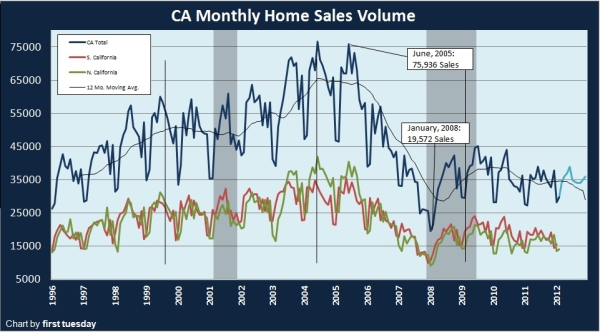 2012 is looking like the year of the short sale.  In other words, lower priced properties will be dominating the market.  The notion that you must rush in to buy today almost implies that if you do not buy right now that you will be priced out tomorrow (aka prices will go up).  There is no evidence for this and to the contrary, prices are still falling.  Interest rates are unlikely to move lower.  FHA insured loans will be getting more expensive because default rates are now putting this method of loaning money into another potential bailout.  Even Jaime Dimon, CEO of JP Morgan Chase had this to say:
"I suspect that the mortgage crisis will be the worst financial catastrophe of our lifetime. What the world experienced was almost a collective brain freeze … It was a disaster hidden by rising home prices and false expectations, and once that price bubble burst, we all were in trouble.

We need to write a letter to the next generation that says, "Never forget: 80% loan to value and verify appropriate income."
When you have the CEO of one of the biggest banks mentioning 20 percent down payment loans you realize that he has had a front row seat with one of the too big to fail banks.  Chase bought out toxic mortgage superstar WaMu that made some of the most absurd loans in California.  You think the nation and these banks are itching to get the bubble going in California again?  Unlikely.  The mid-tier will continue to fall because it is overpriced.
I was looking at the inventory for Burbank and a large number of homes were built in the 1920s, 1930s, and 1940s.  These places need major updates.  So your front-end costs don't include all the rehabbing you will need to do unless you want to live like they did back in the Great Depression.  Some people still think a $500,000 Great Depression shack is still valuable but looking at sales volume and the immense number of shadow inventory properties, many people are waking up.  Home prices and incomes absolutely matter and so does the quality of the home and location.

Did You Enjoy The Post? Subscribe to Dr. Housing Bubble's Blog to get updated housing commentary, analysis, and information.