The lost decade in housing values was cemented by the Case-Shiller report today.  Nationwide home prices have reached a post-bubble low.  A large part of this is being driven by lower priced distressed homes and the reality that people are focused on affordability.  This includes investors who are price conscious to make sure numbers work as an investment but also first time home buyers stretching their purchasing power with low down payment FHA insured loans and record breaking low interest rates.  The Case-Shiller LA/OC numbers now show a 40.8 percent decline from the peak.  What is definitely a recent trend is the quality of short sales hitting the MLS in mid-tier markets.  Short sales now make up a sizeable portion of total current inventory for sale.  We know that half of current sales come from the distressed pipeline but looking at current inventory we see that this pattern is continuing to hold.  At least for Southern California, 2012 does look like the year of a short sale surge.
Short sales dominate MLS inventory
Short sales are definitely making their presence felt as a percent of total visible MLS inventory.  More significant however, is the pricing these short sales are taking.  Back in Q1 of 2010 for example, short sales made up roughly 25 percent of visible inventory but the pricing by banks did not show an interest in moving properties out quickly.  The quality was also on the weaker side.  Today short sales dominate the visible inventory but also the quality and the pricing is much more aggressive in the sense of moving properties.
It would be useful to look at the current MLS data and the categories each property would fall under: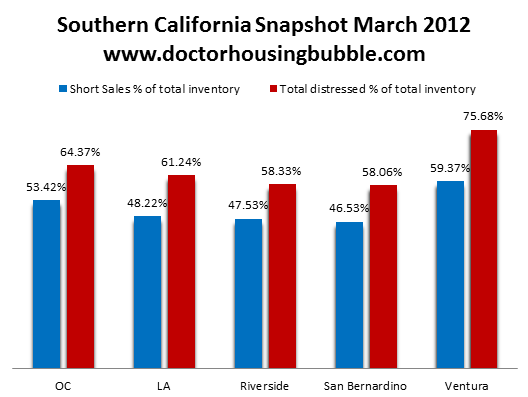 The vast majority of properties on the MLS are distressed properties.  If we dig deeper, we will find that most of the distressed inventory comes in the shape of short sales.  In fact, over 50 percent of all visible MLS inventory comes from short sales.  This trend has been growing since the crisis began but even in 2010 when the market was already troubled, banks were still reluctant to price properties aggressively when it came to short sales.
It appears that the shadow inventory is now starting to move at a brisker pace.  This is positive news and the continuing drop in prices only makes sense.  If most of the sales are coming from distressed properties then it is expected that home sales would continue to edge lower.  You have to remember that a short sale is a sign of underlying economic issues.  A bank needs to agree with a current owner that they would be willing to accept a lower price, below the initial mortgage balance, to move a property.  By definition each short sale is a price reduction sale and over half of the current SoCal inventory on the MLS is listed as a short sale!
Take a look at the full inventory picture.  Keep in mind that the total distressed column below is made up by short sales plus foreclosures: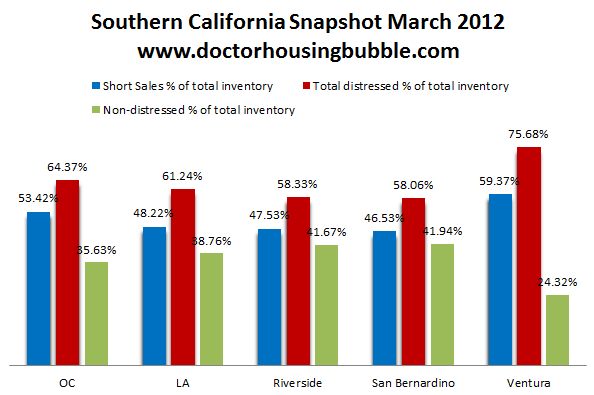 Banks definitely seem more eager to move properties and this is likely due to the mortgage settlement that was reached recently.  The above charts do not reflect a healthy market.  I've also noticed that some people fail to account the full cost of owning a property and this is common for someone that has never owned real estate.  Take for example FHA insured loans that are now the main entry point for buyers in California.  On the surface a 3.5 percent down payment seems fantastic.  But then you have the additional costs of:
FHA mortgage insurance:             roughly 1% and higher (paid up-front)

PMI (annual):                                    roughly .67% depending on the LTV
A commenter brought up a good point regarding "hidden" costs like Mello-Roos in Orange County and this reminded me of hearing a few people talking about "how they wished they would have known earlier the full cost of ownership."
Let us use a case for example.  Someone bought a condo last year for $415,000 in Orange County that had once sold for over $650,000.  A nice condo and certainly lower than the peak price.  This person is now shocked how high their total cost of ownership is.  Why?  Let us run the surface analysis:
Purchase price:                 $415,000

Down payment:                               $14,525 (@ 3.5 percent down FHA)

Up-front cost:                   $4,000 (1% of total paid upfront for loan MI)

Total mortgage:                                $400,475 @ 4.25%

Principal and Interest:   $1,970/per month
Many first time home buyers, the bulk target for FHA insured loans will only go by the above figure as their monthly cost.  This person bought the condo in Orange County with high HOAs plus Mello-Roos and also PMI.  These were all additional costs that come out of monthly net income and you cannot deduct Mello-Roos from your taxes and this is a big benefit of home ownership.
Mello-Roos:                        $225/per month

HOAs:                                   $300/per month

PMI:                                      $231/per month

Taxes:                                   $345/per month
Add all this up for the newly initiated home buyer that assumed they would be paying a little bit higher than $1,970 per month:
PI ($1,970) + Mello-Roos ($225) + HOAs ($300) + PMI ($231) + Taxes ($345) = $3,071
This is why FHA insured loans are now seeing record default rates.  I think many are stretching to buy without taking the full picture into consideration only to be shocked of the true cost of ownership.  Here in SoCal, I think many are seeing some good quality short sales and jumped in without doing the full analysis.  The good news is that more quality short sales are being priced to move and the shadow inventory is moving out.  Of course this means prices will be moving lower throughout the year.

Did You Enjoy The Post? Subscribe to Dr. Housing Bubble's Blog to get updated housing commentary, analysis, and information.