When I made the claim that Los Angeles is the most unaffordable place in the nation to rent a few people shouted out by saying that San Francisco and New York were more expensive.  Of course, these people didn't bother to look at the data or understand what being unaffordable means.  What it means is that based on household incomes in Los Angeles and current rents, people spend a larger portion of their income on housing.  This is why Los Angeles is undergoing a rental Armageddon.  The cheerleader brigade simply thinks that because rents have risen that somehow this equates to buying.  But here is the thing; most can't buy and sales volume reflects that.  In fact, many young households are relegated to living with mom and dad because they don't even have the means to pay the rent let alone buy.  The trend is clear in Los Angeles: higher home prices, higher rents, more young adults living at home, and those that do buy spend a massive amount of their income on the mortgage.  Take your pick in this speculative market.  What is apparent is that many households in Los Angeles are living on the razor's edge of financial insolvency.
The most unaffordable rental market in the country
Los Angeles is unique from San Francisco and New York in that we still have a market dominated by single family homes with yards.  This allows for people to live in sardine-like environments with streets looking like used car lots.  Try pulling that off with a small apartment in New York.  But more importantly, households just don't earn as much in L.A. County.  The numbers are irrefutable.
First, let us back up the statement with hard data: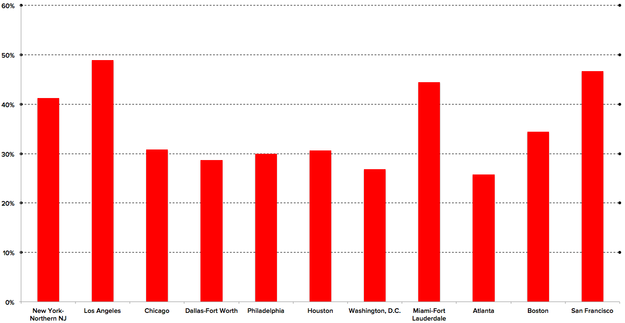 Los Angeles leads the way in being the most unaffordable rental market.  Renting households (the majority of households) spend nearly 50 percent of their income on rents.  In San Francisco and New York while rents are higher, households also make higher incomes.  Simple math.  So how are these future "buyers" of Los Angeles going to save large down payments for that $700,000 crap shack?  The answer is they don't and this is also reflected in very low sales volume relative to the big price increase.  You also see a big portion of buyers in some areas being foreigners, big investors, and the HGTV flipper crowd.
The most unaffordable place to buy a home is San Francisco.  Let us look at how much home buyers spend on mortgage payments: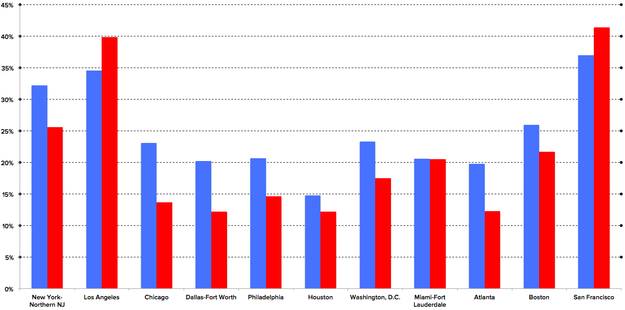 The percent of income spent on a mortgage between 1985 and 2000 is represented in blue. The red bars represent the current percent of income spent on mortgages. Jim Dalrymple II via Zillow data
Now imagine what the charts would look like based on 2015 data?  So much for the notion that these are households with so much disposable income that they can afford homes with no issue.  The above chart merely shows what we've been discussing; households that do buy are merely one minor recession from being in foreclosure.  It doesn't matter that you have a 30-year fixed rate mortgage at a low rate if you lose a job or your income gets slashed.  These households, both renters and new buyers are maxed out.
Even the most expensive county in SoCal, Orange County is seeing a big rise in inventory: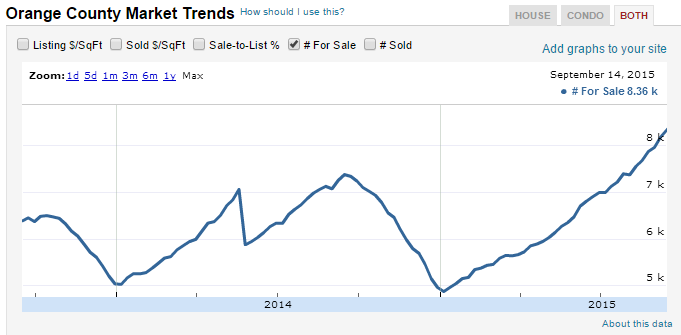 This is the highest level of inventory in many years.  With the market softening and inventory up, buyers don't have to rush out like lemmings just to squeeze into a crap shack.  Are there homes that sell with feeding frenzies?  Of course.  But there were suckers in 2006 and 2007 that dove in at the peak.  People like to forget about the 1,000,000+ California homeowners that bought and were flushed out when the correction hit (most of these foreclosures were on boring 30-year fixed rate mortgages).
What surprises some people when they email me with questions about buying a home is that I usually tell them to go ahead if they meet the following 4 items:
-1.  Don't spend more than one-third of net income on your housing payment (rent or mortgage)

-2.  Will there be significant changes to income when you buy?  Like a kid on the way with mega daycare costs?  Run the numbers with this in mind for the first item.

-3.   Are you willing to stay in the place for at least 10 years?

-4.  Do you have at least a 10 percent down payment (ideally 20 percent) and one year of expenses for an emergency fund?
Yet from the data above, you realize that people are pushing close to half of their income on rent or housing payments.  You also realize with the tiny slow down this year in prices that HGTV lusting buyers want to see non-stop appreciation year-over-year.  They believe their own hype.  They feel that home prices can only go up and when they account for a price correction, they only see a tiny change (yet are totally okay with double-digit jumps for seemingly no logical reason aside from animal forces).  In other words, people love the mania but can't deal with the comedown.  Like an addict, they can't envision the withdrawal.
The numbers are clear and that is L.A. is the most unaffordable place to rent and one of the most expensive places to buy relative to what local households make.  For many, they are simply squeezing every disposable penny they have into rents and mortgage payments.  And this is during a record 6-year bull run in the stock market and another massive run in home values.  Do you want to see where the momentum is heading?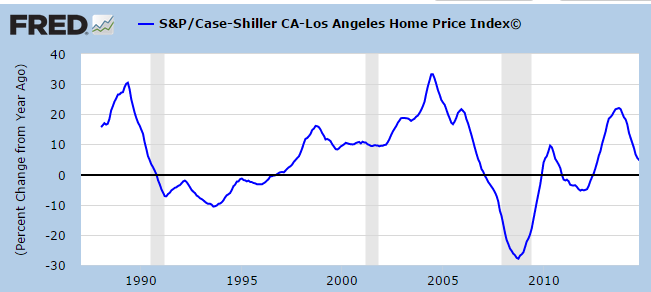 Just do the math: that $700,000 crap shack with a 10 percent increase is going to be $770,000 (an annual increase that is more than the gross median household income for L.A. County).  Yup.  Totally sustainable.

Did You Enjoy The Post? Subscribe to Dr. Housing Bubble's Blog to get updated housing commentary, analysis, and information.