The money flowing out of China into global real estate is simply astonishing.  In Canada, Vancouver and Toronto are fully inflated thanks to investor funds, house humping locals that are deep in debt, and buyers from China.  In the U.S. while domestic buyers are largely being priced out, investors are picking up the slack in big ways.  In a previous post we noted how one new community in Irvine was bought out by 80 percent of investors from China.  This is causing some dramatic changes in particular areas where money is flowing in.  We've talked about the money flowing from abroad for a few years now since the housing market was largely propped up by various investor classes.  For a few years it was big funds from Wall Street and today it is foreign buyers and flippers.  China is by far the biggest foreign buyer of U.S. real estate.  Even though the Chinese stock market has gone on a roller coaster ride this year, money is still flowing out of the country in dramatic fashion and finding its way in U.S. real estate.
China money floods U.S. housing
Over the last few days many of you sent over an interesting article from the New York Times covering the money flowing into the U.S. from China:
"This year, Chinese families represented for the first time the largest group of overseas home buyers in the United States. Big spenders on new homes are helping prop up local economies in the Midwest. But in dense areas like San Francisco and Manhattan, they are also affecting the affordability and availability of housing, as demand outpaces supply and bidding wars ensue.

While Chinese purchases make up a small sliver of overall sales in the United States, they have had a disproportionate impact on the market for more expensive properties, buying one in 14 homes sold for more than $1 million. On average, buyers from China, including the mainland, Taiwan and Hong Kong, pay $831,800 for a home, more than three times as much as Americans spend, according to a National Association of Realtors survey."
I think this is a very key point that in dense housing markets like San Francisco having an enormous amount of outside money flowing in is causing an insane sort of mania.  You'll also notice that Chinese investors are paying a lot more than domestic buyers – the average price paid from this group is $831,800 versus $229,000 for the median U.S. home price.  And of course, cash is the primary way of closing the deal.
Some think the money is only flowing to California or New York.  It is flowing everywhere: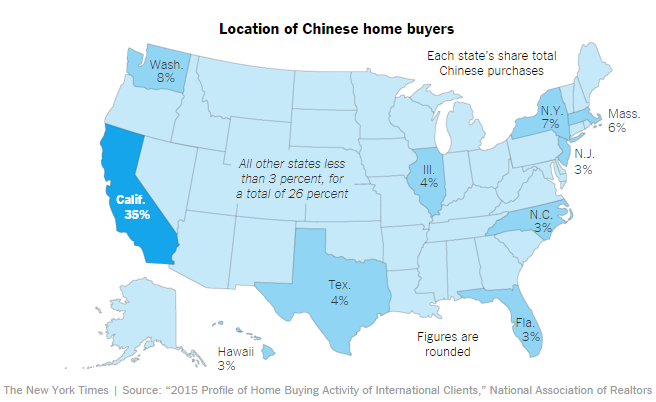 While California leads the way, money from China is finding its home in other areas.
"Some Chinese are buying homes purely as investments, capitalizing on surging rents in many parts of the United States. Others are trying to move their money beyond the reach of the Chinese government.

Many buyers have their children's education in mind, picking up homes in good school districts or close to universities. At the upper echelon, the wealthy are hoping for green cards, joining with developers to take advantage of a federal program that fast-tracks them for residency.

Eric Du, a management and investment consultant from Beijing, was motivated by the potential for his family and his fortune. Over the last two years, he bought a townhouse — sight unseen — and two single-family homes in Northbrook, Ill., north of Chicago. He paid cash for all of them.

He plans to live in one, to give his children a chance to breathe cleaner air and learn at a better school than he could find in his hometown. He will rent out the other two."
This land rush into the U.S. has also caused a flood into the EB-5 Visa program.  This program allows for a fast pass to permanent residency if you have the money to buy in.  In 2012 the program gained incredible steam largely from China.  Starting in 2012 the flood gates opened: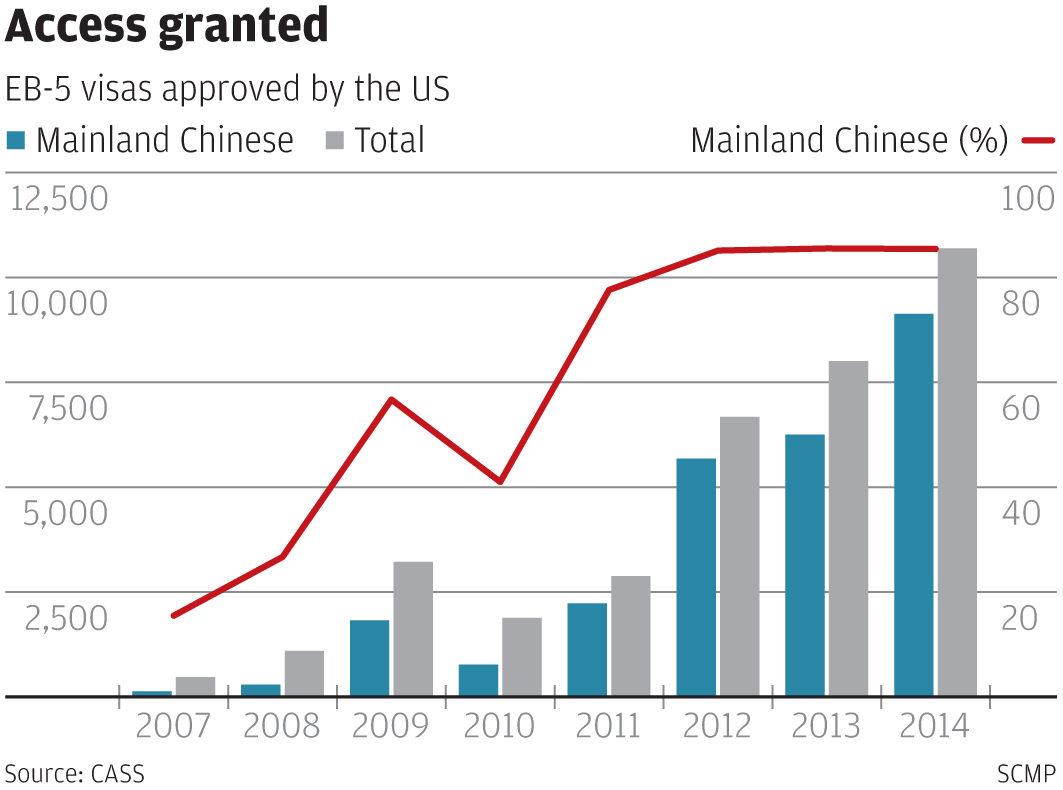 "(SCMP) More Chinese are expected to apply for the United States' investor visa this year as people embrace an expanded immigrant quota and promising business opportunities, says a think tank report released yesterday.

Mainland Chinese received 9,128 EB-5 investor immigrant visas last year, 46 per cent more than in 2013. Among the 10,692 investor visas the US issued last year, mainlanders received 85 per cent of them.

The visa, with no age limits or language requirements, grants US citizenship to foreigners willing to invest at least US$500,000 (HK$3.88 million) and create 10 full-time jobs in the US."
China virtually owns the EB-5 Visa program now: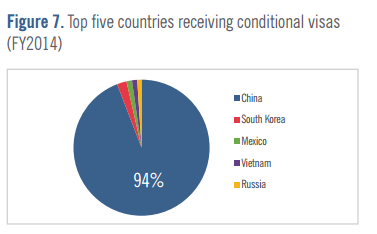 2014 was the first year where the full 10,000 Visas were allocated.  2015 looks to be another record year with a full backlog now in place.
"(LucidText) I-526: FY2015 saw a huge number of I-526 filings – over 14,000 receipts (with 46% filed in the fourth quarter in a surge prior to possible program changes). Assuming that only about 10,000 EB-5 visas can be issued in a year, and an average of 2.2 visas per investor I-526, then this year's receipts alone will take up over three years-worth of available EB-5 visas. FY2015 ended with over 17,000 petitions pending, which would take up nearly four years of available EB-5 visas. USCIS has shown impressive year-on-year improvements in the number of I-526 petitions processed, up 32% in 2014 and 42% in 2015. USCIS even briefly caught up to the number of receipts in Q3 2015, but then got snowed under again with the blizzard of filings in Q4 2015."
This flood of money is not only hitting the U.S.  Other places like Hong Kong, Singapore, and Australia have imposed taxes on these deals to curb the flood:
"Outside the United States, the Chinese demand has been so great that some places are trying to temper it.

Hong Kong and Singapore have each imposed 15 percent taxes on nonresident buyers of residential real estate. In Australia, the state government of Victoria, which includes Melbourne, introduced a 3 percent tax on overseas buyers."
Welcome to the global economy.  Good luck competing with all cash buyers in some markets.  In areas where supply is constrained and investors are diving in local buyers are all but priced out.  It is really incredible to see but also adds fuel to the declining homeownership rate of regular American families that are already having a tough time competing in this market.  Of course people have to wonder how long will this last since the Chinese stock market has taken a big hit recently and no wild mania can go on forever.
Are you seeing any other interesting trends thanks to foreign investors buying up U.S. real estate?

Did You Enjoy The Post? Subscribe to Dr. Housing Bubble's Blog to get updated housing commentary, analysis, and information.