You have to realize what makes a bubble tick.  People get caught up in a deep rooted herd mentality.  The absolute blindness that occurred between 2005 and 2007 was incredible.  Yet a decade later, people have forgotten many of the reasons why the bubble hit in the first place.  Toxic loans were merely a symptom of the bigger issue – and that bigger issue was that stagnant incomes need riskier debt to keep prices moving higher.  The system is built on everything moving higher and the Fed lives off of this.  Yet somehow, we had an enormous housing collapse.  Today, prices are being driven higher by investors and foreign money.  In a previous post we discussed how one housing development in Irvine had 80 percent of buyers from China paying all cash – all cash for a median price of $1.16 million.  Even a couple of professionals can't compete with all cash offers.  The driver for pushing prices higher today is different but the result is the same – local families need to take on more precarious levels of debt to buy in today's market.  And the homeownership rate shows that many simply can't compete.
The remaking of a housing bubble
There is now a growing voice of people echoing the views that a new bubble is emerging:
"(HousingWire) Evidence abounds that the bubble is now being re-inflated by these very same culprits:

Fannie Mae and Freddie Mac are once again offering 3% down payment loans, albeit with purported underwriting "safeguards."

Janet Yellen has yet to pull the plug on zero-interest rate loans that have only benefitted Wall Street and their congressional "partners," which means that interest rates will no doubt begin to rise in 2016.

Government debt has climbed from just under $10 trillion in 2008 to more than $18 trillion.

Federal Housing Administration loans have become the "new sub-prime" loans according to many high-profile members of our industry.

There remains significant concern that the recasting HELOC loans will drive delinquencies upward."
These are all important metrics.  And the driver of this is household income is simply not keeping up with inflation in housing.  Inflation in housing is being driven by post bailout banking policies, low inventory, investor demand, stock wealth, and foreign money.  First, take a look at the Case Shiller Index: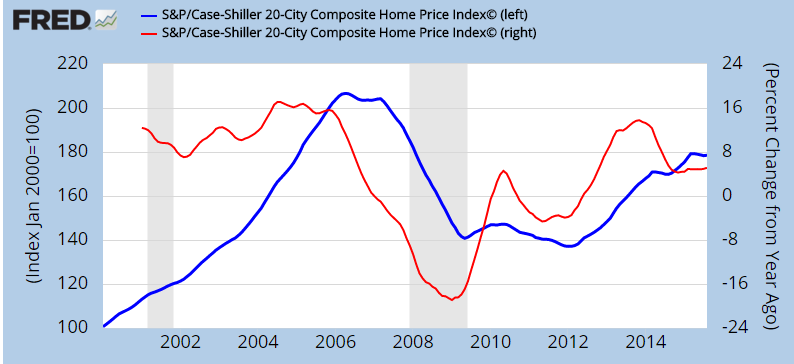 Since 2000, home prices are up 78 percent and up 30 percent alone since 2012.  Income has certainly not kept up.  In order to keep up, non-investor households are needing to go into deeper debt just to buy a home.  In places like California, you already have typical renter households spending 50 percent of their income on rents and for owners, 40 percent on housing payments.  You also have house humping people buying homes and busting out kids.  Many times, they don't factor in the big expenses of daycare or the possibility of losing one income for a good duration.  Buying a home is a big decision and people really don't dive into the numbers that carefully (forget about opportunity cost).  A minor recession is enough to send prices into reverse. And RealtyTrac is already showing a slight increase in foreclosure activity.
Here is another look at the data but looking at NAR figures: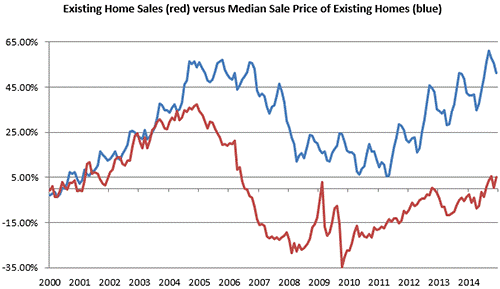 Home prices are being pushed up on lower sales volume.  In places like California with a lack of new home building, NIMBYism, foreign money, and investors are largely pricing out local families.  It also feels like a bubble because you get people saying "I missed out since I didn't buy at the bottom.  I could have tons of equity now!"  You could have also bought thousands of stocks on discount at the bottom and made bigger profits.  This is called speculation.  Plus, you don't take the money until you close escrow and sell.  And then what?  You either take your large winnings to a lower cost area or you are left chasing the zip code hunters in many markets.  Many would rather be Taco Tuesday baby boomers in an expensive zip code eating Purina Dog Chow than taking their lottery ticket elsewhere.  Hence, 2.3 million grown adults are living at home in California enjoying Friskies with their parents.  Make no mistake, this is massive speculation.
The market is already showing signs of stalling.  Price gains are definitely slowing down.  Places like San Francisco still have an enormous amount of money flooding in from abroad but there is definitely a start-up bubble as well.  Let us finish with an example: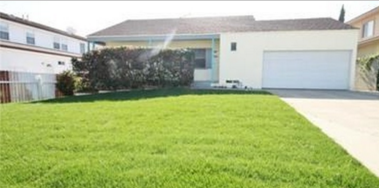 100 W Le Roy Ave,
Arcadia, CA 91007
2 beds, 1 bath – 1,251 square feet
This home sold late in October of this year.  Nothing special at all on this property.  The home was purchased under an LLC.  This is considered a starter home but look at how much was put down: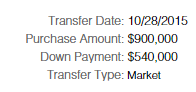 60 percent down payment on this very basic property. What is interesting is the property has an LLC listed as "100 Le Roy Home LLC" and is public.  Feel free to look it up.  Even a young professional couple making $150,000 or $200,000 a year is going to have a tough time saving up $540,000.  Many times these places are bought up, torn down, and a mega mansion is built up.  Take a look at the neighboring property:

$900,000 for this property with a $540,000 down payment.  And you wonder why local families are having a tough time?  This is a complicated puzzle but there is definitely a smell of speculation in the air.

Did You Enjoy The Post? Subscribe to Dr. Housing Bubble's Blog to get updated housing commentary, analysis, and information.