Given every headline we have seen over the last few years you would think that home builders would be out in droves adding new supply to the market.  What building is occurring is focused on multi-family units to cater to the trend of rental Armageddon.  The new home market does well when the economy is recovering evenly and wages are moving up across the board.  New home sales come with a heftier sticker price and most investors are interested in deals, not marked up new homes.  But prices are pushing up in most metro areas and rents are steadily moving up.  Yet this push is more of a constraint of investor demand for existing homes and not regular families competing with one another as was the case for a few generations.  That is why the homeownership rate of today is what it was back in 1984, over 30 years ago.  It is also the reason why new home sales are pathetically low.  The new home sale market is really the place to look at for a true housing recovery for the masses and nothing is really happening there.
New home sales
Looking at new home sales we realize that the hunger for new homes is near all-time lows.  Why?  For one, new homes carry a higher price tag and also, investors and flippers have little demand for these.  New homes usually push the higher range of a market and are designed for the regular home buyer.  Of course this category of buyer is fully tapped out of the market.
If we look at the new home sales data we really don't see any housing recovery in this segment: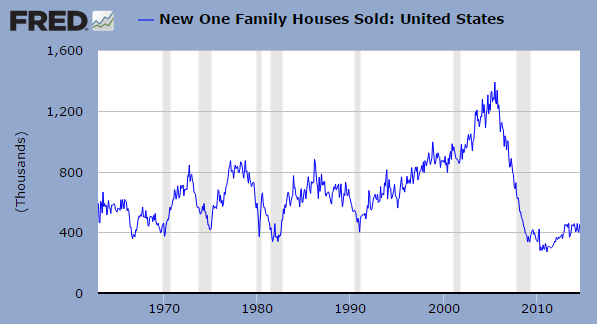 Even in the 1970s and 1980s we routinely had 800,000 home sales per year.  During the housing mania we were routinely over 1,000,000 per year.  Today we are hovering near 400,000.  That is incredibly low especially when you look at home prices.  But the push is coming largely from big money.  If we look at new home sales over the last 10 years, it becomes clearer: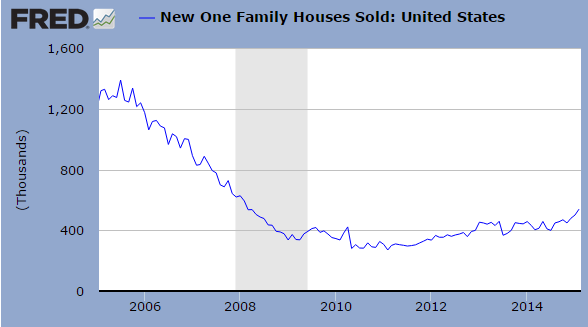 You'll notice that there is a minor move up in new home sales but this is only starting to occur after a few years of significant pressure on prices and rents.  It also relies on artificially low rates to draw in buyers.  Inventory is still very low.
Inventory
There is still a lack of inventory out in the market: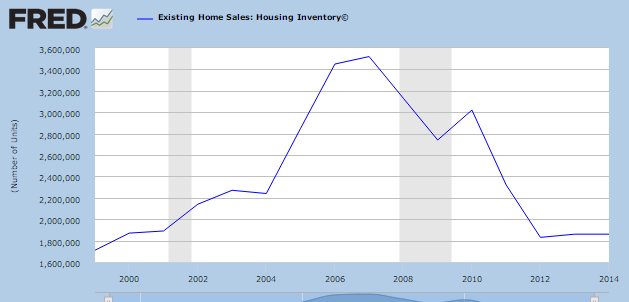 The Taco Tuesday baby boomers are unlikely to move for a few reasons.  One, many have their kids moving back home because they can't afford to buy or rent.  Next, many have deeper aspirations for buying more expensive homes in the property ladder game.  The only problem is prices went up across the board.  It is all relative.  Inventory also remains low because of the lack of new home building that simply did not come back after the crash in 2007-08.
Median price
The median price of homes across the country has recovered but seems to be hitting a ceiling: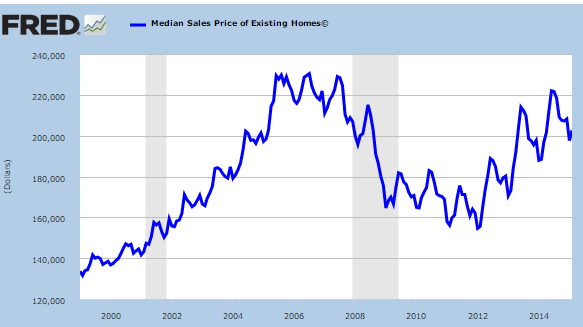 The median home price of existing homes is oscillating between $200,000 and $220,000 across the country.  This sounds about right given household incomes and interest rates in the 3 to 4 percent range.  It is all fully dependent on low interest rates.  Yet new home sales carry a higher price tag and even slight price variations are pricing out those new home buyers.
Homeownership
When we look at it in full context, we then see how the homeownership rate is now down to levels last seen in 1984 with prices still moving up: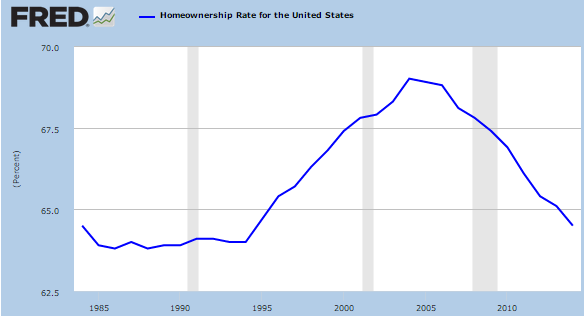 A net loss of 1 million homeowner households but adding 10 million renter households over the last decade will do that.  It should be obvious that investors have crowded out many buyers in the single family home market in an already inventory poor environment.  New builders have to make a profit but if you only have cash strapped regular buyers, why will you build?  The demand has been on existing homes were investors could dive in and turn them into rentals or flips.  There is little desire on new homes which serve as a clear reflection on the income health of the masses.
A robust recovery in new home sales will be a better signal that things are turning around for most families.  Simply looking at new home sales, builders that look forward are basically betting on rental Armageddon to continue.  The days of the ubiquitous McMansion seem to be at a standstill for now.

Did You Enjoy The Post? Subscribe to Dr. Housing Bubble's Blog to get updated housing commentary, analysis, and information.