Millennials have a very different perspective on the housing market compared to their parents.  I'm sure many a Millennial has talked with their parents and realizes that being chained to a massive mortgage is not exactly part of the American Dream.  Beyond this difference in thought, many younger Americans are simply not in a position to buy especially in high cost states.  In California we have 2.3 million adults living at home with parents.  And they are living at home because of financial issues.  Many in fact cannot afford the high rents in expensive metro areas.  So it is no surprise that a recent survey found that 6 out of 10 Millennials would rather rent than buy.  Now why is this important?  It is important because people don't just make the biggest purchase of their life on a whim.  Even for the pathetic 5 percent down payment, you actually need to put money away given you'll need those funds at closing.  It takes a bit of planning but it appears that most are just not looking to buy.  And the market stats reflect this.  First-time home buyers now make up a record low percentage of all home sales.  Millennials are saying no to buying homes.
Millennials prefer to rent
There was an interesting article discussing the trend of Millennials not favoring the housing market.  They call it the $700,000 mistake.  The assumptions of course assumes you are buying your regular American home at a cost of $200,000 and rents are comparable.  Those are big assumptions.  But what if you live in a bubbly area where rents and carrying costs are dramatically different?  The only way this difference can change is with a mega down payment that many simply do not have.  I've joked with people before that you can effectively lower your carrying costs to near zero with a large enough down payment.  With a big enough down payment, you can make the numbers say whatever you like.
The article essentially assumes someone rents and doesn't invest versus someone buying a home and then owning it after 30 years free and clear.
"(MarketWatch)  Most millennials say they'd rather rent than buy a home — a decision that could cost them more than $700,000 over the course of their lives.

Nearly six in 10 millennials (59%) say they'd rather rent a home than buy one, with just one in four saying they are either very or completely likely to purchase a home in the next five years, according to a survey of 1,300 millennials released this week by EliteDaily and Millennial Branding. (This anti-home-buying trend can already be seen: Currently, only about one in four millennials own a home, down from about one in three in the mid-70s and early 80s, according to data from the Demand Institute.) That's "bad news for the real estate industry," the report concludes."
I actually agree with the article since it is using your standard priced $200,000 American home.  But what about buying a $700,000 crap shack that has shoddy construction and is basically a drywall stucco box?  This is where the math isn't so easy since most people don't stay in homes for 30 years and in California, they are lucky to reach the 10 year mark.  With that said, you absolutely are speculating on appreciation building up your equity for your property ladder aspirations.  Millennials are having none of it.  The survey found that 6 out of 10 would rather rent.  And we are seeing this reflected in the number of first-time buyers in the market: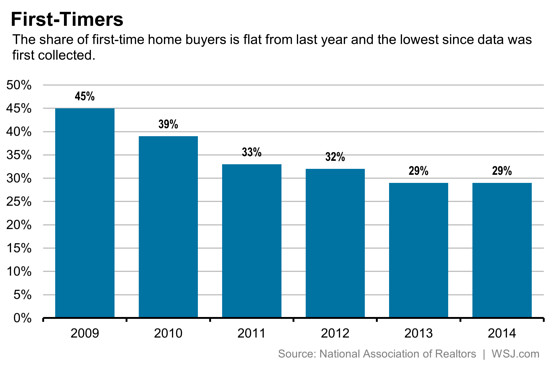 In 2009 49 percent of all home sales went to first-time home buyers before investors dominated the game.  This is a healthy balance.  Today it is down to a record keeping low of 29 percent.  You also have to remember that home sales volume since 2008 has been absurdly low.  For the last half decade, investors have been the dominant force in home buying.
Just look at all cash sales: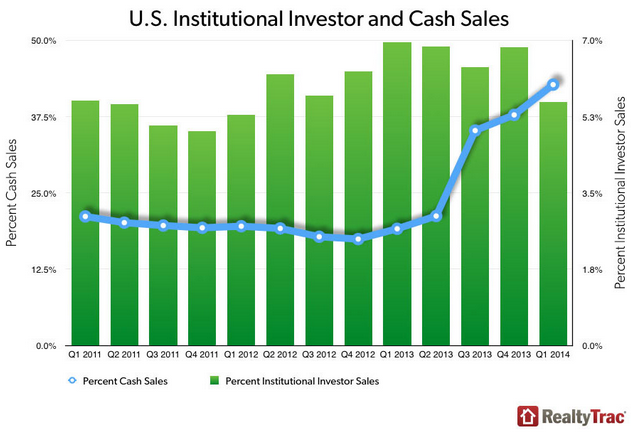 How many Millennials have all the cash to buy a $200,000 home let alone a toxic dump $700,000 crap shack?  I would venture to say not many and the data backs this up.  What is happening right now is you have thin inventory and for those with house lusting urges, they can go with a low rate mortgage and leverage their way into housing heaven.
This idea of pent up demand is largely wrong and has been wrong in expensive areas for younger buyers.  Prices are going up because of Wall Street investors, foreign buyers, and those leveraging up from previous purchases on low interest rates.  Those that think they missed out are actually outing themselves as speculators because they would need to sell before cashing in on that equity.  They also missed out on a 200% jump in the stock market since 2009 but they fail to account for this opportunity cost.  You could have bought a $500,000 crap shack that is now worth $700,000.  Or you could have bought $500,000 in the S&P 500 and have close to $1.5 million.  In life you are faced with opportunity costs.  If you want to buy, go for it.  However, smart people are running the numbers and seeing the price tag of what they can buy and are scratching their heads.  First-time buyers are largely absent and these surveys show that a mindset change would need to happen before it occurs.

Did You Enjoy The Post? Subscribe to Dr. Housing Bubble's Blog to get updated housing commentary, analysis, and information.