Higher home values for the sake of higher prices is not necessarily a good thing if future generations of Americans are being priced out of the market.  There seems to be this movement that simply ignores the glaring plight of many Americans regarding stagnant incomes and the reality that we have gained 7 million renting households while facing a similar number in completed foreclosures since the Great Recession hit.  The system in terms of organic supply and demand was artificially stunted as foreclosures lagged and banks auctioned off swaths of properties to large investors.  With this trend backing off we are now left with higher prices but most regular families being priced out.  In California you have over 2.3 million adults living with other adults because of financial challenges.  Housing is an illiquid asset.  At any point, you can buy a share of Google or Apple stock and sell it back practically in the same day.  Not so for housing.  At any given point only a short supply of total housing is on the market.  Currently housing is priced for investors and not your typical family.  Forget about younger Americans that are saddled with large levels of student debt and have lower incomes.  When it comes to housing, the kids aren't alright.
Highest percentage of young adults living at home
We currently have an incredibly high number of young adults living at home.  This isn't some new found appreciation for mom and dad.  During the early 2000s the young did have a desire to buy.  They bought with toxic mortgages and leveraged every cent they had into real estate.  And when the crash hit, much of that reversed.  Today, many would like to buy but simply cannot because of household wages.  The FHFA is likely going to loosen lending standards but incomes will still be verified.
This trend of adults living with adults is big: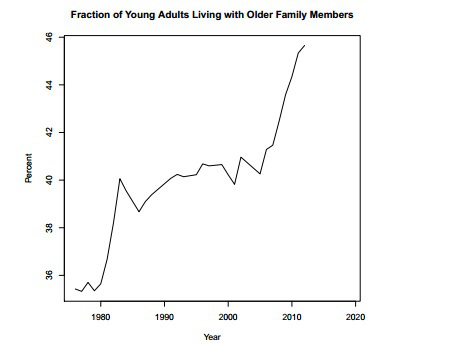 In California I have talked with many parents where their boomerang kids come back home after college because they simply cannot afford to rent even an apartment in their current market.  Some of these parents love the million dollar valuation on their granite countertop laden real estate sarcophagus but then pound their fist on the table when their kids making lower wages can't afford without mom and dad opening up their wallets and kicking some funds down.
The homeownership rate for younger Americans has gone on a steep decline: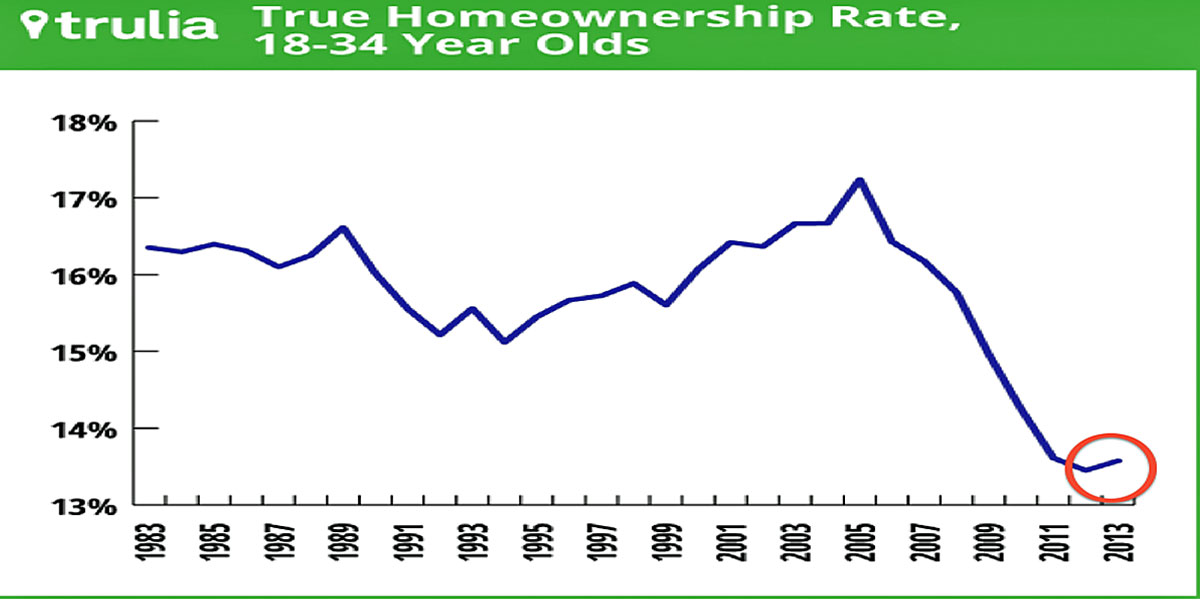 This overall trend has taken a big hit directly on the first time home buyer market.  It has pushed many into first time renter status.  The only real gains in terms of homeownership have been in the older segment of the market: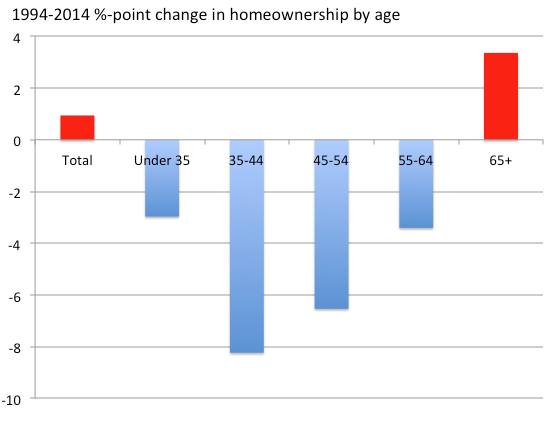 So parents in many cases are going to need to offload some housing equity to help kids especially in high priced metro markets.  Yet many parents have their portfolio heavily tilted to real estate.  We only need to look at retirement savings from multiple surveys and find that many people have most of their wealth in real estate.  This is where you have your mythical poor grandma living in Pasadena in a million dollar home but needing to shop at the 99 Cents Store to purchase Friskies for dinner.  Yet the solution is simple.  Sell and you can unlock those beautiful gains.  This is what people don't realize.  Your home is not an investment.  Even a paid off home requires insurance, taxes, utilities, and other expenses.  You need to cover those expenses with some sort of income.  A rental on the other hand throws income your way.  Money is either going in or out.  Equity does not pay the monthly bills.  Many older Americans are realizing this but the young are merely trying to have enough income for a rental.
Take Los Angeles County for example.  Here is the housing data:

Source:  Census
The vast majority of people rent in Los Angeles.  In total there are 3.2 million housing units combined between rentals and properties that are owned.  Take a look at how many homes are for sale currently: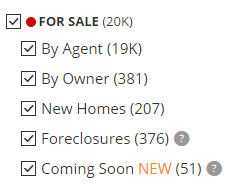 Source:  Zillow
Roughly 20,000 homes are on the market right now, or 0.625 percent of the entire housing pool is for sale currently.  If you only look at the owner occupied pool 1.3 percent of all owner occupied homes are on the market for sale right now.  So real estate prices are completely set at the margins.  This is why little changes can causes big booms and busts.  Given current inventory, many young buyers are unlikely to find affordable prices in many large metro areas.
Because of all of the above, I see renting to be a big trend with younger Americans.  Many are opting to live in city centers and are pushing off the suburbs.

Did You Enjoy The Post? Subscribe to Dr. Housing Bubble's Blog to get updated housing commentary, analysis, and information.