There was much celebration regarding the jump in private housing starts. However, once you begin to look beyond the headlines you realize that the big jump came largely because of multi-family starts. In other words, building more rentals in the form of apartments for a growing population that rents. Private starts for places with 5 units or more has now hit a post recession high. This makes sense given the fall in rental vacancy rates and the rise in rental prices. Yet what we find is that more income is being siphoned off into a less productive sector of our economy. Real estate tends to be a big plus for an economy when it happens organically with rising incomes, good overall employment prospects, and first time buyers leading the charge. Today it is more of a shifting of assets into fewer hands while extracting more income from the productive sectors of the economy. Not everyone can have their flipping show on cable television. For example, over 11 million Americans now pay 50 percent or more of their income to rent. Many of those people are here in California. The trend to building rentals aligns with the underlying reality that many future Americans will be less affluent compared to their parents.
Multi-unit starts
Builders realize there is pent up demand but not for expensive new homes. New demand is in the form of rentals where little savings are required and incomes are less scrutinized. Although I will say in many tight rental markets like San Francisco getting a rental is even more stringent than purchasing a home. The charge for private housing starts is being pushed by rental housing. In some way more supply of this kind of housing should alleviate some of the short-term pressure we are seeing on rental prices.
Take a look at private starts for structures with 5 units or more: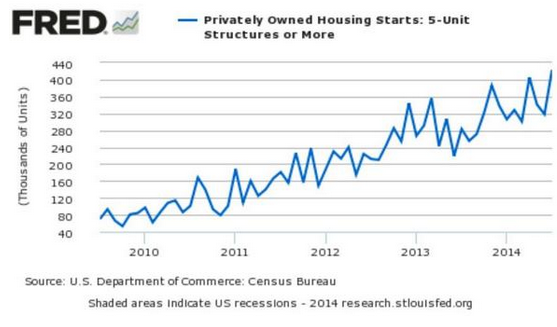 A large part of the blockbuster numbers reported on housing starts were being driven by this multi-family trend. And there is a clear argument to be made that there is pent up rental demand. Multi-generation households being brought on by adults moving home is something that is very real: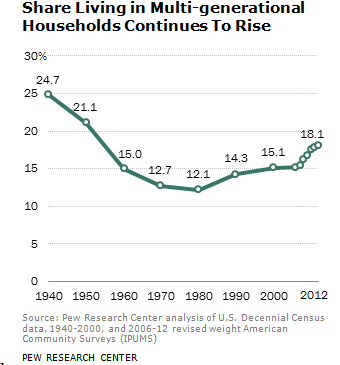 The data is clear and most of these adults are living at home because they are financial strapped. These people are not in the market for purchasing a Barbie sized pizza box, let alone venturing out to land a rental. However, should things improve and their incomes stabilize the first step out will be into a rental. That is usually the normal trajectory. Or, as is the case in California many are simply waiting until their Taco Tuesday baby boomer parents go down with their golden sarcophagus so they can haggle over who gets the stucco box next.
It is an interesting case to see so many young adults living at home. All the data points to financial struggles. These people aren't planning some creative backdoor arbitrage to leverage into an overpriced home. No, most have no money for a rental let alone a home purchase. This is a nationwide trend. Yet builders are now realizing people need to live somewhere and living with mom and dad forever is not going to be a viable option for most (especially if you are still in dating mode). Building more rentals likely makes sense given the movement towards a permanent serfdom for many.
If you think rising rental prices are coming because of big surges in income, think again: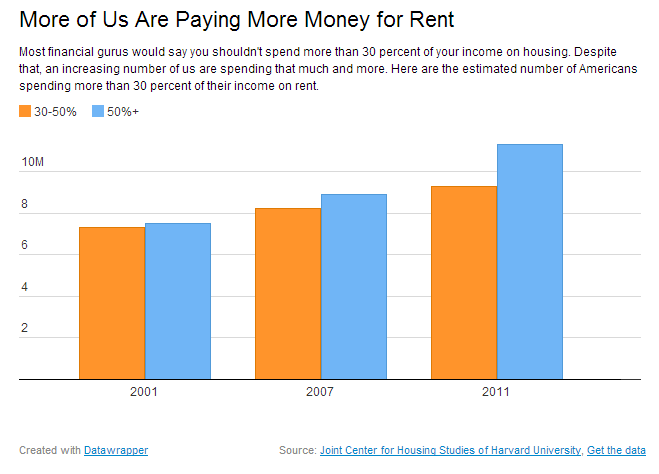 Americans are simply spending more of their disposable income on rent and this likely has the consequence of hitting other areas of consumer spending (which we are seeing). You are seeing companies trying to offer more generous credit offers to get people to spend money they don't have. Not exactly a wise strategy but in this system, it seems like boatloads of debt is the answer to every problem.
The one thing with housing is that at any given point, only a margin of units are available for rent or purchase. This causes distortions in prices given the current availability of demand and supply. Think of the booms and busts we have lived through. Unlike a stock, there is less liquidity and a more constrained market. If you are looking to buy Google stock you are likely to find a buyer in London, New York, Tokyo, or anywhere around the world for the right price. Housing doesn't work that way. Prices are made at the margin by a small group of people. The big buyers of the last few years were in the form of investors and those leveraging to the max out with low interest rates. Investors are pulling back and with rates at near record lows, it is hard to juice the system more on this end. That is why sales have fallen strongly in the last year and prices are stalling out. Housing booms and busts in a typically slow and methodical fashion.
One thing I will say with rents is that these units usually get hit the hardest when recessions hit. No sitting around missing mortgage payment after mortgage payment in a unit as banks figure out strategies to constrain supply. If you can't pay the rent, the landlord is usually forced to evict. Some states are friendly to landlords but others like California can make the process a long drawn out saga. Should be interesting with many single family units now converted into rentals. What is clear is that the nation continues down this road of housing feudalism and rentals are becoming an option for more Americans.

Did You Enjoy The Post? Subscribe to Dr. Housing Bubble's Blog to get updated housing commentary, analysis, and information.