The rent is too damn high in the Bay Area. I'm sure many families in the Bay Area utter this on a monthly basis as they send their rental checks to their landlords. The median rent in the Bay Area hit $3,200 in the first quarter of this year. The booming tech industry has been a big win for Northern California real estate although for many, it may not feel that way. Investors have been a dominant force as well in Northern California. Investors have been dominating the US housing market for nearly half a decade and are now only starting to show some signs of pulling back. San Francisco is an interesting case study of an area undergoing rapid ultra-wealthy gentrification. The median home price in San Francisco hit $1,000,000. On a monthly basis I will get e-mails from tech workers talking about their two income households being unable to buy in the Bay Area. Interestingly enough San Francisco makes Southern California look like a bargain. What you are also seeing is a deep hollowing out of the middle class in the US but it is incredibly visible in places like San Francisco.
Rents in San Francisco
The rental market has been hot for the past year as well. For the Bay Area and San Francisco, a strong tech sector has created pressure on the local rental market. People work in good paying jobs and want to live in a city with international accolades. Or they simply don't want to take on a soul crushing commute to purchase a home so they live in the city. So we have seen prices jump up dramatically over the last year.
In San Francisco, the median price for a rental hit $3,200: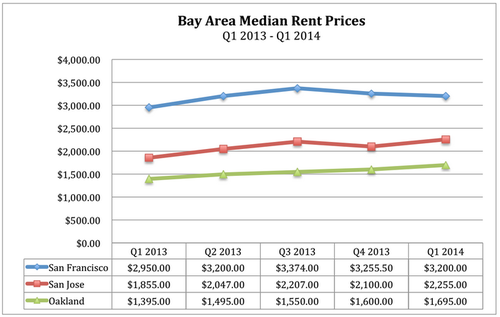 Source: Curbed
The rental market is the market in San Francisco County. Only 36 percent of households actually own property in San Francisco County. Rents have to be paid from actual monthly generated income. While you might think that people are crowding into apartments, the typical household in SF is 2.3 (not exactly enormous). What you do have however is two good incomes but not enough to purchase that median priced $1 million home. Owning is left to those with solid incomes, investors, or those stretching to the very maximum.
Someone pointed me to this short video about the homeless in Silicon Valley: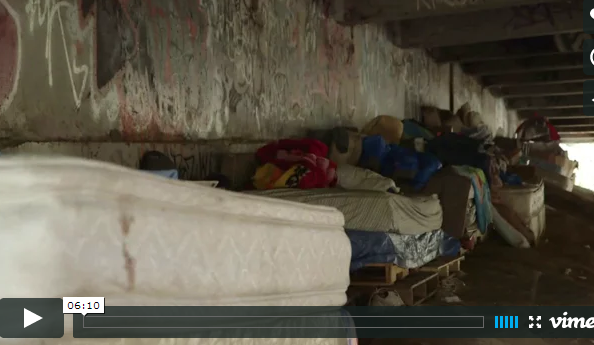 Source: Bill Moyers
The video is only six minutes and worth the watch. The general gist of the reporting is that the middle class in many areas of California is simply disappearing. Some want to think that this is no big deal but there is a big impact with major consequences since a large part of your residents are suddenly mitigated to the outskirts. We have 2.3 million adults living at home. I've made the argument and data backs this up that many of those adults are living at home for financial reasons. Many are unable to even afford a rental, let alone buy a home in the state.
According to another set of data, the average 2 bedroom in San Francisco will cost you $3,800. Of course, a big push for higher rents is coming from the strong stock market and in particular, the renaissance with tech companies. We've had a great run since 2009 and in any business cycle, you are likely to see a contraction. It will certainly be interesting to see how this impacts the Bay Area.
There are two important questions to address at the moment:
-1. Is the current trend sustainable?

-2. Is a hollowing out of the middle class a positive development?
For many baby boomers, they have taken it for granted that the middle class in the US was here to stay. That clearly is not the case. On the housing front, we are already seeing some changes in the trend with rising inventory and investors starting to pull away. How this will impact the market is yet to be seen. What is very clear is that renting and owning in California is no affordable proposition. Consider it the sunshine tax.
One fascinating item in the changing dynamics of the market is that in Southern California, inventory is clearly rising yet in the Bay Area, many spots are actually seeing year-over-year drops in inventory. The tech boom is clearly causing added pressure to prices and rents. So what can you get for $1 million?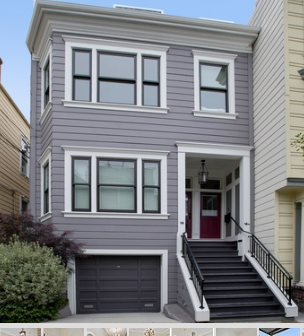 16A Henry St, San Francisco, CA 94114
2 beds, 1 bath, 1,161 square feet
This place sold in 2005 for $1,240,000 so you are actually getting a deal here since they listed it at $995,000. The Zestimate is at $1.249 million so I wonder if they are trying to drum up interest here. Any takers?

Did You Enjoy The Post? Subscribe to Dr. Housing Bubble's Blog to get updated housing commentary, analysis, and information.