Young people are having a very difficult go at enjoying the spoils of the recent housing market. In places like California, 2.3 million adults are living at home with their parents, many unable to scrounge up enough for a rental let alone the ability to go out on their own to purchase a property. I've seen the argument chastising student debt as the main reason why young people are unable to purchase a property. That is likely to be one part of a larger symptom. The bigger issue is you have a younger population that is less affluent. It was already difficult enough for young buyers to purchase a home prior to the investor led boom of 2013. You would think that a housing boom would coincide with a steady growth in household formation but it has not. Sales volume is still relatively low given the increase in prices. What you have is a market being driven up by a sheer belief that prices are going to go up even higher (i.e., flippers, investors, etc). Yet we now see inventory starting to increase because of ludicrous prices being asked in certain areas. Some big name investors are now openly talking about housing being a poor investment at these prices. Frankly, current prices in many cities across the country are simply too much for the incomes of young Americans. Is student debt the main reason why young people are opting not to buy or is there something bigger going on?
Mortgage debt and wages – leveraging up
First, it is important to note that people are leveraging to the hilt to purchase in the market today. Of those venturing out, many are taking on massive commitments in an economy that is changing at a radically fast pace. For those looking to buy, mortgage debt is the name of the game and we see households fully leveraged.
The below chart is interesting because it looks at total mortgage debt versus total wages paid out in the United States: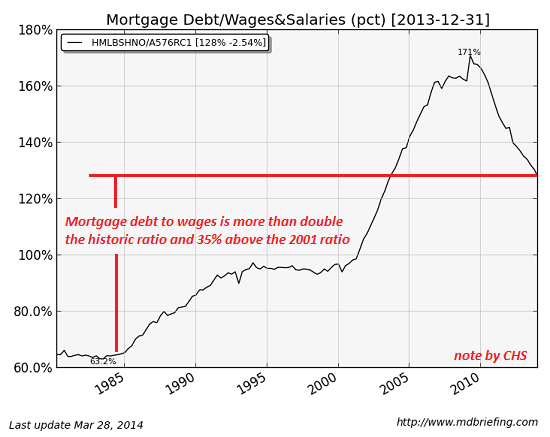 Basically we have more mortgage debt outstanding than we have in annual wages and salaries. The above chart highlights a society fully addicted to debt. This is why in places like SoCal you have ARM usage skyrocketing because incomes are lagging and house horny buyers trying to squeeze into any home are leveraging every penny they have.
In spite of the recent increase in prices, the homeownership rate of young Americans has followed a very clear trajectory: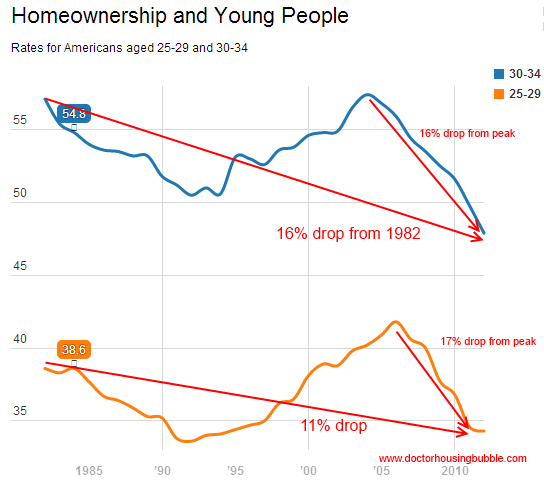 The only reason we saw the rate increase and peak out in 2005 was because of all the nonsense loans and no income idiocy that was permeating the market at the time. This was the pinnacle of the flip this house TV days where people were buying in ghettos and basically slapping on some paint then selling the place to some poor sucker taking on a ticking time bomb of a loan. The music ended and you can see what that did to the homeownership rate above.
Now that incomes are being checked, unfortunately young buyers are not coming back not because of lack of desire. No, these house horny buyers would take on a $1 million loan on a $50,000 income if you gave them the chance. What is happening is that incomes for young Americans are simply weak. I've noticed in many parts of SoCal people crowding in with roommates and noticing more cars at certain homes in many cities ranging from prime areas to lower income areas. Of course, in many cases, these are not roommates but adults moving back home with mom and dad.
Student debt doesn't seem to be the main culprit
Some are linking student debt to the reason why homeownership is falling for the young: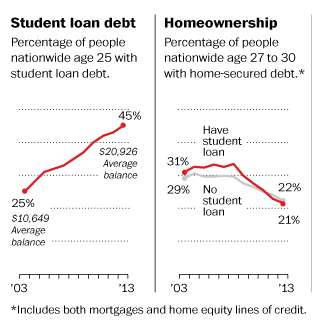 I highly doubt this is the main issue here. You'll notice that the homeownership rate for younger buyers has been falling steadily since 2005, during the peak of the "make up your income" days. Sure, student debt balances are moving higher and we do have a crazy amount of student debt in the market. But thanks to the way you can pay debts back, most can go on "income based" repayment plans and cut their payments down to a very low level. Heck, in SoCal young people have no problem taking on a juicy car payment so student debt is not the primary reason why these young buyers are unable to purchase a crap shack for $600,000 that has mega deferred maintenance. Income is the main reason. In many areas investors have pulled back aggressively because with rents, you actually have to pay with monthly net income from local families (no way to leverage to hell and back your rental payment).
Debt is the name of the game. For the young however, they are unable to access debt to levels of large investors and have very little ability to compete with big money buyers from abroad. Many would like to buy where their parents bought but they have beer budgets with champagne tastes. I've had a few e-mails from young professionals with healthy incomes buying in areas like Pasadena mentioning the "lower manners" of their older neighbors (those that bought ages ago). Apparently they don't like seeing them coming home from Wal-Mart in their beater car or the fact that they have a limited college education. It also angers them that they are paying 5 to 10 times more in property taxes thanks to Prop 13. I'm sure this is merely the growing pains of gentrifying a market out.
Low sales volume
If the house horny mania was truly organic, you would expect to see sales volume zooming up: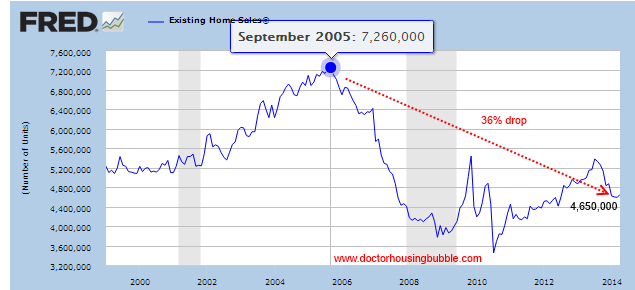 No coincidence that the peak in home sales also hit in 2005. Of course many have lost these properties in the 7,000,000+ foreclosures that have hit since 2005. A large portion of these properties were slowly transferred over to the new owners, the investors: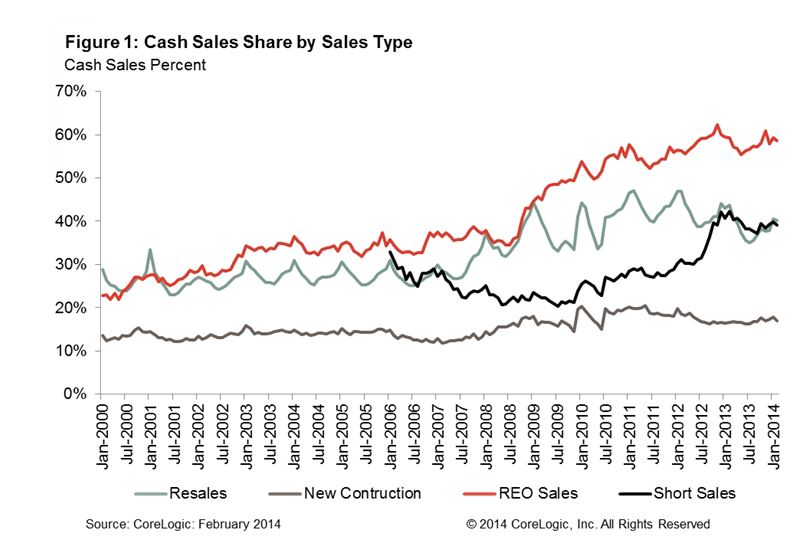 Cash sales picked up steam in 2007 and have yet to let up. Since investors are now slowly edging back, you are seeing inventories rise and the interesting increase of ARM usage at a time when mortgage rates are near all-time lows. Many young buyers don't have two pennies to rub together after all daily expenses are paid out.
Readers disagree on many items but one thing that can't be disagreed upon is the shrinking middle class. Take a look at this chart: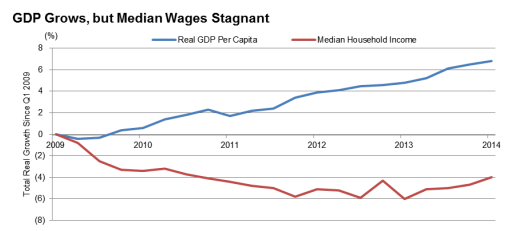 Source:  Fitch Ratings
GDP is going up overall but household income has weakened. In certain markets, hot money is flowing in so those looking to buy will need to go into massive debt if they would like to play the game today. The housing market is now as volatile as the stock market. Keep in mind we have yet to see even a minor pullback in the stock market since 2009 so a lot of ancillary hot money from the markets is flowing from there to real estate. There are bigger forces at work here but having a large, underemployed, massively indebted, and young frustrated population is probably not good for the country in the long-term.

Did You Enjoy The Post? Subscribe to Dr. Housing Bubble's Blog to get updated housing commentary, analysis, and information.