California is slowly splitting up into two clear distinct market segments. A smaller segment of wealthy individuals with access to capital and debt and another larger segment of financially struggling households. People might think that the trend of Californians moving out of the state is fairly new but this trend has been going on for over a decade. The state gaining the most from this domestic out migration is Texas. Surveys looking at reasons for people moving out include lower housing costs and a lower cost of living. Yet the population is increasing. The big reason for the increase is international migration. As we have recently noted there is a heavy focus in prime California markets for foreign investors, largely from China. Young families have little chance of competing in many California markets. Because of this it is no surprise that you have 2,300,000+ adults living at home with their parents. This group is not the future home buyer, not at these prices. Most are at home because they have lower paying jobs, no jobs, or heavy levels of student debt. Many are unable to even rent, let alone buy a home. So when we look at Census data, it is no surprise that the homeownership rate for young Californians has taken the biggest hit since the housing market peaked in 2007. Is California a place for the young home buyer?
Falling homeownership rate for young in California and nation
The lower homeownership rate for young Americans is not only an issue hitting California. This trend is occurring all over the country. One big reason for this is student loan debt. The Federal Reserve just came out with their household debt figures this week and highlighted that total student debt is now up to $1.1 trillion. This is now the second biggest household debt sector behind mortgage debt. That is simply one aspect of the issue here. As we noted in a previous post, many younger potential buyers are also confronting a world of lower wages. Those 2+ million adults living at home in California are largely at home because of financial hardship. It is naïve to think that these younger adults are living at home because they want to reconnect with family. To the contrary, if we brought back no-doc no-income loans the market would spiral out of control once again as house horny buyers dive into incredible levels of debt. Since you have to document income in today's market, the first-time buyer market has dried up in the California drought but large money investors from Wall Street and abroad have taken up the slack.
The homeownership rate for young Americans has taken a big hit over the last generation: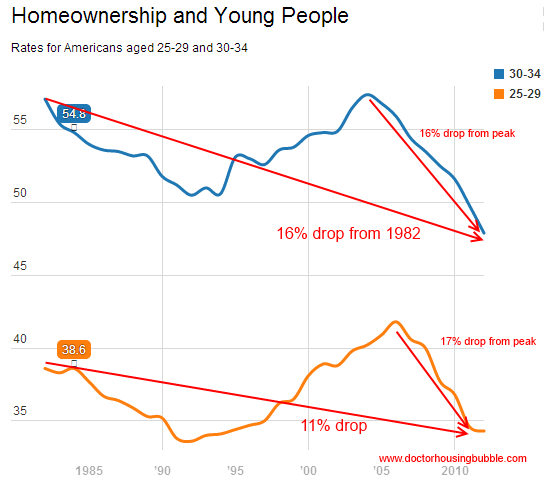 Source: Census data
I think the above chart is very telling. What it shows is that for the last generation, any gains in homeownership for younger Americans has been completely wiped out. The peak that was reached in the 2005-07 housing market was largely due to toxic mortgages and a predatory financial system. The end result of course is a graveyard of 7,000,000+ foreclosures (many purchased after the crash for rock bottom prices by large Wall Street investors with easy debt access from member Fed banks).
Student debt is merely one issue. If these young buyers had student debt but also high paying jobs, buying a home would be no issue. In California we see this trend as well: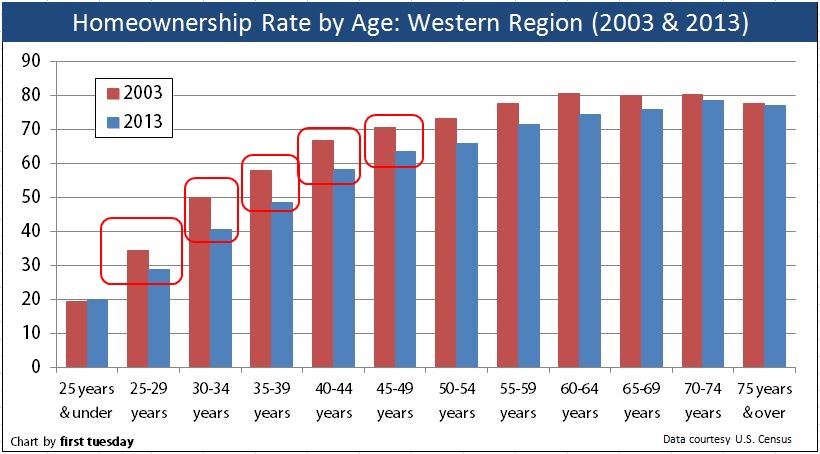 Source: First Tuesday
The homeownership rate took a big hit across all age groups but the brunt of this was felt by those in the 25 to 54 year old range. There was little escape here even for baby boomers. What is interesting is that the homeownership rate went up for those 25 and younger. This is largely due to big down payment gifts from parents and wealthy young buyers (this is also a very small percentage of all homeowners in the state by the way). The largest group of homeowners is from the baby boomer and older group.
California is getting older
These dynamics are shifting how California will look. For example, California is quickly becoming an older state: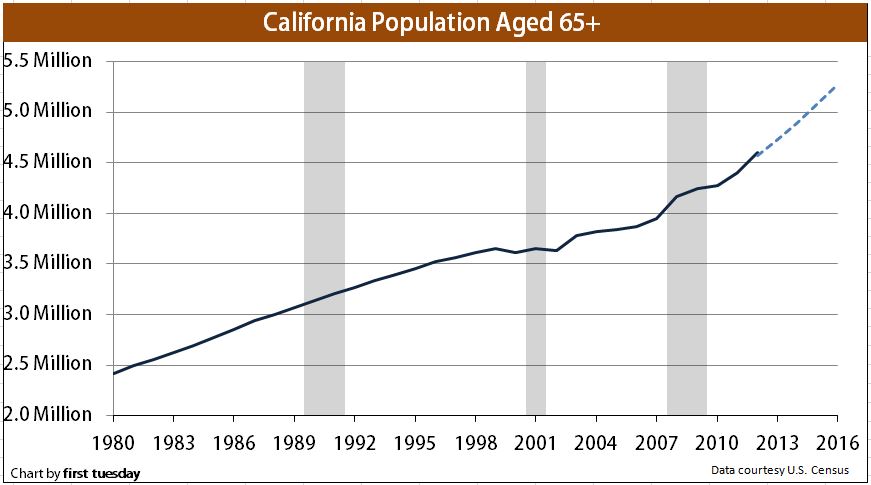 At the same time, domestic Californians are heading for the exits: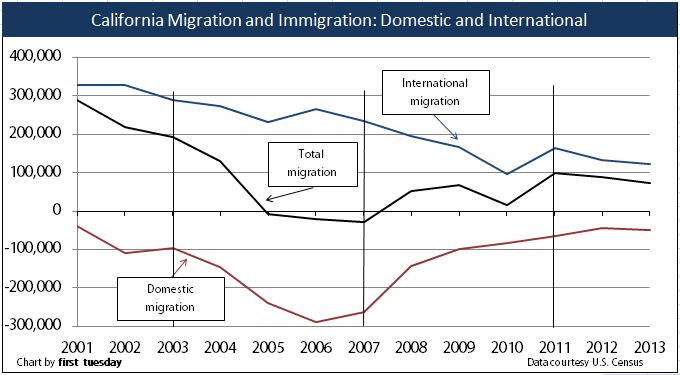 If it wasn't for international migration, California's population would actually be decreasing for well over a decade. In some markets a large portion of the recent price increases have come from international buyers. Young buyers are fully out competed here in combination with older households that may also have equity. Older home owners might live in a high priced home, but you have to sell or tap that equity out to generate income.
For example, let us take a look at a newer listing in Culver City: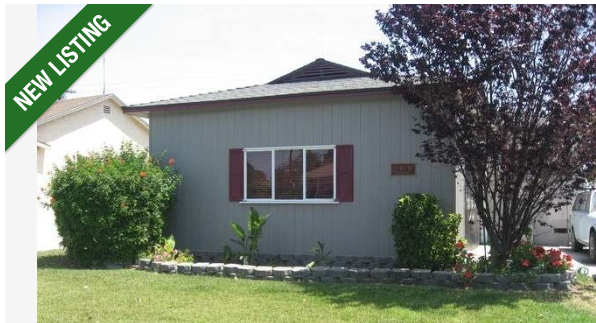 11820 Juniette St, Culver City
Beds: 3
Baths: 1
Square feet: 1,036
I'll first let the ad speak for itself:
"Location, Location, Location! This extraordinary area is called Del Rey and is next door to Culver City and The Playa Vista Development. Centrally located near Marina 90 FWY & 405 FWY. Just a short 12 minute bike ride to Playa Del Rey Beach & 4 minutes to Marina Del Rey Shopping Center."

"This neighborhood also has a community garden to enjoy. Property needs a little TLC but has strong and solid bones."
Solid calcium enriched bones baby!  This home can also squat 600lbs on any given weekend.  I always enjoy looking at the Google maps version of the street since it gives you a better feel of the area:
What is the current price tag for this home? $689,000. This place was built in 1953, you know, when Dwight D. Eisenhower was President. A 3 bedroom and 1 bath home at 1,036 square feet is a starter home. Now tell me, how many young buyers do you think have enough to support a $689,000 home? No surprise that adjustable rate mortgage (ARM) usage hit a six-year high in the latest sales report for SoCal.
California is now dominated by investors, foreign buyers, and those leveraging every penny to buy to chase their house horny dreams of granite countertops topped off with a little hardwood floors. For the 2.3 million adults living at home, I'm sure renting a home seems like a dream at this point.

Did You Enjoy The Post? Subscribe to Dr. Housing Bubble's Blog to get updated housing commentary, analysis, and information.