The low turnover in housing is having some organizations changing their tune regarding the current boom in home values. After all, places like the National Association of Realtors (NAR) will be better off with higher sales volume and lower prices versus very low sales volume and higher prices. As we see investors pulling back, the already low volume is dropping even further in what is typically the house lustful months of the summer. In virtually any three month period over the last 60+ years you would typically see the number of homeowners far outpace the growth in renter households. That trend has reversed since the housing bubble popped. For example, over the last 3 months the number of renting households went up by 312,000 while the number of homeowners went up by 54,000. The trend to becoming a renter nation continues. The NAR actually is echoing a similar tune to what we are seeing and that is many young households are income strapped and many are living at home and will first go out and rent before buying a home. So this trend is likely to continue. Rents are heavily dependent on local incomes and jobs. We've had a solid run since 2009 in regards to the stock market and things are looking a little bit frothy at this point if we look at price-to-earnings ratios and also overall sentiment. So what changes when we add over 7 million renter households over the last decade?
Renting nation
There is a major push to becoming a renter nation mostly by economic forces. Since 2008 the strongest and most consistent group of buyers has come in the form of investors. Keep in mind that these buyers were going after lower priced foreclosure re-sales. These are not your "mom flippers" now paying high price-tags to squeeze a few bucks out of a flip. Many investors were outbidding regular households looking for deals. Many had access to auction sales that regular buyers never even had a chance at contending with unless they had the liquid cash available. And of course, those millions of households that lived through a foreclosure now need a place to live. Many have opted to rent.
The trend is rather dramatic when we look at the raw numbers of homeowners and renters over the last decade: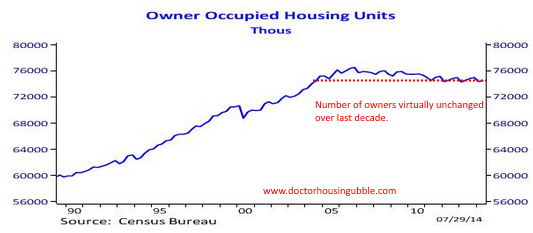 Source: Census, NAR
We still have fewer actual homeowners today than we did at our peak one decade ago. This in spite of every effort by the government, a growing population, the Fed, and banks to keep housing afloat. Ultimately the end goal was to assist banks from going under, whatever that entailed. What ended up happening is the biggest group to benefit from the low rate environment were investors and banks with ready access to the low rates being pushed by the Fed. It certainly didn't boost the number of homeowners as you can see above.
But one group that has been growing in fantastic fashion is renting households: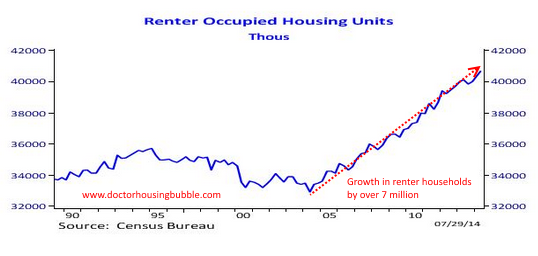 We have added over 7+ million renter households over the last decade. This is a large group and is more than an anomaly in the data. The NAR realizes that having low sales volume is not helpful in expanding their membership base. Selling one house for $700,000 does not yield as much as selling 3 homes at $500,000. Also, many of the sales that went to investors went off the books via auction sales so the public never really had access to these purchases.
The NAR, not one to be negative on housing is seeing the same data we are:
"(NAR) The falling homeownership in recent years is partly due to the struggles of first-time buyers. Lower wages and larger student debts among recent college graduates have limited the millennial generation from taking advantage of the historically low interest rates."
Apparently these things matter when it comes to buying and renting nationwide. And you can see this reflected when you look at income growth and home sales: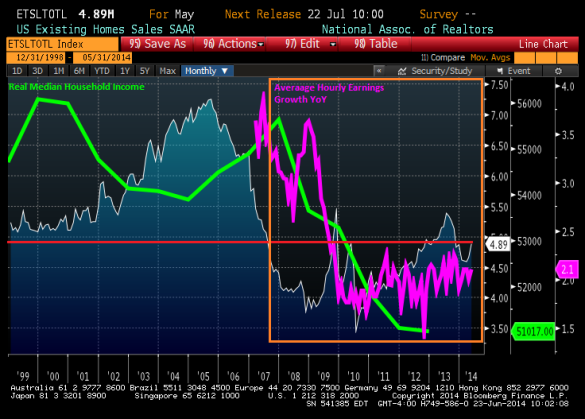 You'll notice that existing home sales have never really recovered their step since the mid-2000s. It is also interesting that this mostly coincides with real household incomes falling at the same time. For most Americans, it appears that renting might be the only option (or for the 2.3 million adults living at home in California, shacking up with parents).
Nationwide, the homeownership rate is at 64.8 percent, a 20 year low. In California, the homeownership rate is quickly inching down to 53 percent: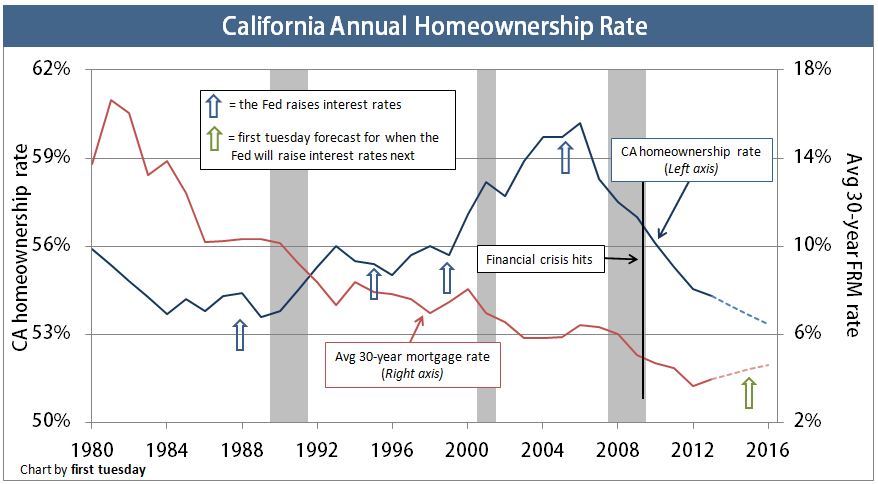 This has larger implications in terms of voting blocs and the trend is unmistakable. Low sales volume, high investor purchasing, and stagnant household incomes. The 7+ million additional rental households had to come from somewhere.

Did You Enjoy The Post? Subscribe to Dr. Housing Bubble's Blog to get updated housing commentary, analysis, and information.