Household formation is an important indicator of future housing demand. One of the big reasons why home builders have been tepid about building homes in the face of a growing population and rising prices is that first time home buyers are a small portion of the housing market. The reality is, you need household formation to justify bigger developments instead of investors looking for deals to flip or rent out. Home builders have been busy building multi-family units but these are clearly slated for rentals (the number of growing renting households would justify this). The odd dynamics in the current market have forced millions to live at home. In California 2.3 million adults live at home because of financial reasons, not because it is the new hip thing to do. In San Francisco, even well paid tech workers double or even triple up in apartments or homes to make the high rent affordable. What is probably more troubling in the data is that this trend is holding steady across the nation. Quality employment growth absolutely matters in the face of household formation. In the past, a boom in employment led to natural demand for housing. Today, you would have some believe that juiced up real estate and investor lust is somehow going to be the drawing force that lures cash strapped young buyers into the market. So far, those figures are not materializing.
Nationwide household formation requires quality employment
One important factor in deciding to start a household is stable income from one or both spouses. This is important on a nationwide basis. When we look at mortgage applications you will see decade lows in spite of the 2013 spike in prices. But low mortgage applications were part of the game going back to the bust in 2007 when the easy money spigot was turned off for regular households. The rise in prices was largely driven by investors. Those investors are now pulling back and sales and prices have stalled out in the usually hot summer selling season.
Even the National Association of Realtors realizes that household formation is critical to a healthy housing market:
"(NAR) More people should mean more housing demand. But that is not always the case. What really matters is household formation. One household can be one person living in a city apartment. One household can also mean a family of six living in a suburban home. Population growth therefore can be accompanied at times by no growth in households if a young adult moves-in with a parent(s). Currently, there are a record number of such cases. Such crowded living arrangements do not create housing demand."
They say this because of these figures: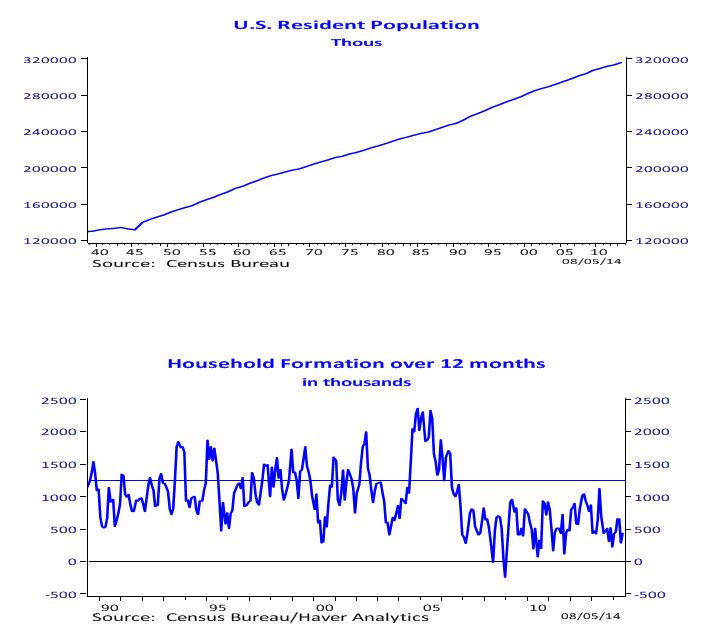 Source:  NAR, Census
Sure, the population is growing but look at household formation. Historically 1.2 to 1.4 million households were formed each year. Right now the rate is around 500,000 per year. The population is going up but how does this help if a large part of is coming from lower income workers? Can they afford to purchase crap shacks with high sticker prices?
Household formation is important because it also shows people going off on their own to live in a rental or buying. In California, many of those 2.3 million adults living with older adults can't even afford rentals at current prices. So they move in with baby boomer parents and have Friday night Purina Dog Chow dinners since they cannot venture out on their own. A new survey by Bankrate found that 36 percent of Americans have zero saved for retirement. That might be an issue when entering retirement age don't you think? It also makes it clear why so many older home buyers are obsessed with Prop 13 even though they have a home that would sell for close to one million dollars yet would struggle if taxes went up. Why not cut corporate taxes or income taxes in the state and have higher property taxes like many other states around the country? In places like San Francisco and Los Angeles County the vast majority of people rent.
So it should come as no surprise that first time buyers have been pummeled in this market: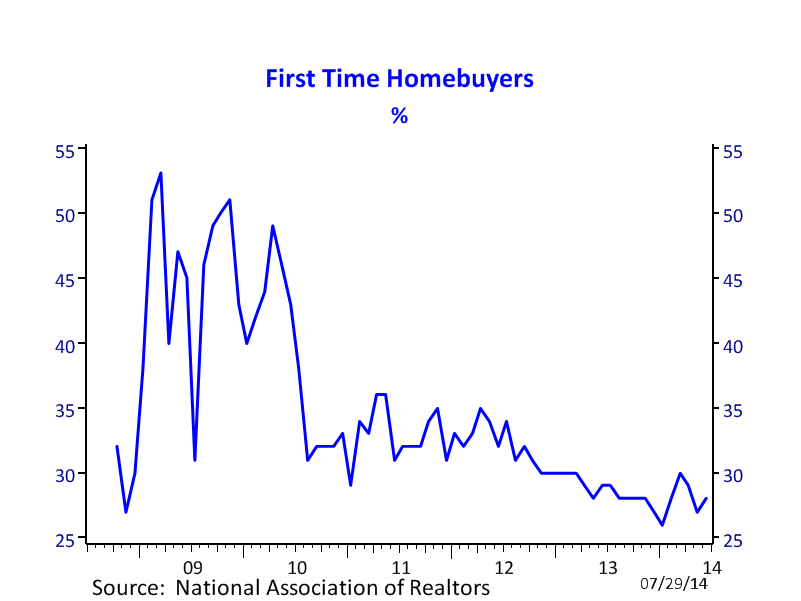 This data I find interesting. Back in 2009 first time homebuyers made up close to 50 percent of purchases. So there was a brief period of time after the bust where investors didn't dominate the game although were already jumping in. Of course we know what happened after that with the next half decade going to investor domination. Yet investors are now pulling back and there is little indication that traditional homebuyers will be out in droves.
One interesting data point is that many young buyers are saddled with hefty student debt. We are now seeing indications that many first-time buyer home applications are simply not being funded because of debt-to-income ratios being busted out by student debt: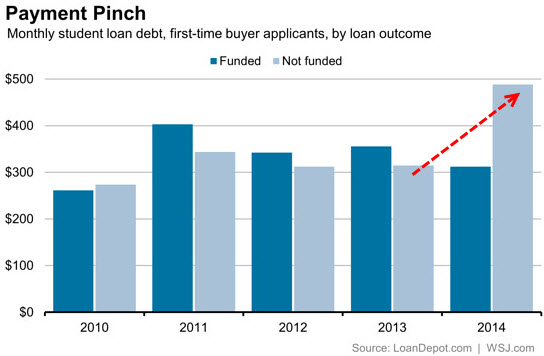 Banks are being even more stringent with funding contrary to the notion that mortgage underwriting is being loosened up. And this is how you end up with 2.3 million adults living at home in California! Will this be your future buyer of the crap shack for $700,000? Cat food eating mom and dad would have to tap out retirement or stick on a HELOC to help little Johnny or Sue to make that down payment on a home purchase. But then they have to pay that monthly nut which many clearly cannot do.
So the unmistakable trend is one where renter status is growing and homeownership is stagnant: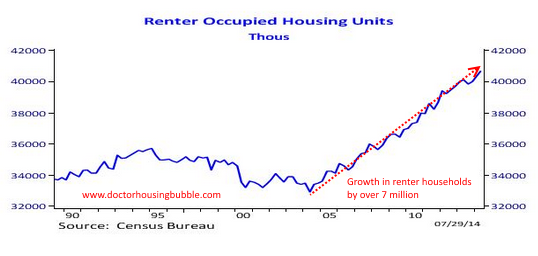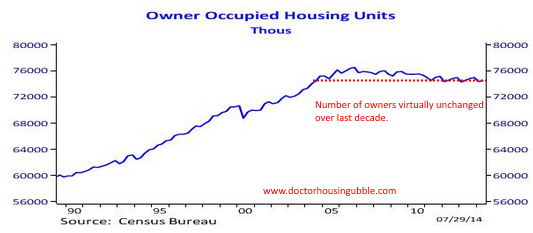 Since 2005, we have added close to 7 million renter households. Homeowner households have been virtually stagnant over this decade (of course you have one-off changes like someone losing their home to foreclosure and someone buying). Yet somehow, people forget that 7 million Americans lost their home to foreclosure since the bubble burst. Many young Americans unlike baby boomers do not have the blind allegiance that home prices only go up. They grew up in a time where the housing bubble was central to the economy caving in and probably witnessed challenges hitting their own household. With their employment being more transitory and with tighter benefits, many are choosing not to lock down in one area.
The trend is unmistakable: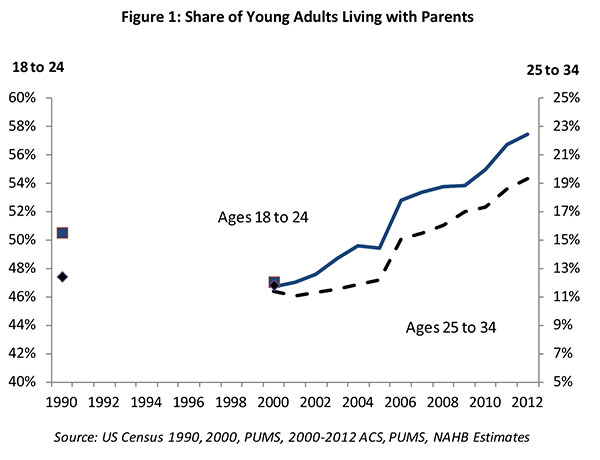 With prices soaring in 2013 not because of first time buyers but because of investors, it is now likely to be a higher percentage that will live at home since many are being priced out of rentals, let alone buying a home.

Did You Enjoy The Post? Subscribe to Dr. Housing Bubble's Blog to get updated housing commentary, analysis, and information.