Whenever the mainstream press talks about the housing market they rarely provide pictures of the crap that is selling.  They speak in overall glossy trends with flowery language but fail to put a picture to what is actually selling in the market.  The rent is already too damn high for most in SoCal but many continue to live paycheck to paycheck enjoying the glorious weather and sipping on frappuccinos even if it means sleeping with roommates in bunk beds to cover the rent deep into your 30s and 40s.  Apparently the sun wasn't shining in 2007 when the market went bust.  The momentum from 2013 and 2014 has definitely hit a wall as hipsters move into gentrifying neighborhoods crossing their fingers a Whole Foods market will somehow turn their bet into a quick profit.  Again, I probably don't need to remind you but you actually need to sell your place before cashing in on that equity.  Today we'll take a look at three homes currently selling in the Los Angeles market.  These are active listings and you can go on out and buy them right now.  Do you want to be priced out forever?  Make sure you lock in the sun, beaches, freeways, and avoid being priced out of your next hood.
Washington Mutual you naughty bank!
Some of you might remember Washington Mutual.  They were a great no frills bank.  I enjoyed having an account with them.  Of course they decided to take this great reputation, place it on the back of the MetroLink and ride the housing market off the rails.  At one point people were doing bank runs at good old WaMu.  Then again, this is ancient history in the land of financial amnesia.  Human nature has evolved away from greed and speculation since the Great Recession ended.  We have learned every single lesson to be learned and will never speculate on housing again.  Cross our fingers!
WaMu was doing some shady loans.  Take a look at this property which looks like someone HELOC'd their way out of a home: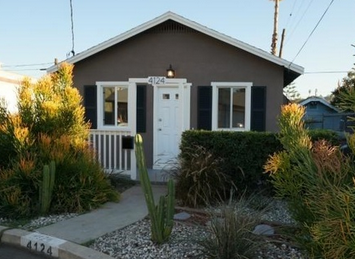 4124 Manor Ct, Los Angeles, CA 90065
1 bed, 1 bath 465 square feet
 "Cute LA bungalow!! This home has been completely updated with love! Brand NEW flooring throughout home, new interior and exterior paint, NEW custom kitchen cabinets and lighting. Don't miss out on this opportunity to own a property in this up and coming area! Mature drought resistant landscape and great backyard perfect for entertaining. Extra storage available in backyard shed and exterior cabinets."
So cute!  465 square feet is tiny.  What in the hell was WaMu thinking leveraging this place up?  This place is listed as a foreclosure but the history is telling: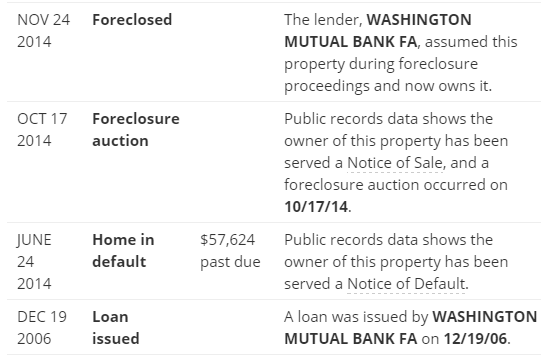 Bwahaha!  The place was past due to the tune of $57,624!  That is a LONG time of not paying your bills.  For a 465 square foot property in a not so stellar area, this is ludicrous.  Of course WaMu was swallowed up into the belly of Chase.  This place can be your home for the modest price of $339,000.  $729 per square foot is insane for this area but hey, some people enjoy living in closets.  Let us move on to the next property.
All cash players only!
Normally when you see places for all cash you are looking at some top notch prime level homes.  In this case, you will need all cash because the place is beat up: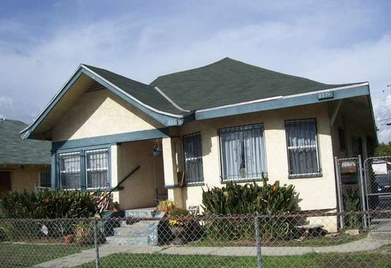 227 W 62nd St, Los Angeles, CA 90003
3 beds, 2 baths 625 square feet
"Perfect for Investor/Developer. This property is in need of major upgrades/repairs. and will not qualify for traditional financing. Buyer must be all cash. Front unit (227) has a bonus room. Bonus room is not included in the square footage. Permit status of the additional room(s) unknown. The property is being sold in "as is" condition, Buyers to verify the condition and all permits."
3 beds and 2 baths on 625 square feet?  I love how the ad talks about a bonus room.  Of course the permit status is "unknown" but a good way to Airbnb your way into millions.  Look at the price history here: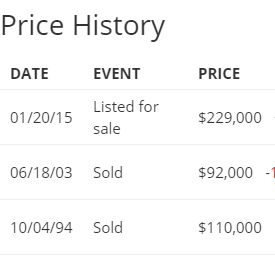 Over a period of a decade this place lost money.  This place sold for $110,000 in 1994 and then in 2003 for $92,000 (that price sounds about right for this place).  It is now listed for $229,000.  Of course you'll need all cash and those all cash investors largely exited California in 2014.  The ad mentions that it needs major repairs which means it needs MAJOR REPAIRS.  If you believe some people every area is going to gentrify so no worries here!
Time to get high     
I love listings with all caps.  The deal is so good they need to yell to get that point across: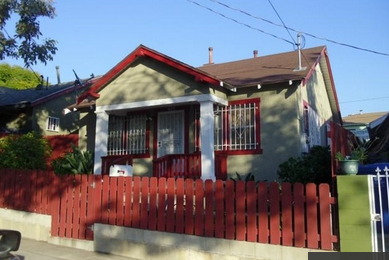 522 Toledo St, Los Angeles, CA 90042
1 bed, 1 bath, 576 square feet
"ADORABLE, RENOVATED BUNGALOW IN REVITALIZED HIGHLAND PARK NEIGHBORHOOD. 15 MINUTES TO DOWNTOWN … 10 MINUTES TO PASADENA … DODGER STADIUM ONLY MINUTES AWAY! WONDERFUL ALTERNATIVE TO CONDO LIVING AND NO HOA! MOVE-IN CONDITION. ONE BEDROOM & ONE BATHROOM PLUS A BONUS ROOM WHICH COULD BE 2ND BEDROOM. TILE & HARDWOOD FLOORING THROUGHOUT. NEWER A/C & HVAC, NEWER ROOF, TOO! SHOPPING, METRO & MANY AMENITIES WITHIN SHORT DISTANCE.DON'T MISS THIS ONE!!!"
I love this ad.  So a selling point is that it is 10 minutes close to Pasadena.  Sure, you'll need bars on your window but go down at night knowing you live 10 minutes away (with no traffic) to Pasadena.  Dodger Stadium close by?  Have you gone to a Dodgers game?  Coming out of a game is like exiting a Wal-Mart on Black Friday.  You do realize baseball has 162 games in a season and half are played at home.  I'm sure it'll be nice and calm on those game days.  Of course, the ad also rattles off every SoCal selling point.
Let us look at the sales history here: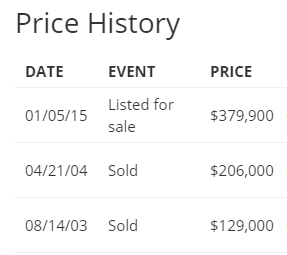 $379,900 for this place.  All this nonsense that people stay put.  The people that bought in 2003 hit the eject button in six months.  Apparently the selling points weren't all that great.  The 2004 buyers have a bit of a buffer and with the HGTV upgrades, are strategizing their exit as well.  And here is the rating of schools in the area: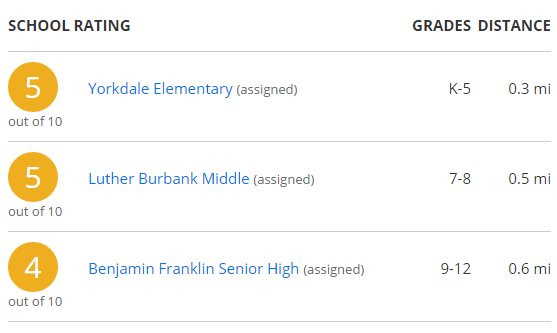 Screw the kids and enjoy the hipster lifestyle!
When you hear about the "hot" SoCal market remember these places as well.  People sometimes forget that they have the choice of not buying.  Some would rather live in storage unit sized properties with bars on their windows just to claim that they own a home in SoCal.  You don't own jack until the mortgage is paid off (ask those WaMu folks who owns their place).  In reality though, people are eager to buy and don't want to miss the boat because they are greedy.  Simple human nature.  They don't want to miss the next rocket ship of appreciation so they can flip it to the next lemming buyer in a few years.  Boom and bust central and somehow every buyer is a Nostradamus when it comes to price.  Pause for a second and look at these places.  Use some common sense and try not following the herd.  Just because someone is willing to pay the current price doesn't mean it should be you.

Did You Enjoy The Post? Subscribe to Dr. Housing Bubble's Blog to get updated housing commentary, analysis, and information.