Last year there was a report highlighting that LA and Orange County ranked number one in being the bubbliest housing markets in the US.  The report essentially found that people in the area lagged in income relative to housing values compared to folks in New York or San Francisco and most in SoCal basically funneled a large portion of their net income into housing.  LA and OC are also expensive to rent in.  An article caught my eye stating that that the regular Angelino needed to make $33 an hour just to rent a basic apartment without eating Purina dog chow every night.  This post came across my social media feed and I dug through the comments.  I was impressed by how many people posted something along the lines of "me and my roommates split the rent in X area for an apartment" and how many other comments from those out of the area were stunned by the basic cost of an apartment.  Hey, SoCal is expensive.  I think most reading here have the means to buy but rent or own their home outright.  Short of you buying a home with a suitcase full of cold hard green cash, you either pay rent to a landlord or a mortgage payment to a bank.  The 2.3 million adults living at home with parents are probably not fretting about housing prices or rents.  The issue with SoCal is that people are treading on razor thin budgets just to get by even in rentals.
The rent is so…hey, at least the weather is awesome!
The article that caught my eye had some interesting data points:
"(SCPR) You need to earn at least $33 an hour — $68,640 a year — to be able to afford the average apartment in Los Angeles County, according to Matt Schwartz, president and chief executive of the California Housing Partnership, which advocates for affordable housing."
I should remind you that most households in LA County rent.  That is simply a fact based on Census household data.  And most people don't make $33 an hour so you get many people tagging up with roommates.  So is this the hidden group that is suddenly going to push the market up?  No.  You have folks thinking their local hood is going to be the next London but that is not likely.  You still have to live in a $700,000 crap shack.  You think having a Chipotle and a Whole Foods is suddenly going to push your home into the $1 million range?  The big demand for the last few years has come from wealthy investors and big foreign money largely from China.  Yet this money was surgically targeted at certain areas.  You can still find good deals in other LA cities and I have shared a few with readers.  If you truly believe in the "all of SoCal will gentrify" meme you will be on the ground floor for the next real estate renaissance.
The article goes on to say:
"That's more than double the level of the highest minimum wage being proposed by Mayor Eric Garcetti, which he argued would make it easier for workers to afford to live here. "If we pass this, this will allow more people to live their American Dream here in L.A.," Garcetti proclaimed when he announced his plan to raise the minimum wage to $13.25 by 2017.

The $33 an hour figure is based on the average L.A. County apartment rental price of $1,716 a month, from USC's 2014 Casden Multifamily Forecast. An apartment is considered affordable when you spend no more than 30 percent of your paycheck on rent."
I hate to say it but the American Dream ain't happening in LA on a mass scale.  Even if you make $13.25 an hour good luck being able to afford a place in a decent area.
This is a boom and bust landscape.  For better or worse, all of us are turned into real estate speculators.  Just look at annual price changes for the Greater LA metro area over 25 years: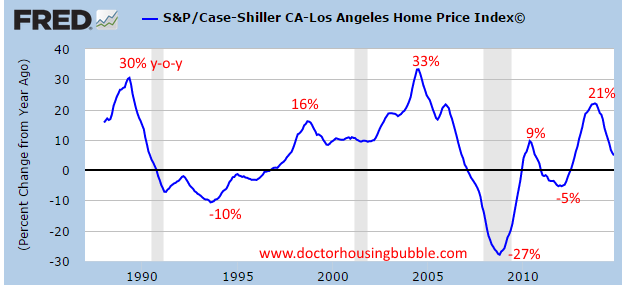 Boom and bust.  Some on the fence, are making the calculus between renting in a good area with solid schools or buying a crap shack and rolling the dice that the area will gentrify quick enough before their offspring go off to schools with ratings unsuitable for a crappy Yelp restaurant.  Rents rise at a more steady pace since they are paid via net income and don't have the luxury of being leveraged by low interest rates.  Take a look at annual changes in rents for the LA area: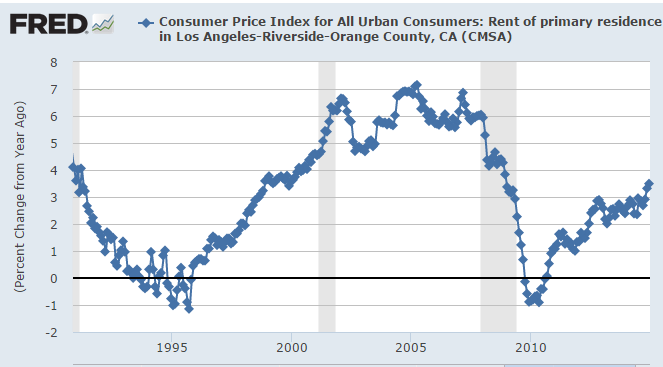 You'll notice that even in LA, rents do fall although it typically happens in a recession.  I love some of the comments from these posts:

Buy now or be gentrified out forever!  When I look at the boom and bust chart above, it always amazes me how quickly people forget about recent history.  Over one million people lost their home to foreclosure in California in the last decade.  That is massive given the number of actual homes bought.  Yet the middle class is acting.  California had a net loss of 221,325 residents between 2007 and 2013.  73% of those that left earned less than $50,000 per year.  A large portion ended up in Texas.
Also, those arguing about rental parity make the convenient omission that you would need to have a sizable down payment to make it work.  On that $700,000 crap shack, we are talking about $140,000 just for 20 percent down.  Congrats!  You now also carry a $560,000 mortgage on a stucco crapper.  How do things look after 30 years if you stuck your down payment into a broad base market fund and added the difference between renting and buying?  You are also locked into said market.  There is mobility in renting and many in places like San Francisco value this (the vast majority in the area rent in an even more zany market).  The calculus isn't all that simple.  One thing is certain and that is people are reluctant to move.  People would rather eat Friskies out of their cat's bowl before cashing in on their equity.  Plus, many have children just waiting for the moment mom and dad take the long journey out of their HGTV upgraded home and pass their property over.  "Hey dad!  Time to gentrify out of this home."
The beauty of our dysfunctional economy is that you are not locked in to stay here.  I know many people that were itching to buy a big McMansion so plunked down some dough and bought in the Inland Empire.  They make a horrendous commute to work but at least their family gets to enjoy the place while they idle along the traffic congested freeways and do a number to their health.  I also know people that pay crazy rents to live along the coast.  But to think that prices in SoCal follow an expected pattern is nuts.  The past shows us that we are in a boom and bust market.  When people are doubling and tripling into apartments just to get by you know that all it would take is a minor recession to tilt things to the other side again.

Did You Enjoy The Post? Subscribe to Dr. Housing Bubble's Blog to get updated housing commentary, analysis, and information.