The end of the year is here and Southern California home sales are slogging along into the final months.  People have lost perspective on value but it would seem that two things have happened.  People are being rational and viewing current prices as frothy so are deciding to hold back.  You also have investors pulling back dramatically this year putting a dent into sales.  So the argument now goes, if some willing sucker paid this amount then it surely is "worth" it.  Yet most of the entry level priced homes leave much to be desired and of course, aspiring property ladder climbers only hope to stay in the first rung of the ladder for a few short years until the equity gravy train comes along.  In other words, timing the market.  Good old fashion speculation.  Some view real estate as this super secure investment yet somehow 1,000,000 Californians lost their homes to foreclosure since the bust occurred.  $10,000 in the stock market is risky but half a million for a tiny box?  Safest bet on the planet thanks to all the juicy leverage!  So what does the starter home look like if you are aiming at buying in Culver City?
The first step into real estate glory
It is interesting to talk to people on the fence about housing.  There is a group that is unwilling to put their money at work and buy yet somehow feels there is this massive outside group that is rich but dumb.  This will sustain the trend.  If you truly believe this, then why not buy?  This massive group will be there in one or two years when you can jump off the equity gravy train.  Another group feels that homes in Beverly Hills will suddenly drop precipitously.  I doubt that.  Even if prices fell from say $5 million to $4 million on a home does this really impact your decision?  I think most of the action is in the middle market.
Take a look at this Culver City home: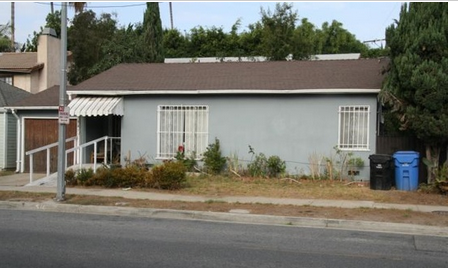 9435 Lucerne Ave, Culver City, CA 90232

2 beds, 1 bath, 874 square feet
I love the effort that went into the photo.  Bars on the windows and garbage cans in the yard.  You also have deferred gardening here.  But of course, it is in Culver City so let the buying begin.  Let us look at the ad and the pitch being used:
"Ideal Culver City Location! This wonderful home is located simply a stone away to the heart of downtown Culver City. Don't miss this great opportunity."
A stone away from downtown?  Maybe a couple of Waste Management trash bins away from downtown.  Here is a different viewpoint on the place:

Street parking might be a pain and you also have massive electrical wiring near the property: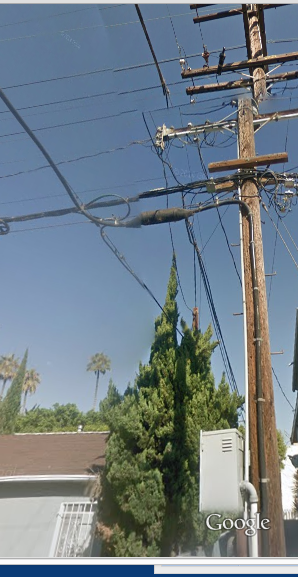 Then again, who cares since we are talking about Culver City.  This place is listed at $550,000.  Take a look at the price history: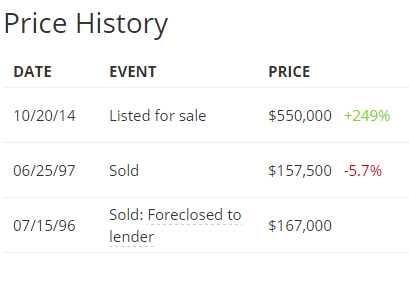 20 percent down is $110,000 of cold hard cash.  Your total PITI will be around $2,500 per month after plunking down $110,000.  Good deal?  If you believe it is, then why not go out and buy this place?  Simple enough.  You can easily look up this place and give a real estate agent a ring. The mentality right now is that some "other" buyer is going to step in and purchase this place so the gig continues.  Yet when I talk with serious investors they are absolutely not looking to buy in these markets.  Flippers seem to be more cautious with their purchases as the year comes to an end.
This place was built in 1946 and looks like it will need work.  It last sold in 1997 for $157,500.  The current sellers are in fantastic shape and have a lot of wiggle room in terms of price and coming out ahead.  I have a hard time seeing someone paying $550,000 on this 874 square foot place and making it their granite countertop and stainless steel appliance filled sarcophagus.  What I do see is someone pitching this place as a pit stop before moving into a much larger $700,000 crap shack.  You have to love California real estate!

Did You Enjoy The Post? Subscribe to Dr. Housing Bubble's Blog to get updated housing commentary, analysis, and information.