Welcome to the summer SoCal housing season! This is typically the house horniest time of the year and real estate agents are getting ready for all the open houses they will be hosting for future big eyed buyers. Last year, housing lust was reaching fever levels and people were diving into bidding wars just to get into a house. The biggest purchase of your life and people were making offers sight unseen. The grunt crowd seeing investors pony up big money simply tried to follow the larger players at the table. Those larger players are exiting stage left in 2014. This summer has a different tone from the summer of 2013. Inventory is higher and slowly, buyers are starting to question current prices. Sellers are drinking their own Kool-Aid and think that a home with a hardwood floor and granite countertop suddenly adds $100,000 to the value of a place. Like purchasing a new car, the novelty of owning real estate wears off after you go through a few years of mortgage payments, maintenance, and other costs of daily living. It is interesting to hear from a few condo owners or those with very closely built homes that bought and are unhappy with their neighbors. Some are unhappy that their new neighbor has a place with multiple generations living under one roof! You make the biggest buying decision of your life and don't vet your neighbors? Hope you enjoy that place because when you buy, you lock in for a good amount of time. The honeymoon wears off quickly but there is still plenty of "buy now or be priced out forever" perfume stinking up the atmosphere. The showdown in housing is here and as we highlighted before, like a giant ship, housing markets turn at very slow speeds.
House hunting in Pasadena, Culver City, and Torrance
People seem to enjoy looking at real world examples. For those in SoCal, these prices are simply par for the course and don't shock us beyond our already high tolerance state. However, for readers outside of California it gives you a taste of what it is to live in a boom and bust housing market.
Since real estate either in mortgage payments or rents consumes a high portion of your income, it is usually a very important sector of the economy to look at. It is so important that the very secretive Fed is actually buying up practically every mortgage-backed security in the market in the hope of keeping people in the game to buy (although what has happened is that big investors have used low rates on borrowing to leverage up in real assets).
Let us first take a look at a property in Pasadena: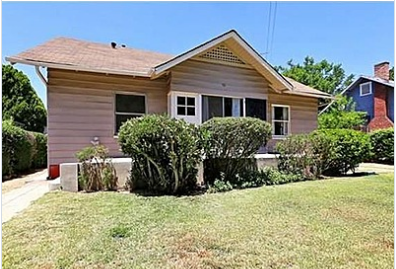 ]
787 N Wilson Ave, Pasadena, CA 91104
3 beds, 1 bath listed at 984 square feet
Built in 1905
The adjusted gross income for a household in the 91104 zip code is $58,610. Just keep that in mind when you realize that this tiny place is selling for $549,500. I love this line in the ad:
"The entire home is glowing with natural light"
This home would likely rent for $2,000 a month. A 3 bed and 1 bath home is much too small for a couple planning on having a family unless you want everyone sharing the bathroom at the same time. Oh, and this place still costs $549,500! The place was built in 1905 (if you are keeping score that is 109 years ago). Say you buy this place and plan on staying put for 30 years. After 30 years, you own this place but then what? You still have taxes, maintenance, and insurance. What are your plans for that future income stream? Will you be a cat food eating baby boomer living in a $1 million golden granite countertop laden sarcophagus? Of course house horny buyers view this place as a stepping stone into their dreams of property laddering their way into greatness.
The next property we will look at is in Culver City.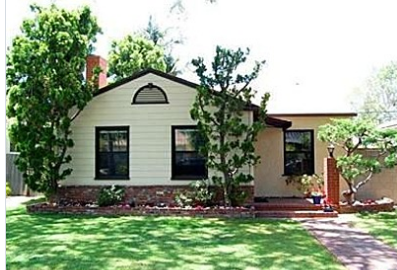 10925 Wagner St, Culver City, CA 90230
3 beds, 1 bath listed at 1,165 square feet
Built in 1941
A slightly bigger home and this place is currently listed at $769,000. This place would likely rent for $2,900. Household income for this zip code? $67,470. Of course incomes don't matter so don't you worry about that data. This is a great line in the ad:
"You're going to be pleasantly surprised when you visit this house!"
Now isn't that great? You'll be paying $769,000 and maybe, just maybe you'll be pleasantly surprised. Now I don't know about you, but when I pay a nice amount for a good steak I want my socks to be knocked off right through my beat up shoes. I don't want to be "pleasantly" surprised otherwise I'll head on down to Jack in the Box. The only difference of course is that buying a burger isn't going to be a 30 year albatross.
And of course, someone is going to make the tax system happy: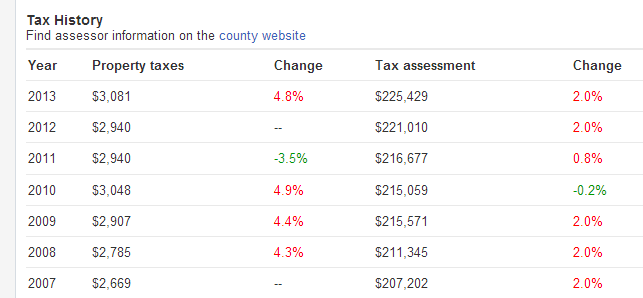 Someone right now is paying taxes on this place as if it were worth $225,000. If this sells at $769,000 someone is going to find themselves eating a tax bill 3 times the current amount for the same public services unless I'm going to be pleasantly surprised by 3 times the services once I buy this place. When you see things like this you can easily understand why investors are pulling back. And do you see a professional couple with the income to support this mortgage moving into a place like this with only one bathroom? Apartments and condos have more bathrooms!
Finally, let us end the examples with the South Bay in Torrance.

4603 Narrot St, Torrance, CA 90503
3 beds, 1 bath listed at 1,112 square feet
Built in 1984
Another 1 bathroom place. This place is listed at $699,000 just so all those house horny buyers looking for homes "< $700,000" find this popping up in their queries. $100 will go a long way since you'll only be able to afford Taco Tuesdays trying to cover the mortgage. Household income for this zip code? $71,640. Of course this also explains why investors have been the only actual players in the game over the last few years as middle class California families are priced out or you have adults living at home with mom and dad.
Welcome to the summer of 2014 in SoCal housing! The showdown is here but you still have plenty of house lusting buyers ready to dive into the market and sellers willing to justify current prices. Heck, you might even be pleasantly surprised by paying $700,000 for a home built during the Great Depression or World War II and your parting gift will be one bathroom giving a more vibrant definition to what it is to live in a crap shack.

Did You Enjoy The Post? Subscribe to Dr. Housing Bubble's Blog to get updated housing commentary, analysis, and information.