The Housing Affordability Index (HAI) is once again flashing red for California. Los Angeles and Orange counties are two of the most expensive markets to rent relative to what people earn in the area. The The HAI is showing that once again, California is incredibly overpriced. Only 30 percent of families can afford the typical home in the state. I thought it would be useful to look at data showing the typical non-investor buyer in California. These are people after all, that are putting their money in the game. It should be obvious that the middle class is being priced out of the state. As we enter the last month of the year, the housing market will likely end on a rather dull note. Those that qualify to buy understand the large commitment it will take to purchase a home in the current market. Locking in at this point is no easy decision. But for many, there is no decision to make because the majority of large markets in the state are simply unaffordable. This continues to explain the large number of people living with parents deep into their 30s and even 40s but also the decline in sales volume.
The typical California home buyer
The California Association of Realtors put out an interesting report looking at data on 2013. Keep in mind this survey was based on 1,400 respondents so this isn't a definitive figure on who bought homes in the last year. It simply helps to give you a sense as to who was buying last year.
The figures are listed below: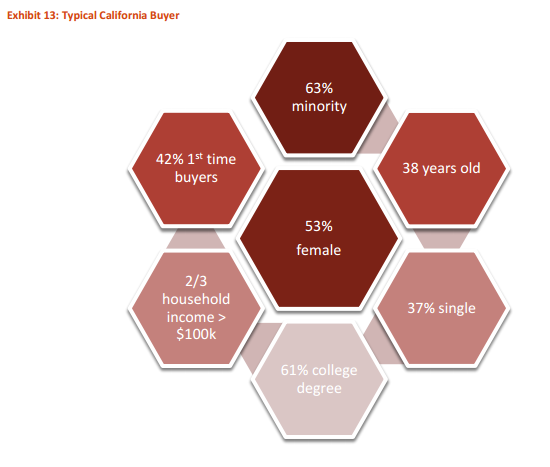 Source:   C.A.R.
This is interesting data. 2/3 of buyers had a household income of $100,000 or more. So yes, having a high income absolutely matters when it comes to buying a home. The typical age of a buyer is 38 and 42 percent were first time buyers. Keep in mind this survey did not look at investors who were a large force in California since 2008.
37 percent were single buyers and 63 percent were minorities. 61 percent of home buyers had a college degree. Then if we look at affordability, we find that many are stretching their budgets to buy: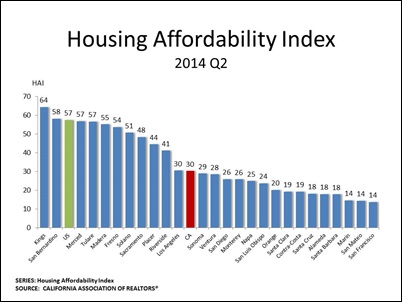 Only 30 percent of families can afford to buy in California. Where are things affordable? San Bernardino, Merced, Fresno, Sacramento, and Riverside. Los Angeles, Ventura, San Diego, and Orange are not affordable. San Francisco is the least affordable market but no surprise on that one.
With that said, it was interesting to see what motivated people to buy in 2013:
The bulk of people buying bought because of price decreases. This would make sense given the HAI. You'll also notice that favorable price/financing and investment/tax advantage make the top of the list. All of these ultimately are perks to your bottom line but drive the point home that people are trying to buy a home when pricing is perceived as moving lower or a deal is forth coming. And for many, it made sense to buy in 2013 when prices decreased. Of course some were caught up in the mania trying to out compete investors and this drove prices to their current levels. Sales volume has fallen because very few families can afford to buy.
Redfin looked at a typical teacher's salary and tried to see where they could buy in California: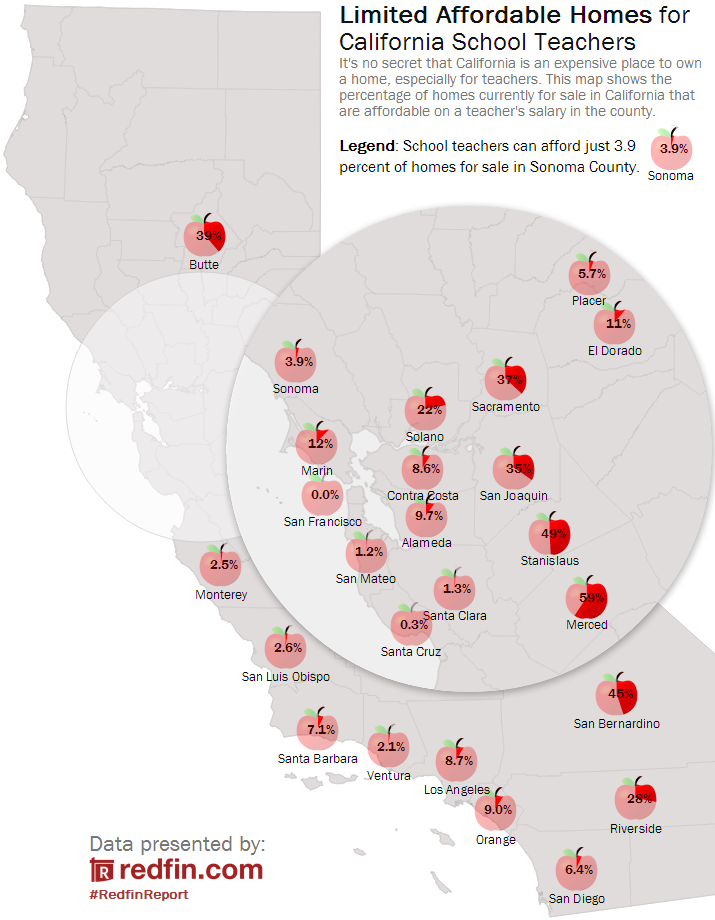 Source: Redfin
According to the report, 83 percent of homes are unaffordable on a teacher's salary. For a state that would like to put teacher's first, it obviously doesn't care about them having affordable housing. Of course you'll notice that Riverside, San Bernardino, Merced, and Sacramento remain affordable.
I was also curious to see the age of current buyers (outside of investors):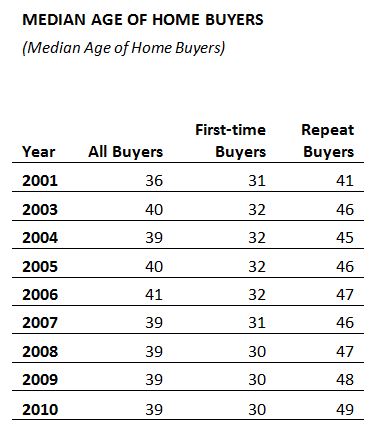 There is likely more recent data but what you find is that overall, the age of buyers has gone up especially for repeat buyers. Comparing this data to the more recent CAR data, you realize that your current home buyer is actually getting closer to 40 in age. For some the goal is to buy a home in a good area to raise a family. At 40 biology might make it tougher but then again, 37 percent of buyers were single.
All of this has long-term implications for the market. You have many people doubling up in rentals or living at home with parents. Sales volume is weak and inventory is still paltry. If you want to own today, your menu of options is limited and prices still remain elevated.
What we are seeing is a significant stalling of activity in marginal markets. Take a look at this property: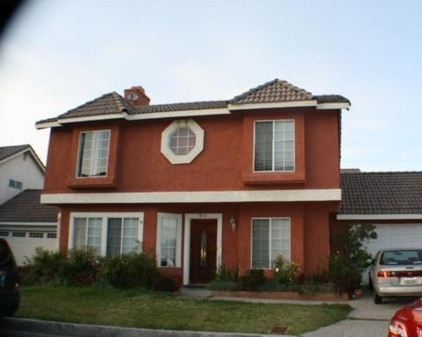 8133 Rancho Arroyo St, Paramount, CA 90723
4 beds, 3 baths, 1658 square feet
"Nice House, Located on desired area, by the border of Downey, Cul-the-sac Street, private and quiet neighborhood. House is in good conditions. Please See Remarks."
This is a good sized home. The current list price is $365,000. But take a look at the pricing history here: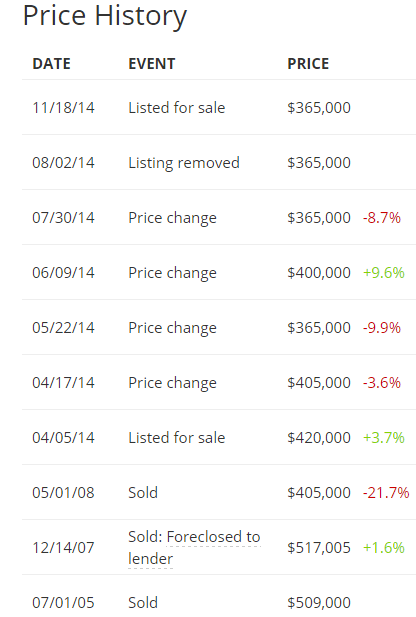 They were asking $420,000 in April of this year. Then there was some funny pricing action in May and June. They've been holding that $365,000 mark for some time now. Time is now not on their side. Not a great yield as a rental so investors probably have no interest here. So you are left with people looking to live here. They need to qualify. It looks like this place is in foreclosure:

The Paramount market is working class and just like the last correction, marginal areas get hit first when sales volume falls. Affordability absolutely matters. That is why California is becoming a renter dominated state.

Did You Enjoy The Post? Subscribe to Dr. Housing Bubble's Blog to get updated housing commentary, analysis, and information.