I always found it fascinating that one of the most toxic mortgage products ever created, the option ARM was pushed heavily by California banking institutions.  Places like WaMu, Countrywide Financial, First Fed, and other bygone institutions were heavily into this crack for housing mortgage.  The premise of the loan was to free up cash for big money households.  Of course, the unstated mission of the product was to push volume in a market where prices were out of reach for regular households yet boosted profits for banks.  There simply wasn't enough of those big income households (and they certainly weren't buying in Torrance or parts of Pasadena).  Today we still have only one out of three California households able to afford a house in the state in which they work and live.  So it is no surprise that for the last half decade, one of the biggest buyers of homes in California has come in the form of investors chasing yield.  Never have we seen such a high level of consistent buying from the investor class in the state.  This has helped to mask stagnant incomes and has been a major player in pushing prices out of reach for most in spite of incredibly low interest rates.  Trulia put out a "bubble watch" report and what a shock that Orange County and Los Angeles County lead the list in bubbliest looking counties in the nation.
The bubbliest counties
House horny buyers will always find a reason to buy.  They don't mind spending 50 percent or more of their net take home income on purchasing a California home.  For some, housing is everything.  Even in 2006 and 2007 when a bubble was clear as day, I was still getting e-mails from people about buying a home and justifying prices.  The e-mail always came with a long justification as to why it made sense to buy and some even justified it with option ARM monthly payments.  My response?  Buy!  You are the one that is going to carry that full mortgage payment every month.  This includes the principal, interest, taxes, insurance, and maintenance.  Yet these folks wanted a timing signal to buy to ease their house lusting desires.  Psychologically what was surprising was these same people in the same breath were saying a stock bubble was clearly in place while paying outlandish prices for a shack in SoCal.
Today it is rather clear we are at an inflexion point.  Recent data shows Southland home sales hit a 6 year low.  We also have the median price hitting a 6 year high.  What we are seeing is that the few sales that are occurring are going to "good" properties while homes priced with delusional real estate horny juices languish on the market.  Last year, crap was selling at a premium.  Not so much today.  You can put away your sob story about getting your family into a home and trying to convince the seller that you will treat their pre-World War II home like a lost puppy in the wilderness and nurse it back to health.
So how "overpriced" is Orange County and Los Angeles County according to the Trulia report?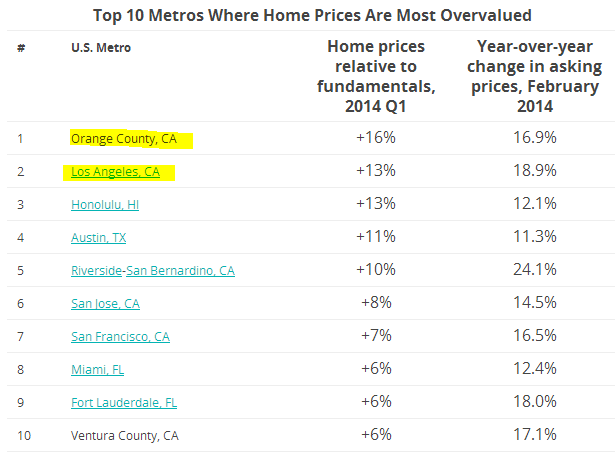 What I found interesting in the report is that most housing markets in the US are fairly priced based on current mortgage rates and incomes.  I agree.  Yet we are talking about house lusting SoCal that has a hard time doing the math here.  I still have people trying to justify cash flow with mega down payments.  Well of course!  You'll cash flow on nearly any property in any market if your down payment is large enough.  Never do we get the opportunity cost set into these equations.  The above list is telling in many ways.
If we include the top 5 overpriced markets, we also find the Inland Empire.  The Inland Empire is merely an offshoot of L.A. and Orange Counties.  For example, something like 40 percent of those living in Riverside County drive into L.A. or O.C. for their work.  Austin Texas is also on the list which might surprise many people since overall, Texas has some of the most affordable real estate in the country.  Honolulu is obviously constrained by being part of a freaking Island that is a global resort city.  You mean Westminster, Garden Grove, Fountain Valley, Anaheim, Fullerton, Costa Mesa, Stanton, and Santa Ana are not top destination places on your travel itinerary?
So 3 of the top 5 overvalued places are here in SoCal.  What some might find surprising is that the Bay Area is more "affordable" than SoCal based on fundamentals.  Why?  Because of the tech boom that is going on.  You legitimately have households with larger incomes there.  Dual incomes from professionals in the tech industry.  SoCal on the other hand when you dig deep enough does not have the big incomes to justify current prices contrary to what some will believe.  You'll also notice that Ventura County shows up on the list at number 10.  So 4 of the top 10 most overpriced places are here in SoCal.
Let us look at the current sales and price data for the last month: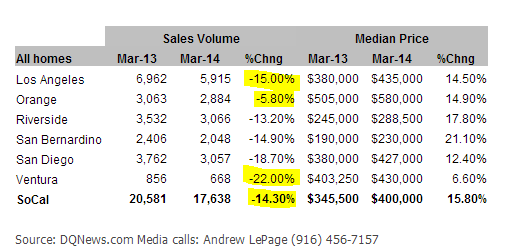 Sales are taking a big hit year-over-year.  This signifies an inflexion point.  Ventura County saw the biggest year-over-year drop of all SoCal counties.  Prices are up but this is likely to sales going to more selective "prime" properties and foreclosure re-sales hitting multi-year lows.  Investor buying continues to slow down since the potential gain versus risk is no longer appetizing.
Will people continue to buy to satisfy their housing lust?  Absolutely.  But current sales volume suggests that some folks are waking up to this mania.  Of course the first to wake up are big money investors while small time players continue to think and act as if they are the next Donald Trump.  Be our guest, buy up those crazy priced homes in the Southland.  As we all know, real estate prices never go down in Southern California.  There are more factors to consider when buying a home than simple cheap mantras.

Did You Enjoy The Post? Subscribe to Dr. Housing Bubble's Blog to get updated housing commentary, analysis, and information.